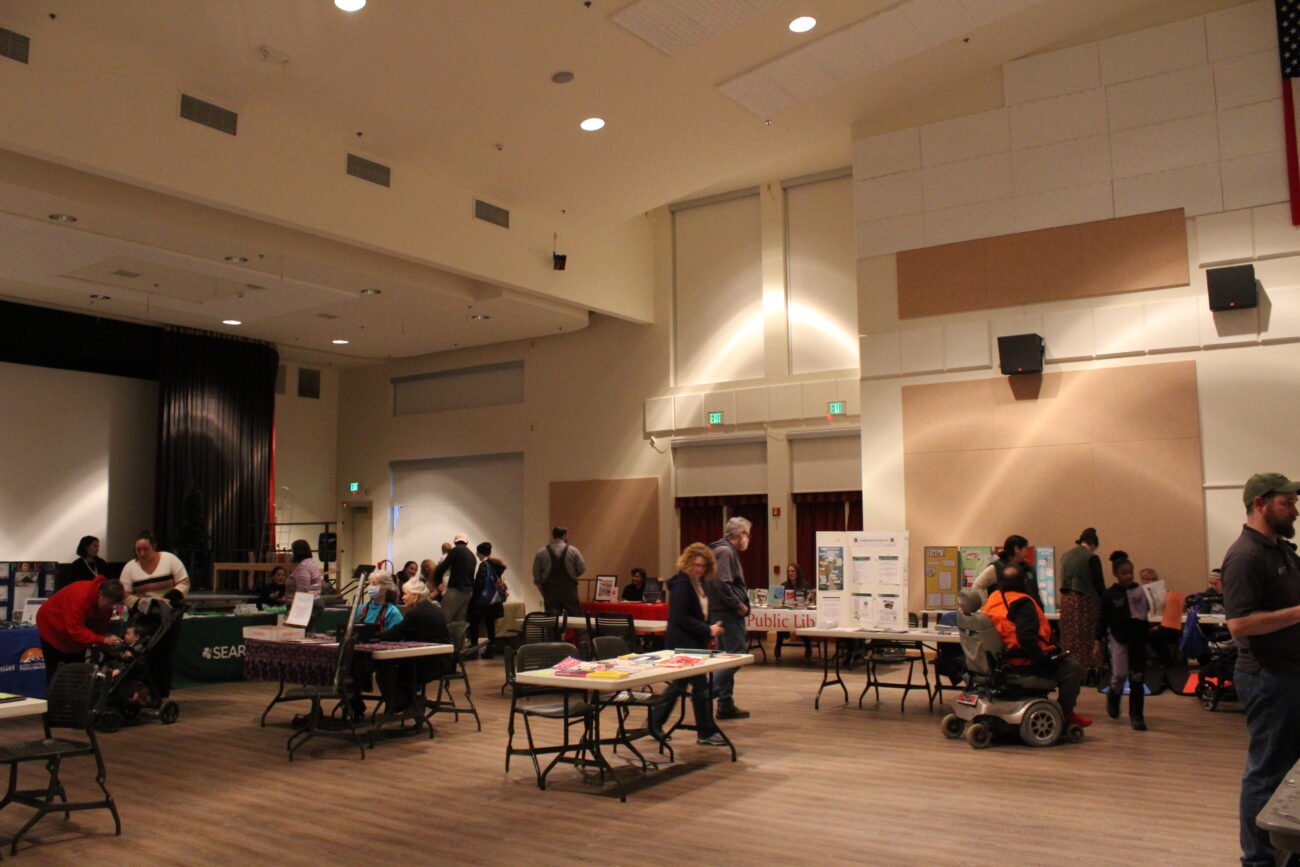 Wrangell's Family Resilience Fair aims to bring resources together to show how the community can help local families. Local organizations set up tables at the 5th Annual Family Resilience Fair on November 19. 
Wrangell's civic center auditorium is a maze of tables. One end is taken up with the half-completed stage for an upcoming community musical. The rest is filled with strollers, chatter, and colorful poster boards with information about community resources.
Joan Sargent greets newcomers to the Family Resilience Fair at the doors, holding a spool of bright yellow tickets. Everyone visiting the fair gets 10 tickets to distribute between buckets – there are more than a dozen raffle prizes, donated by local businesses.
Petersburg-based Public Health Nurse Erin Michael says the fair is an important event because it gives families ideas, along with actual resources. She says it helps them "to have good options for coping mechanisms and ways to overcome obstacles or difficulties in their lives in a healthy way."
Michael says it's clear to her that local organizations care deeply about having a healthy and thriving community.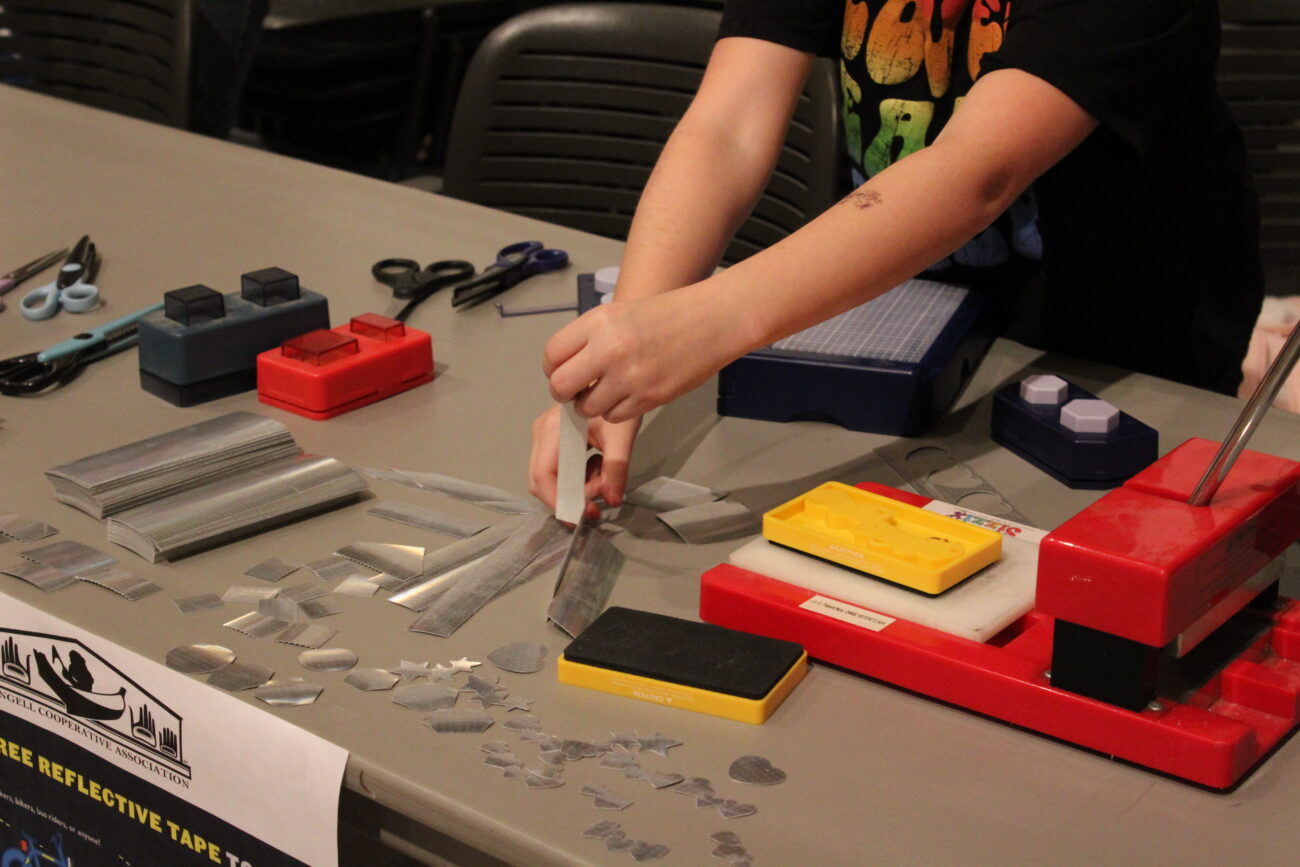 Her table at the fair is filled with a somewhat incongruous mix of coloring pages and medication disposal bags. She says her two focuses are healthy coping – that's the coloring pages – and also providing tools for people who might be worried about family and friends with substance issues. Along with medication disposal, she has kits with the overdose-reversing drug Naloxone, commonly known as Narcan.
"Each table is different, which is really exciting too – different topics," Michael says, gesturing around the room. "I saw WiseWoman (a SEARHC program for women's health) across the way, [and] I'm gonna have to go and get my reflectors where they are doing reflectors, because this time of year, it's so dark out, you need that kind of thing. You don't want to get hit by a car."
That's the local tribe's transportation department, handing out reflective stickers cut out in stars, hearts and stripes.
The Family Resilience Fair is a multifaceted event. It's put on by BRAVE, a local organization focused on building family resilience and preventing violence. One facet is a celebration of babies born to Wrangell families in the last year. This year, there were 12.
"I probably didn't get them all," says Kay Larson, a founding member of BRAVE and event organizer. "It was funny – I kept walking down the street and I'd see a mother with a stroller, stop and get him."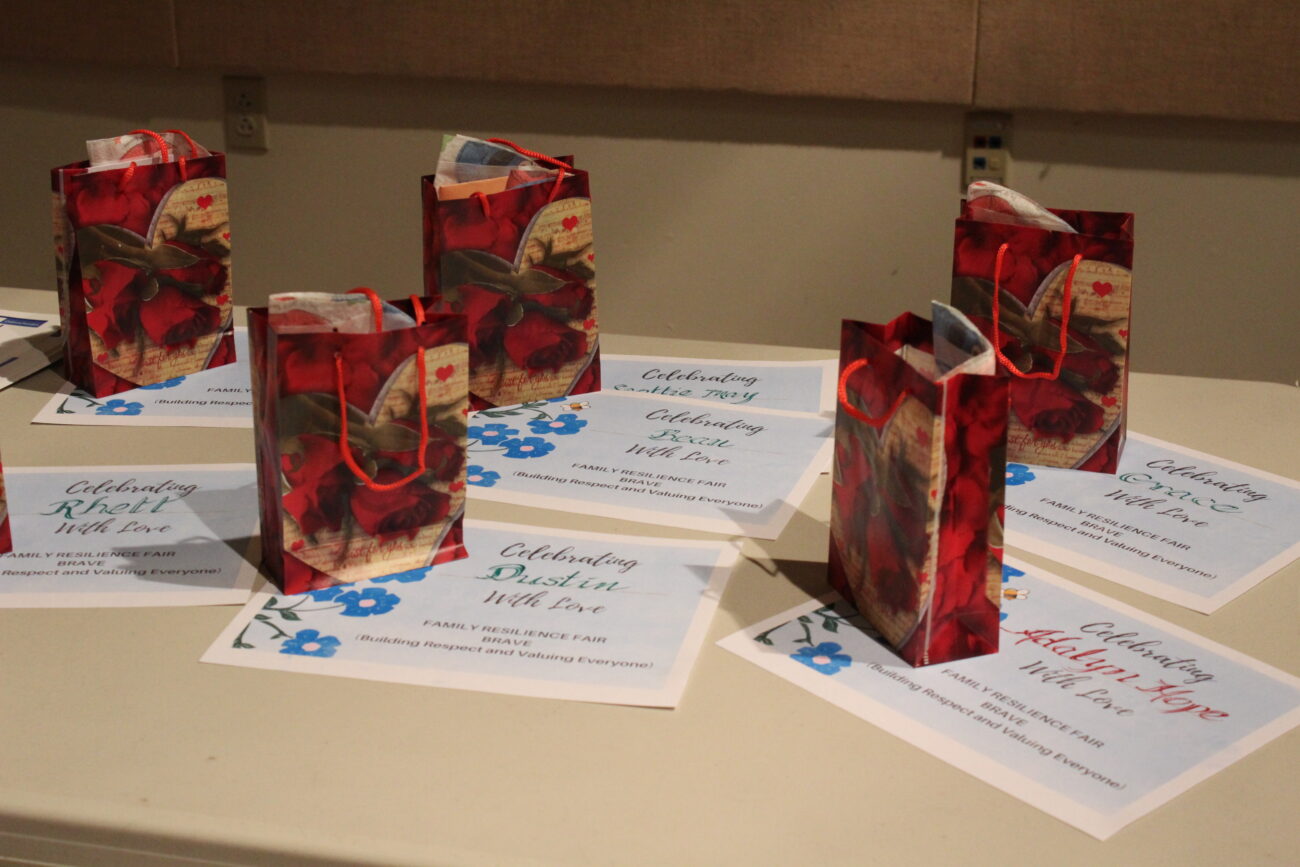 The babies are recognized with small gifts. Posters with the names of the new kids adorn a table in one corner of the room.
Larson says the event feels more spirited this year – maybe that's because the world has entered a new phase of the pandemic. Or maybe it's because BRAVE requested vendors bring interactive elements to supplement their informational brochures. The centerpiece is a rainbow blowup bowling set, where each pin's head is shaped like a unicorn, brought by the Southeast Alaska Regional Health Consortium's Women's Health Coordinator.
Next to the bowling, there's a slideshow of photos being projected along the wall. BRAVE recently wrapped up a local version of a regional program – I Toowú Klatseen, strengthen your spirit. It's for third through fifth graders, focused on increasing wellness for kids and family through physical activity, language and cultural study.
"Beyond just a sports program, it was bonding [for the kids]," Larson says, "And not just bonding but the character development and the whole thing around culture was really, really important."
Other tables with pamphlets, stickers and informational posters span all ages and needs. There are tables from SEARHC's Behavioral Health and Patient Health Benefits offices, resources for people with disabilities, and Hospice of Wrangell, which hosts a medical supply loan closet and offers grief support and end-of-life planning help.
At a table draped with a rainbow flag, resident Alex Angerman says her message for families is one of inclusion. Wrangell's public schools have seen an uptick in bullying lately, and the district is working on implementing new educational programs.
"I just wanted to be able to kind of start a conversation about being more welcoming to people who might be different than you," Angerman says.
That's a deceptively complex idea, she adds, and can include bullying resources, anti-racism and decolonizing classrooms, as well as support for LGBTQ+ community members.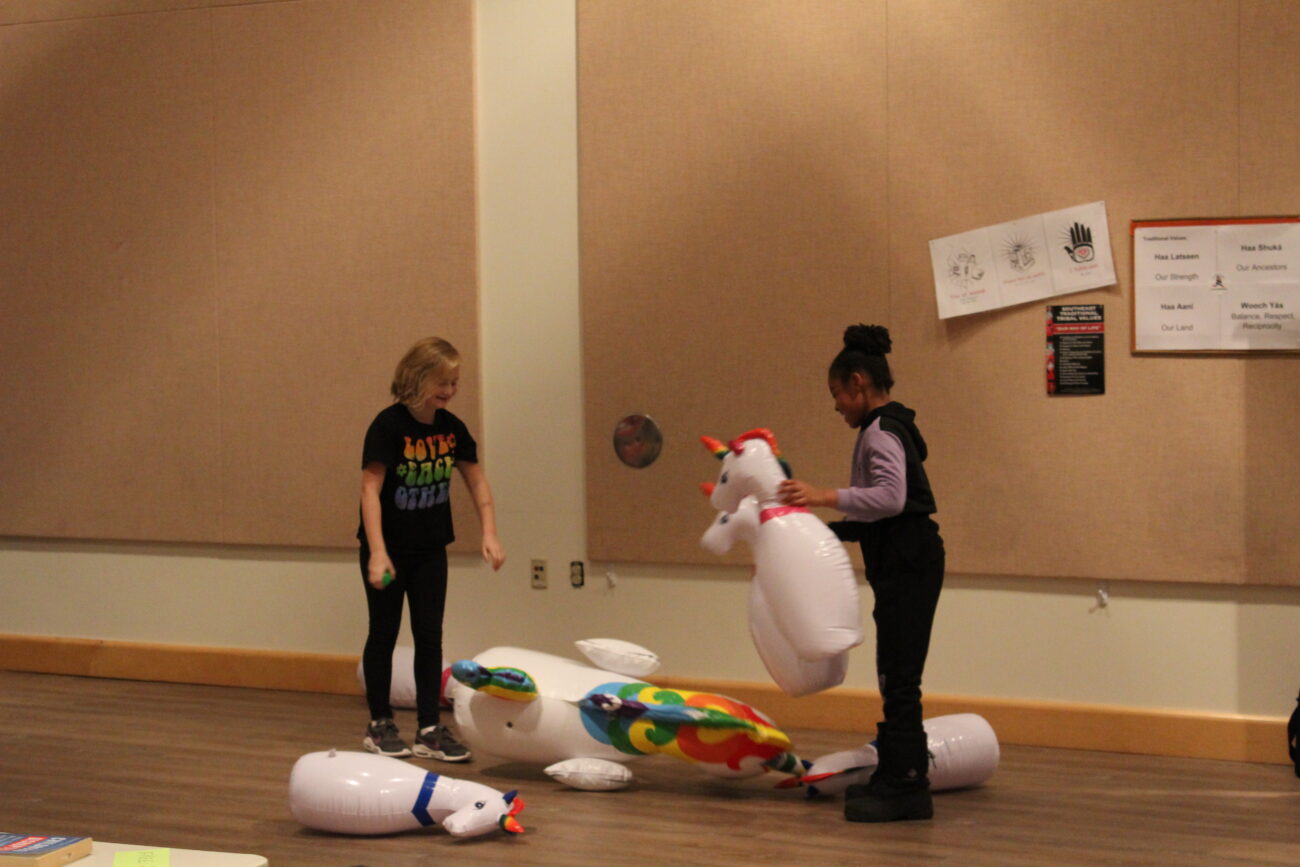 At the elementary school table, Social Emotional Learning coordinator Tawney Crowley says the focus is expressing emotions.
"We brought our emotions wheel today," Crowley explains, "It helps with establishing emotional intelligence and communicating a little bit better, especially when you're having kind of a hard time. And then I brought our breathing exercise or tracing page and just some positive affirmation coloring pages and posters and stuff like that."
In the center of the room, Corree Delabrue wears a green U.S. Forest Service vest.
"Even though it's winter, it's still important to get outside as much as we can, for mental resilience," Delabrue says, "And it's also good to hear from people."
Delabrue says the Forest Service wants to hear from community members about recreation opportunities on the Tongass. There's an open comment period on proposed new cabin sites in the Wrangell and Petersburg Ranger Districts, but beyond that, she says the agency wants to know how Wrangell families use the forest and how that could grow in the future.
Wrangell's Salvation Army has a table along the back wall. Lt. Jon Tollerud says he wants to get information out about his church's food pantry and holiday food distributions – they gave out 106 dinners before Thanksgiving – but also to spread a broader message of hope and refuge.
"We're just here saying if you feel like you're on your own, you're not," Tollerud says, "We're here for you in whatever way we can be. We will try."
Another local food distributor is at the fair – Wrangell's Senior Center. Director Solvay Gillen says the center serves about 70 people a day through Meals on Wheels and is also back to in-house lunch dining for seniors who want to be a part of the "Lunch Bunch."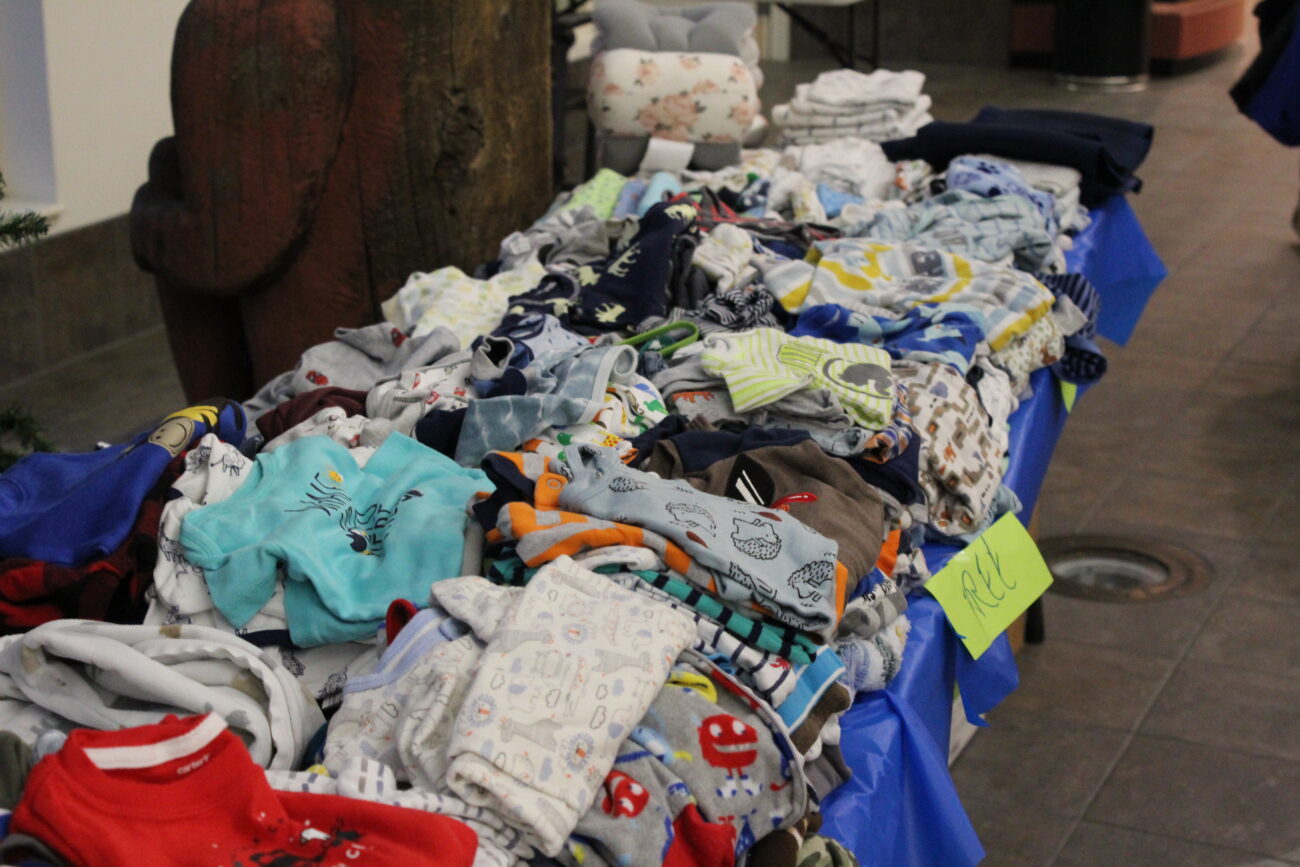 "We are here to support any elder, any senior out there that has any questions needs help with anything, any extra support," Gillen explains. "We do meal delivery services, we have our Senior Van. It's only by donation, and even if you can't provide a donation, we just still want to help you out and get you around. We're not worried about your budget. We don't keep track. We're just here to merely help and support our elders."
Next to the reflective tape-cutting station, local tribal environmental (IGAP) coordinator Valerie Massie is passing out information about a large grant secured by the Wrangell Cooperative Association – $1 million over a five-year period to secure a local domestic violence prevention specialist. The Ketchikan-based anti-violence organization WISH (Women in Safe Homes) wrote the grant at the request of local organization BRAVE (Building Respect and Valuing Everyone), and the tribe carried out the application. Massie says it may be early next year before the program gets going, but it's an important step for the community.
"This will put someone on the ground and find someone to do not only advocacy in the future, but first, needs assessments and education in the schools and that kind of thing," Massie says.
Beyond support for Wrangell families, event organizers say it's heartening to see resource providers talking to each other. That's how new programs and support systems get built. Whether Wrangellites leave with new ideas or a year's supply of free pens, they call the 5th Annual Family Resilience Fair a great success.
Get in touch with KSTK at news@kstk.org or (907) 874-2345.