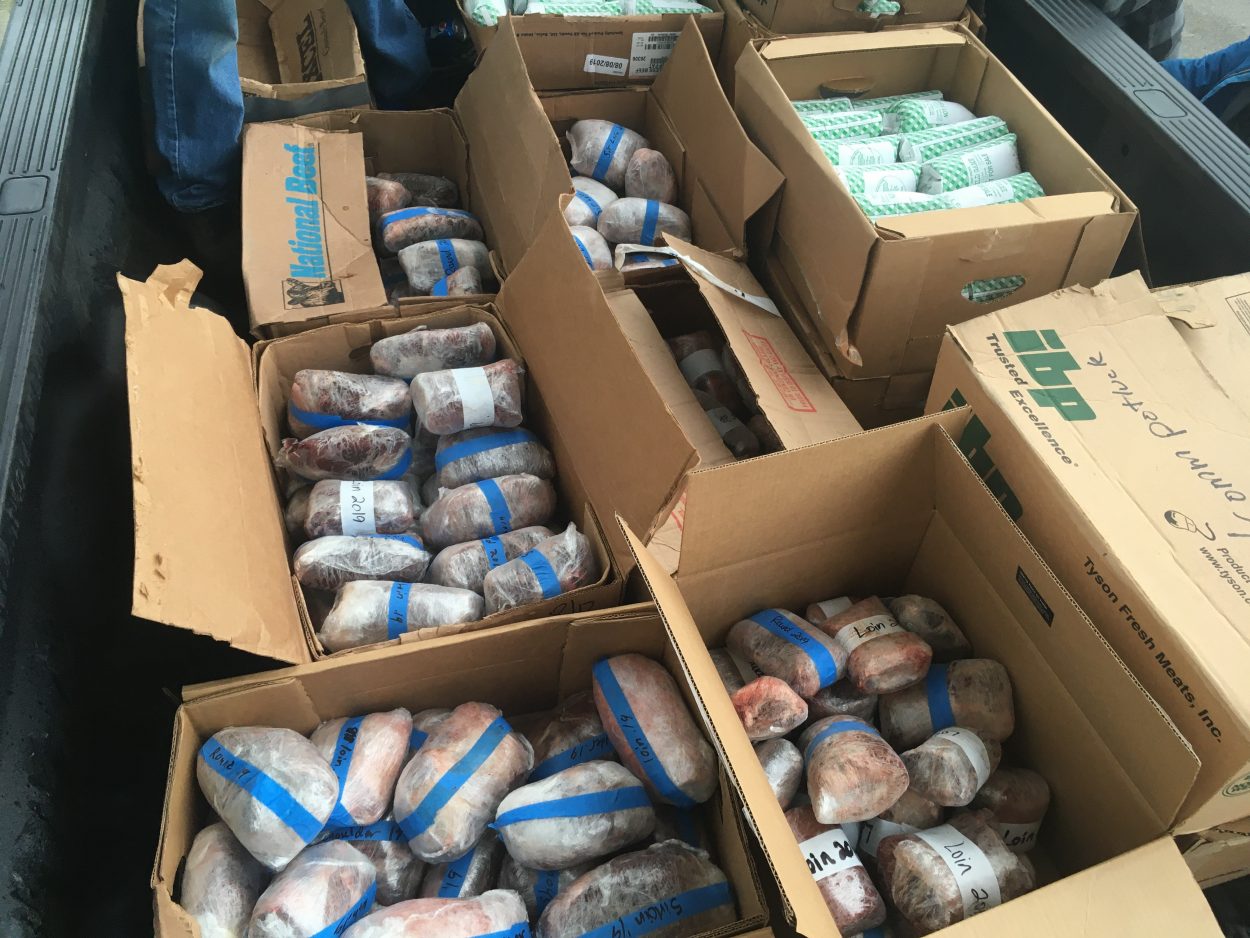 Wrangell's distribution of free meat from illegally harvested moose looks a little different this year.
The community committee on confiscated moose meat met at the end of November to decide how to divide the three sub-legal moose taken on the Stikine River this year. Most confiscated moose in the area do not meet the antler requirements of the fall hunt and become property of the state. 
Fish & Game Advisory Committee Chair Chris Guggenbickler says this year, the emphasis was on getting the meat to Wrangell organizations, rather than individuals.
"The difference between this time and three years ago when we had three [illegal] moose is that this is gonna be distributed through those charities, rather than myself trying to go up to 40 different people and contact them," Guggenbickler explains.
Over the years, he says it's become complicated to try and track down people when phone numbers and home addresses change. Guggenbickler says the committee – which includes the Fish & Game Advisory Committee, Wrangell's tribal government (WCA), the Stikine Sportsmen's Association, the Senior Center and the Salvation Army – didn't feel like the meat was actually getting to Wrangell's neediest people.
"We looked at if we could distribute it to individuals, and that really became problematic," he says, "And so we distributed the meat mostly to the Senior Center and the Salvation Army. Wrangell's elders certainly have the opportunity to go to the senior center and get some of this – I would just check with them on when it's going to be on their menu. And then the Salvation Army really helps needy people, and they can go down there and get some of this. A portion of it also went to Head Start – they have kind of a traditional foods [program] and snacks for the kids."
Guggenbickler says after being processed, the three confiscated moose came out to about 140 roasts and around 400 pound-and-a-half packages of burger.
He says the meat distribution committee started in 2018 after state troopers asked for help distributing the meat from seven illegal moose.
"They were stuck trying to deal with this meat," Guggenbickler explains, "And they were really looking for an equitable way for us to distribute meat throughout the community in a manner where we could reach out to the people that needed it most."
After a few public meetings, the committee came up with a list of community members and organizations that could most use confiscated moose meat. They also set up a system where the $300 fine paid by the hunter for the illegal kill goes to a butcher, who processes the meat so it's ready for distribution.
Wrangell doesn't have illegal moose meat to distribute every year – it depends on whether hunters take moose that aren't legal. Last year, there was one small moose, and meat went to the Senior Center and Salvation Army. In 2020, there were no illegal kills.
In and around Petersburg, Kake and Wrangell, hunters shot 118 moose this year. Twelve (12) of those were illegal takes – just over 10% of the harvest.
Even though most of the meat went to the Senior Center, Salvation Army and Head Start this year, Guggenbickler also says the moose meat committee set aside a few roasts for the annual community Christmas potluck dinner.
"So hopefully, that's well attended, and everybody sees that as a way for them to get a little slice of this thing," he says.
Wrangell's Community Potluck is scheduled for 5:30 p.m. on Sunday, December 18 at the Nolan Center.
Get in touch with KSTK at news@kstk.org or (907) 874-2345.