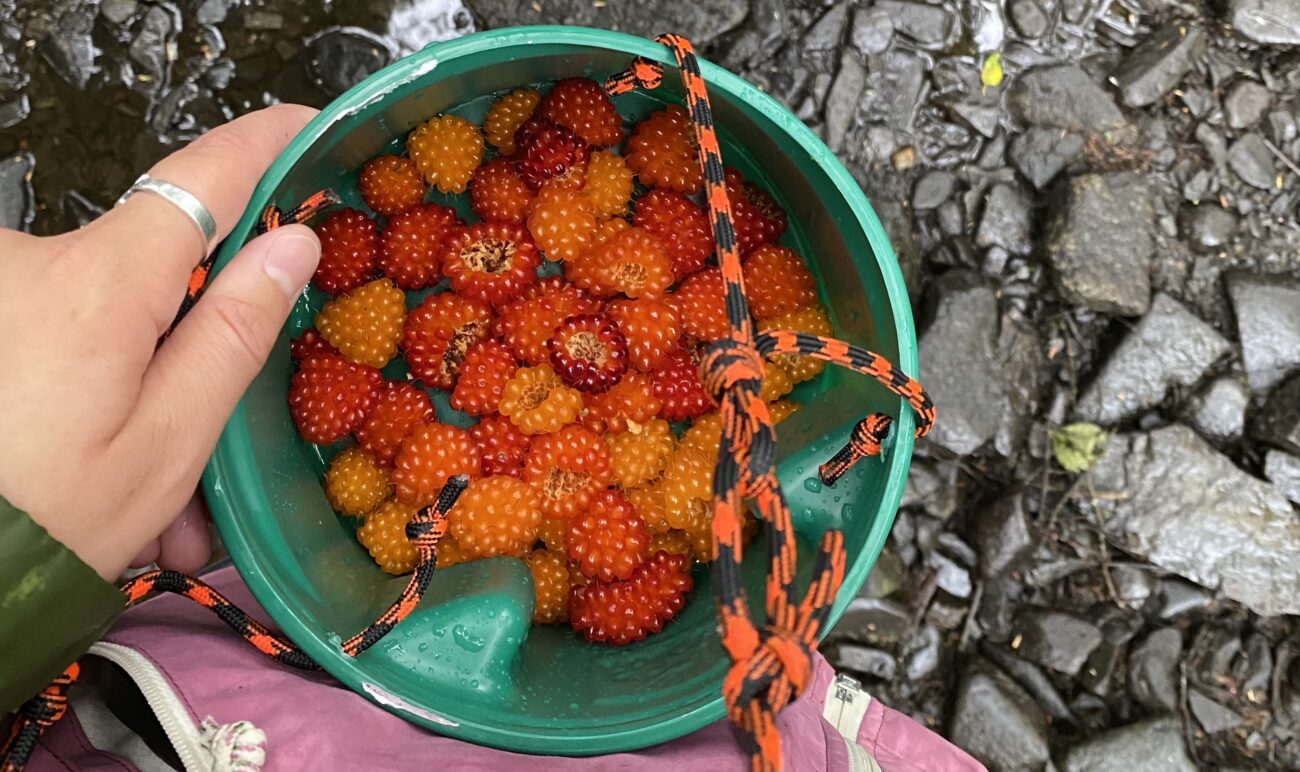 Wrangell's tribal government is sponsoring classes on food preservation and home skills this weekend. The classes are part of a nationwide program that's over a century old.
Beginning this evening (Thursday, December 8) and continuing throughout the weekend, the Wrangell Cooperative Association is sponsoring a wide variety of home preservation-related classes for learners of all ages. The options include classes on cooking with apples, canning fish, making wild pickles, water-bath and pressure canning tutorials, making jerkies, as well as short classes on home skills like making cleaners and improving indoor air quality.
"If you're a beginner, you're gonna get all the information you need to know to get started," explains Sarah Lewis, a Juneau-based associate professor with the University of Alaska Fairbanks. She says her goal is to appeal to people with a spectrum of experience.
But, she continues: "If you're more advanced – for canning [for example], you may be pretty experienced canning salmon, for example. But maybe you've never canned up a soup, and you would like to get a little bit more creative with your canning. So even if you've got some experience, coming to these classes can be fun, because it kind of kickstarts you to doing maybe something a little different in an area that you're already experienced in."
She says class attendees don't need to bring much, unless they have a favorite knife or apron if doing a cooking class.
Classes are free, and will be held throughout the weekend, mostly at either the tribal cultural center and middle school teaching kitchen.
Lewis says by title, she's an associate professor of UAF, but really, she's a community educator.
"I hear from people about what they want to learn about," Lewis says, "Or I just generally know, you know, in Southeast Alaska, people love to hear about food preservation and pickling and wild harvest and things like that. So I create programs to teach practical skills or useful knowledge related to those areas. And so that's what I'm coming to Wrangell to do."
It's a part of a nationwide, university-affiliated program called "Cooperative Extension," which is meant to help get research-based information into the hands of the public. It's been around for over a century.
"A good example is the research and scientifically tested safe methods for canning, salmon, and other fish," Lewis explains. "Those were actually done up here in Alaska."
Lewis first came to Wrangell last summer on her boat, and taught basic food preservation and other classes while visiting. During that early-summer trip, she worked with local healthcare provider SEARHC and the tribe (WCA) to do some basic classes.
This time, she worked with WCA to try and tailor those topics: "We're doing a little bit more of a wild, wild-harvest focus, so things that are more potentially specific to Wrangell wild harvest – the summer and fall harvest, things like that."
The classes are free because of grant funds from RurAL CAP, a private nonprofit organization based in Anchorage promoting health and sustainability for small and low-income communities.
Most of the $17,000 grant went towards a program to revive Wrangell's community garden over the last year. But because of local donations [WEB: from the City and Borough of Wrangell and electrician Tim Buness towards installing and powering up a new composting machine,] there were some grant funds left over – enough (about $2,100) to bring Lewis to town and purchase materials.
Lewis says the most important topic she teaches is safe food preservation. The processes of canning and preserving foods are simple, she says, but have to be done correctly to avoid the buildup of potentially harmful toxins. That's especially true when it comes to foods naturally low in acid.
"Pressure canning is critical for low-acid foods," Lewis explains. "Naturally low-acid foods are any animal products and almost all vegetables, either land or sea. When there are low-acid foods, and if you put them into a jar, you're creating a low-oxygen environment, and the bacteria that can be particularly harmful with that is the Clostridium botulinum bacteria. If you do not process pasteurize your jars at a high enough temperature, which requires a pressure canner, if you don't do that they can actually harbor that bacteria, and it can develop an active toxin."
She'll have a table up on Friday at the WCA Cultural Center downtown to test pressure canner gauges – an important part of safely preserving food: "If you have a pressure canner with a dial gauge, it needs to be tested once a year to find out whether it's accurate," Lewis says.
She'll also have other information available, in case people can't make the classes, she says.
"Cooperative Extension doesn't just teach active classes, we also do a lot of free publications," Lewis explains, "So that table will have information, some about gardening, some about food preservation, different topics that people might be interested in."
She says many of the skills she teaches are available in academic publications she'll try and leave at Wrangell's public library. The university's Cooperative Extension program also has a YouTube channel with the basics for getting started and learning preservation techniques.
Find the full schedule of classes for the weekend on WCA IGAP's Facebook page. Sign-ups are still open – call 907-874-4304 or visit the Google Forms link on Facebook to sign up for classes.
Get in touch with KSTK at news@kstk.org or (907) 874-2345.