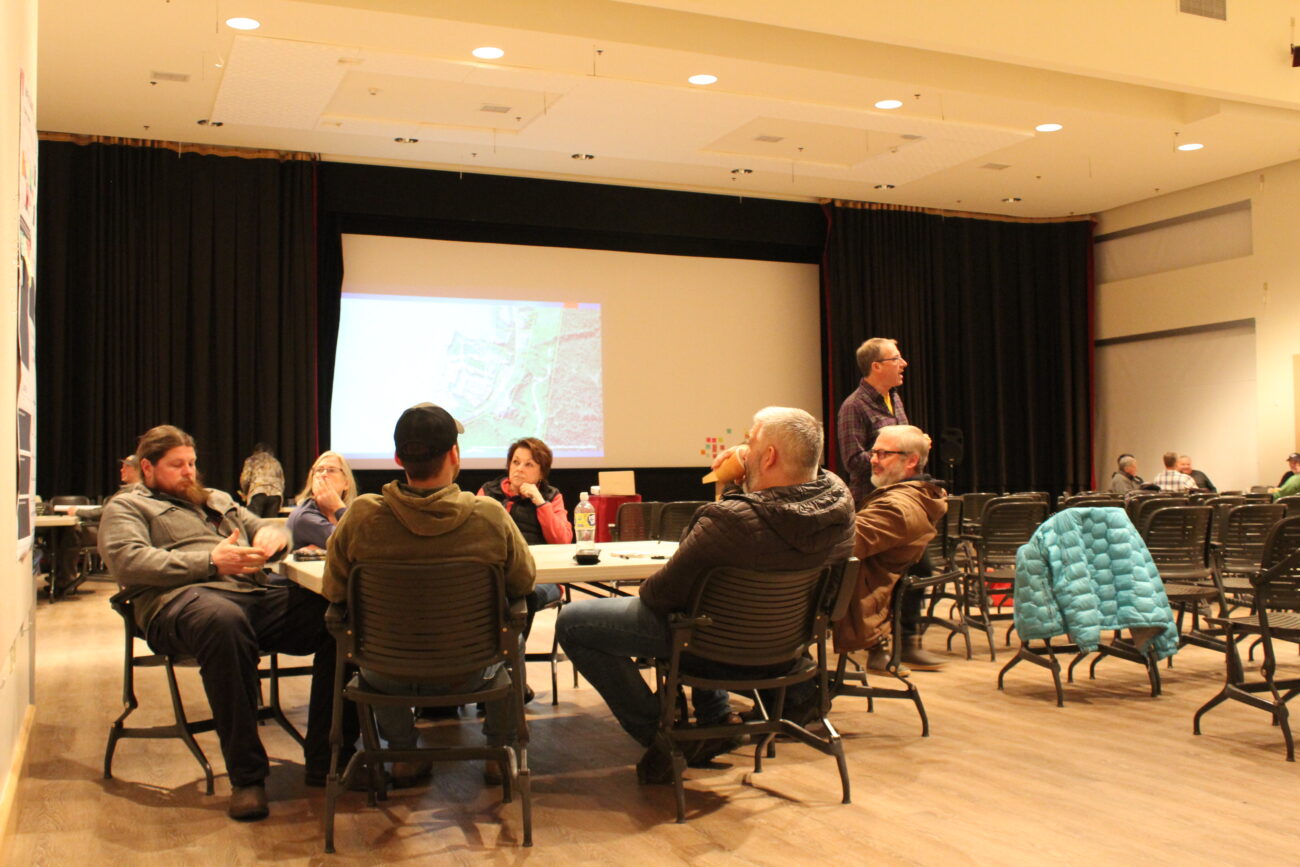 When Wrangell's sawmill slowly closed down operations in the late-90s and early 2000s, it took a quarter of the island's jobs and a third of its income with it. Decades later, the local economy still hasn't recovered.
Wrangell's borough government hopes the former mill site – one of the few undeveloped deepwater ports in Southeast Alaska – could bring an economic boom to town. The question is: what will be the best use for the property?
In June, Wrangell's borough assembly approved a $2.5 million purchase of the former sawmill property, six miles southwest of downtown Wrangell. On December 14, with the help of a landscape architect, the borough administration held a community forum to see what residents envision for the site.
Speaking to around 30 members of the public, Borough Manager Jeff Good explained it's important to the administration and assembly to hear from Wrangell residents about what they want to see happen to the site.
"Just to kind of clarify," Good said, "There have been some rumors going around that we've already had offers on the property and we sold the property we have: there are no plans for the property, because we want to do this first. We wanted to get feedback from the community to see what the community wants, because not only is that property going to drive what happens at 6-Mile, but it could drive what happens downtown as well."
"So," he continued, "[The] biggest point for us is to get feedback from the community, see what the thoughts are, whether that's light industrial, industrial, tourism, and get feedback to see where we should head from here."
The former mill is 42 acres, currently zoned for waterfront development, although Economic Development Director Carol Rushmore says that could change.
"It is probably one of the very last deep water industrial sites for development opportunities within Southeast Alaska," Rushmore explained during a short Powerpoint presentation giving background about the property.
Rushmore acknowledged there's some irony that the former beating heart of Wrangell's economy could bring new life to the island's slowly shrinking financial state.
"It was an economic driver for this community," she said. "It was critically important until it closed. And with the borough now having that [property], it is an opportunity to create that same driver for the community right now for the economic benefit to the community. The question that we're looking at tonight is sort of the overall vision: what are the things that the community would like to see and accept out there? We're trying to just sort of get that direction."
It's not going to be an easy development process, whatever the direction. The bulkhead along the water at the property is deteriorating, the site needs electrical hookups, and the sewer and water utilities end about a quarter-mile to the north and will have to be extended to reach the site.
There are also three sunken vessels (a tug and two barges) that could interfere with deepwater activities.
Juneau-based landscape architect Chris Mertl is a frequent visitor in Wrangell – most recently for the ribbon-cutting of the town Mariners' Memorial and for a walk-through of a proposed trail system expansion. Mertl facilitated a discussion event where attendees were randomly split into groups to talk about the economic future of the mill site and Wrangell as a whole.
"We're not going to come out with a: 'This is the answer,'" Mertl explained. "This is the preferred vision. This is listening to hear what the community would like to have happen and get those ideas down on paper so that the City and Borough can move forward with the next steps."
Around the edges of the Nolan Center auditorium, tables sat next to large posters. Pads of sticky notes and sharpies dotted the tabletops.
Mertl counted off attendees by fives, then led the groups through a series of thought exercises: "What is needed in Wrangell?" Mertl asked. "What isn't working well in Wrangell that could be improved? So this is a pretty big global question that we're calling opportunities."
Community members discussed what should, and could, be developed at the old mill site, writing on the Post-It notes and grouping ideas together. Popular ideas included moving barge services out of downtown to the site, or expanding the community's marine service center and boat haulout.
Greg Meissner was Wrangell's harbormaster for nearly 20 years. One of his ideas for the site was an expanded shipyard. He said he thought it could realistically only happen at the former mill, because there isn't the funding to fill another large plot anywhere else in town.
"We'll never develop a 20-acre fill anywhere," he explained to fellow group members. "We'll all be dead before that even got permitted."
Beyond just industry development, groups were also asked to brainstorm what amenities or improvements could supplement that industry. Sylvia Ettefagh owns a local tour company.
"At the mill site, we could have a car rental. At the mill site, we could have a bus station. At the mill site, we could have housing, like a little motel," Ettefagh mused. "That's one of the things happening to the shipyard right now; there's people that want to come and get hauled out but don't want to be living on their boat on the blocks."
Meissner pointed out that it's tough to say what small amenities out the road might take away from downtown business.
"Some things you could choose could be in competition with downtown," Meissner said, asking: "So is that really a net gain to steal a penny from downtown? Like, I [suggested] a shipyard could really use a small hardware store, but is that going to be taking away money from Front Street? Is that a plus, or not?"
Those potential industries and amenities then turned into headlines from the groups. In Ettefagh and Meissner's group, the focus was on progress while maintaining Wrangell's small-town feel.
"A lot of people think that as soon as you start talking industry, that it gets ugly, and it's sh— and I don't want to live here any more," Meissner said, "But that's not the case, that's my personal view. It can be, but if handled properly – 'Despite all this work in this industry, we're still beautiful and the best place to raise your children and have a family.'"
That's what he said he wanted to see in a headline, he said.
"We can think about this starting tomorrow and over 20 years, all the negative b-s that's going to come from all the things people think are bad, whatever, you're gonna be listening to that for a decade and a half until the point where it's done," he continued, but beyond all that, his vision was of betterment for Wrangell without sacrificing small town values: "Despite all that, this thing is doing well, and Wrangell is still Wrangell."
After around an hour of discussion, groups shared their conclusions and takeaways. Mayor Patty Gilbert concluded, saying the forum was the start of an ongoing dialogue as the borough tries to make the best decision for Wrangell's economic future.
"When the assembly purchased the mill site, the one thing that we insisted on is we're not going to sit on it, we're going to use it for economic development," Gilbert said, "So that's why tonight was so very important. And it's only the first step, we're going to keep reaching out to the community to come up with the ideas that the community wants out there."
At the moment, there's no grand conclusion. Ideas for the site ranged from developing a regional recycling facility to enhancing tourism to developing a technical college. Eventually, the wide-ranging discussions and Post-It covered posters will be condensed into a meeting report.
No matter what the final development consensus turns out to be, borough officials admit it'll be an uphill trek to secure funding to properly develop the site, but the forum was an important start to developing a long-term plan.
Get in touch with KSTK at news@kstk.org or (907) 874-2345.