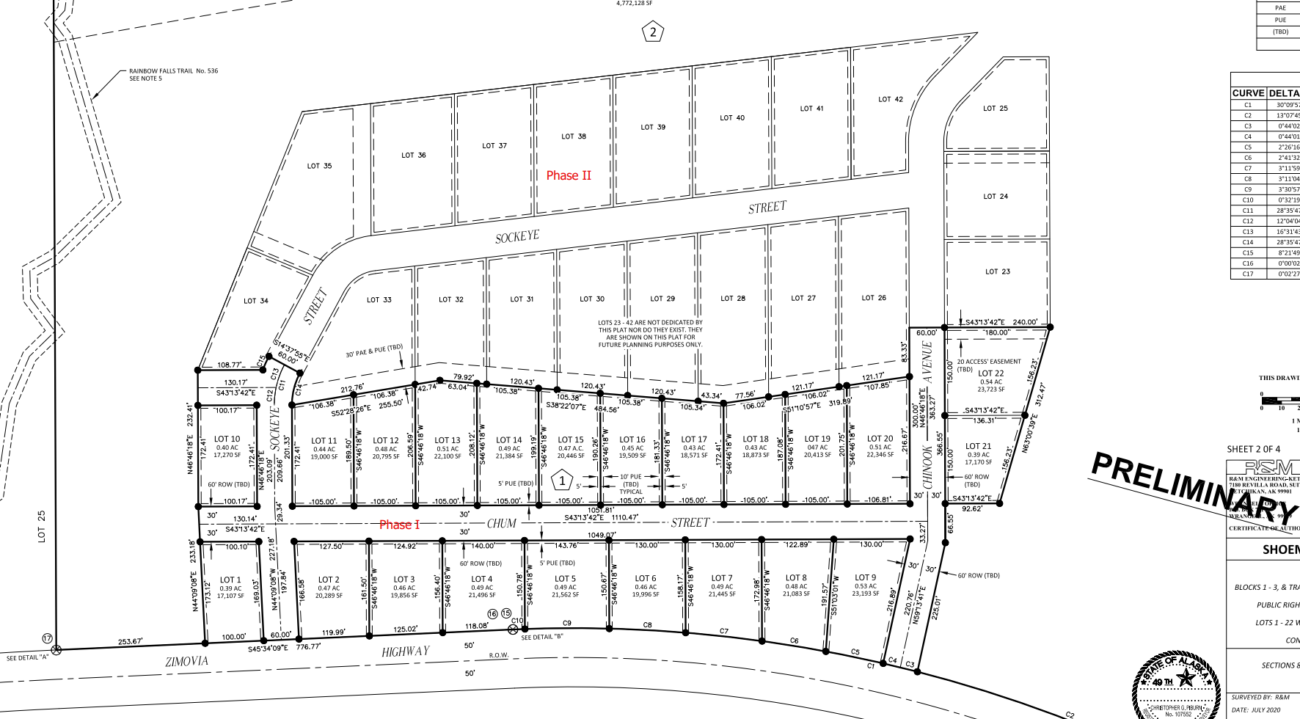 Wrangell's borough assembly has set aside just over $2.2 million to begin development of a new housing subdivision. The location is the site of a former boarding school for Alaska Native children. But there are still a few unanswered questions about how exactly the project will look moving forward.
Wrangell's housing market is cramped, and local officials see the 134-acre former Wrangell Institute property, located about five miles south of town, as a way to relieve the pressure. 
"There's a high need right now for housing, and we don't have a whole lot of opportunities to be able to provide lots for housing," Borough Manager Jeff Good told assembly members at a December 20 meeting, adding: "This would do that."
Good told assembly members that developing lots at the site is a very important investment. The borough has held the property since the late 1990s (the boarding school closed in 1975).
"The recommendation from the administration is that we make a commitment to get this out to the public and get these lots sold," Good continued, "Then try to recoup some of that money back so that we can then develop the second phase."
The first phase of development will bring water, sewer and electricity to 20 new lots at the site of the former Bureau of Indian Education boarding school. It'll also rough-in roads for the second phase of development.
The subdivision will be named "Alder Top Village," after the historic Lingit place name: Keishangita.'aan. The design for the subdivision is already about a third of the way through the process with Ketchikan-based R&M Engineering. Once the design is complete, the borough will be able to request bids for construction.
Good explained funding for development is a mish-mash from the community's water, sewer and electric funds, as well as about $1.5 million from sales taxes: "Because there are enterprise funds that will benefit directly from [development], whatever enterprise funds are required like sewer, water, they'll kick in a portion of that [funding]."
Wrangell's borough assembly unanimously approved the funding, but some had questions and concerns. Assembly member Jim DeBord noted that Wrangell's utility capacity, especially for the sewer system, might not be able to support 20 new houses without upgrades.
"As part of this, we need to have some type of a bigger plan to make sure that the infrastructure we have now is also usable out there," DeBord said. "I don't want to build an entire community and then our water pipes fail internally, and now we built this brand new subdivision and can't provide water for them."
DeBord also noted that Wrangell is an aging community. Many seniors – who already receive a major property tax break – don't live in town year-round. That could cramp the borough's return on investment, if people who aren't living in town snap up the properties, he said.
"I don't know how you even address this, but I just have this fear that it turns into some type of retirement community, where you have people who live here half the year, and don't pay taxes half the year. And then when they're here, it's a residence that they're exempt from property taxes," DeBord explained.
"It's a pretty big investment," he continued. "I don't know how you mitigate that or if you can, that's just a concern, when Jeff was just talking about how many people turn off the water to go down south for the winter – they're not at City Market, or Bob's buying groceries or fuel, or – they're not here."
Borough officials said they're still working on cost estimates for exactly what will be able to be developed with the money. It's not clear yet, for example, whether it might be possible to wire the subdivision underground, instead of having electric lines above ground. Above-ground lines have caused days-long blackouts for parts of town as recently as last winter.
Assembly member Dave Powell said he'd approve a bit more funding if it meant more attractive lots.
"I mean, if we're talking, you know, $50,000 to $100,000 difference to put everything on this thing underground – I mean, anybody that lives on this hill, that looks this way can attest that they'd really like to have some wires out of their view," Powell mentioned. "If we're going to do something like this, I would like to make it appealing for people to buy the property."
Assembly members also discussed the possibility of setting lots aside for green areas, and although it wasn't mentioned at the meeting, Wrangell's tribal government has also discussed placing a memorial for Native children from all over the state who attended the Wrangell Institute somewhere at the site.
The borough has been working toward a new housing development at the site since 2016, but the process was paused in the spring of 2021 after the remains of more than 200 Indigenous children were found on the grounds of a boarding school in Canada. The Army Corps of Engineers paused its wetland fill permitting process while the federal Bureau of Indian Affairs and State Historic Preservation Office (SHPO) completed a records search and survey of the property, respectively.
Borough officials say they hope to receive a conditional permit from the Army Corps early next year. And if project milestones are met without much delay, they say construction could begin as early as next summer.
Get in touch with KSTK at news@kstk.org or (907) 874-2345.