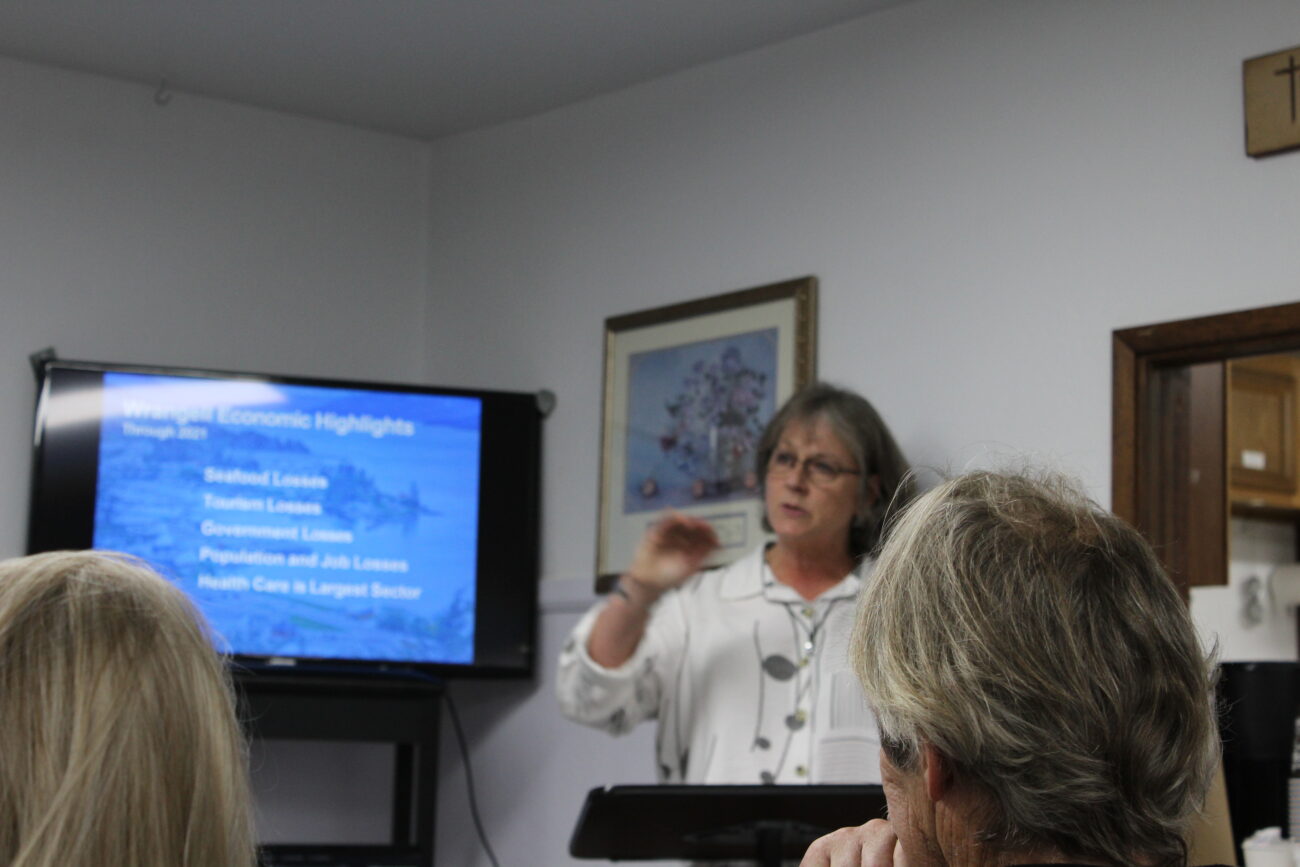 Wrangell's economy has changed dramatically over the last three decades. And all the while, one woman has tried to keep the community's eyes focused on the future. Wrangell Economic Development Director Carol Rushmore plans to retire this spring. She sat down with KSTK to reflect on her tenure and the challenges that still lie ahead.
This story will be updated soon with the audio version.
Twenty-nine years and one month is a long time to hold any job. But Carol Rushmore says Wrangell's Economic Development Director has been an especially interesting role.
"It's been a ride to see the ups and downs," Rushmore says, "But it's been amazing to see what the community has always done as far as pulling together and figuring out what we need to make happen. You can't do this job without the community's support and participation."
Sitting behind her desk at City Hall, Rushmore has had an inside look at Wrangell's changing economy as the community grappled with the decline of the logging industry.
"When I started in December of 1993, the mill was still fully operational," she relates. "The town was booming – we were very fortunate. It was very difficult to find a place to live just like it is now. You couldn't get a P.O. box, we were general delivery for probably about six months to a year, and it was an extremely busy community. And the idea at the time from the Economic Development Committee and things that were being worked on was to support the local businesses and try to help them move forward and increase their capacity."
But then, the goals shifted dramatically: "A year later, the mill shut down. And overnight, we lost 30% of our payroll earnings within the community and 20% of the employment. It was devastating to the community, and it took the community a very, very long time to recover. I mean, into the early 2000s, we were still seeing these downward trends of population and the changing in the economic climate."
Rushmore says the first few years after the mill shut down were rough. But with help from the state and federal government, Wrangell found a way to move forward and lay the groundwork for major public projects throughout town.
"We held a lot of public forums: how do we want to move forward? Where do we want to go?" Rushmore says. "The port commission was extremely active in trying to justify and make the numbers work for the Marine Service Center, new harbors, the Nolan center – we did a lot of other improvements."
And they worked. While Wrangell's population has dropped by almost a quarter since the mid-90s and the economy isn't what it once was, Wrangell's Marine Service Center has become one of the cornerstones of the island's economy, and the community has been able to secure tens of millions of dollars in grants and loans for ongoing infrastructure projects, including potential major developments at the former mill site and Alder Top Village Subdivision (Keishangita.'aan) at the site of a former boarding school.
The economic development director position is multifaceted, with fingers in planning and zoning, tourism, and long-term development. Those big issues mean Rushmore experienced some … differences of opinion. But despite the challenges of navigating federal, state and local politics, Rushmore says it's been a rewarding job.
"When we see these big projects, even some of the little ones that have a really big impact on a certain sector of the population, when you see that happen and be completed – it's very satisfying," Rushmore says.
She says at times, it's been tough to hold down the economic development office all by herself – holding forums, attending meetings, and writing grants. Over the years, there have been times she's felt like she hasn't been able to do her best job, or even get to projects she cares about.
"There's never a dull moment," she says with a laugh. "I mean, there've been moments where I've hated the job, because there's so much variety, there are so many things that need to be done that I'm just not doing well – I don't have the time. But more [than anything,] I have loved the job."
To help ease the strain on her successor, Wrangell's borough assembly approved a new marketing and community development coordinator position which will double the size of the economic development department.
Rushmore's replacement to helm Wrangell's economic development has already been lined up – Kate Thomas, the current Wrangell Parks & Rec Director. Rushmore says she and Thomas have already started working together but will work more closely in the role once the borough hires a new director for Parks & Rec. Rushmore says the job involves a lot of listening, and her advice to her replacement is that consistency and follow-through are key.
"This job morphed for me based on my skills based on my abilities, and she brings a whole different skill set, a whole different perspective," Rushmore says, adding: "And it's time, you need that younger perspective, that younger energy, you need that new perspective." She laughs.
"So I think the job will change based on her skill set and what she's interested and what needs to be done with the city," Rushmore continues. "To me that's [my advice:] to make this job her own. It's certainly not going to remain like it was with me, and her office will probably be a lot cleaner than my office has always been, because she's much more organized. I'm a chaotic organizer. So you know, there'll be a lot of differences, but she's quite capable and very smart, and I think will make this position her own and do quite well."
As for her plans when she retires in a few months?
"I have pages of things I want to do," Rushmore says, "And I'm going to just enjoy myself."
Get in touch with KSTK at news@kstk.org or (907) 874-2345.