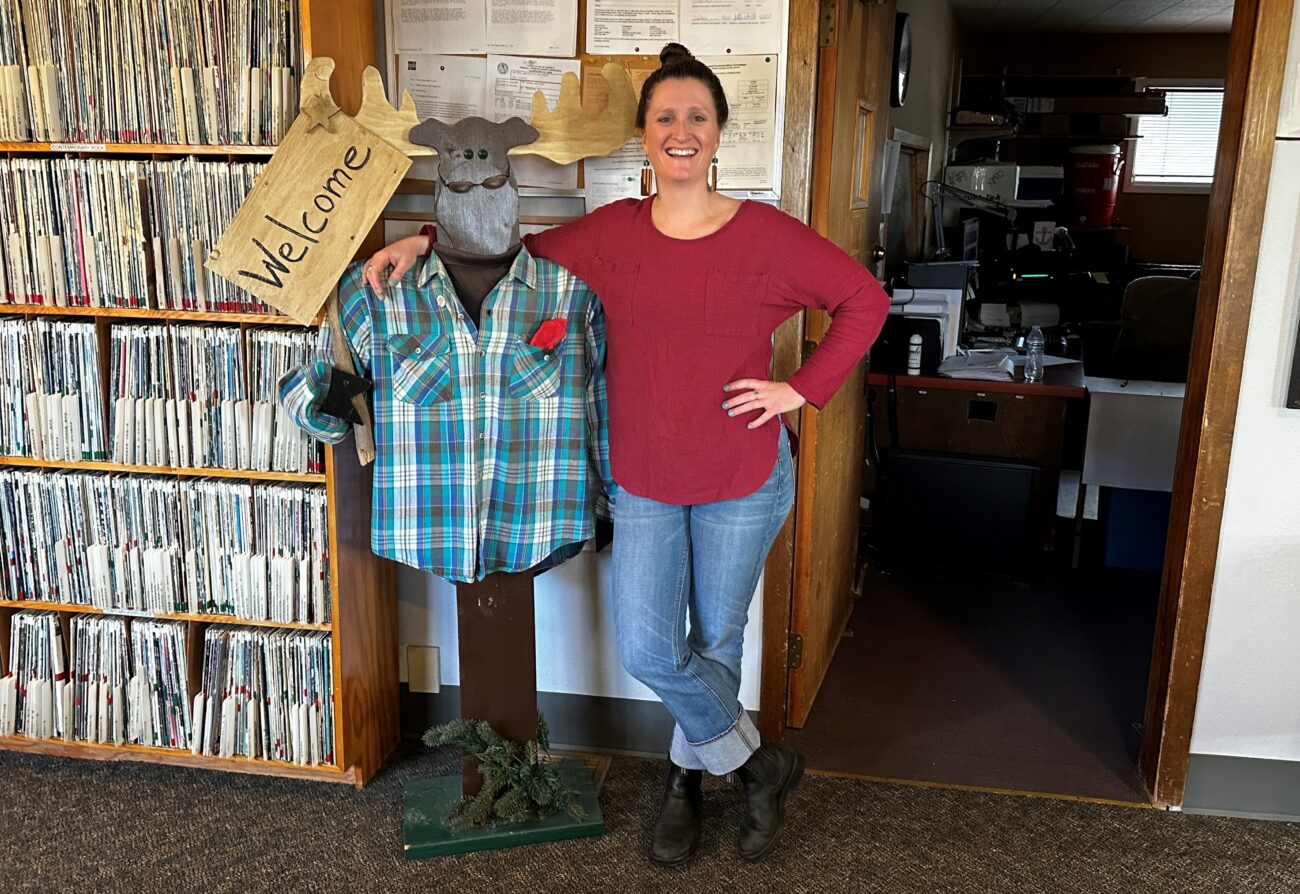 For the past eight years, Kate Thomas has been the smiling face of Wrangell's Parks and Recreation department – overseeing everything from teaching swim lessons and lifeguard classes to putting together the department's budget and supporting new programs. Soon, she'll take on a new role as the borough's economic development director.
Wrangell's Parks & Rec Department doesn't have a juggling class, but Director Kate Thomas might be able to teach one after eight years in the rec building.
"That's something that I excel in: Juggling the day-to-day operations and the needs of individuals and the priorities that we have in play, but forecasting into the future and creating benchmarks and objectives to reach that," Thomas says, explaining that her experience prompted her to apply for the job as Wrangell's economic development director, replacing Carol Rushmore, who's worked there for almost 30 years.
"If you were to summarize that [economic development] position, it's managing today for a better tomorrow," Thomas continues, "And I think my skills reflect the capacity to do that well."
It's a crucial time for Wrangell's economy – the community is emerging from the COVID pandemic and considering major projects like a new subdivision at the former Wrangell Institute site and potential new development at the old mill. Thomas looks forward to exploring those options.
"There's a lot on the horizon, and some people think that that is scary," she says. "I think that that brings about opportunity."
Thomas says she knows that fostering good relationships makes a world of difference when dealing with challenges – something she learned at Parks & Rec.
"There are a lot of high and critical needs [in town], and there's a lot of potential different directions," Thomas says. "Having positive working relationships with the public and different departments and the community as a whole, I think, is going to be really important."
Thomas says she won't start the new job until the borough has found her replacement. Then she'll split time between the rec center and City Hall, training her successor and learning about her new position.
Economic Development Director will only be Thomas's third job in her adult life. Unlike many of her millennial peers, she says she's tried to stick with her jobs first as a wilderness guide in Southcentral and Western Alaska, then for Alaska Crossings in Wrangell, then as Parks & Rec director for eight years next month.
"I think you can really leave a lasting impression on the position, get to know it, and develop those goals and projects that you have prioritized for yourself," Thomas says of her preference for longer stints at jobs. "I would say especially in economic development having some short-term benchmarks to show good faith to the community that we're being productive, but also playing the long game, because development in the broad sense takes time."
Thomas says to start out, she will focus on some immediate goals already set by the committees and boards that inform the Economic Development department – Planning & Zoning, the Convention and Visitors Bureau, the Economic Development Committee.
"There are other projects that are already in play, whether that's the tourism branding implementation, or developing and recruiting the tourism and community development coordinator position," Thomas points out.
Looking ahead, she says she wants to help modernize and streamline some of Wrangell's policies and procedures: "There are certain things that are outdated – whether it's the code or regulations – that we need to clean up and shore up with modern standards so that we can bring the very best to the next generation for our community," she says.
Thomas also specifies she wants to focus on work with the harbor department to stabilize Wrangell's maritime economy and secure its place in the region and the state.
"We know that there's development going on in other communities and I think Wrangell has a really keen opportunity to position itself well and maintain the growth potential that we have for that particular sector," she says. "It's a huge driver for us."
Thomas adds in the longer term, she also wants to help grow the community's workforce, make sure infrastructure codes are updated, and look at the housing crisis and other limitations that are potentially stifling Wrangell's growth.
It's a complicated job that encompasses planning, zoning, tourism and economic development. There are also grant-writing responsibilities and site development. Thomas says she's trying to keep that in mind as she prioritizes her duties.
"It's just trying to figure out where the highest and most critical need is today," Thomas says, "And that might look different a year from now. You could ask Carol Rushmore: 'Has each year looked the same in terms of your priorities over the last 30 years?' And there's absolutely no way it could have. So some years are going to be heavy on regulations and code revisions and some years are going to be heavy on development and responding to economic emergencies, etc."
She says she's been trying to give herself pep talks about how she'll respond to the many unknowns of shepherding Wrangell's economy into the future.
"It's going to take time," she says she tells herself, "Government isn't designed to work at lightning speeds, it's designed to be sustainable and to have strategy over time. It spans decades, if not generations to realize a whole new era of humanity. And that's what we're facing right now, ultimately."
Thomas says her biggest apprehension is in how to engage with the community in this new position. She says it will be the first time in her career she's not directly supervising large groups of young people. Plus, it'll be much less front-facing than working from the open office at the pool, and she says she'll have to be intentional about meetings, volunteering her time, and showing up for the community.
"I'm wondering how I will cultivate that same sense of purpose in this new type of work that I will be tasked with," she relates. "So going back to relationships, relationships are what motivate me, even for folks that might be a little on the naysaying side – keeping me honest, keeping me hardworking. That type of relationship, both positive or constructive, is what motivates me to do a good job. I'm going to have to seek that in the committees, with the borough assembly, with my peers, and with the community as a whole."
Thomas says that she hopes to keep up with community engagement, even in a job that's not as public-facing as Parks & Rec. She wants feedback.
"I like to buy people into decisions and include their interest and thoughts and criticisms and hopes and dreams, so I guess I would just encourage folks to pop in to see me, give me your two cents," Thomas says, "Because ultimately, I feel like I work for the people. I do work for the people. That's the principle of government, so it's my interest to ensure that folks feel like they can come and share their thoughts and ideas with me."
"I think if you've worked with me at Parks & Rec, you probably know that that's how I roll," she continues, "And I'll apply the same practices in the new position."
Mostly, Thomas says she hopes to do good for the town.
"Wrangell has been very good to me," she says. "I showed up here at the ripe age of 20 years old. I'm 35 now, so I've been here for a long time. It's provided a lot of security, a sense of community, opportunity for me, and I can only hope that I can give back to Wrangell even a portion of the potential that is given to me as a person. I love this town."
"Anything else you want to add?" KSTK asks.
Thomas thinks for a moment, then breaks into a wide smile.
"Go Wolves," she says, laughing. "Of course, right? Go Wolves."
Get in touch with KSTK at news@kstk.org or (907) 874-2345.