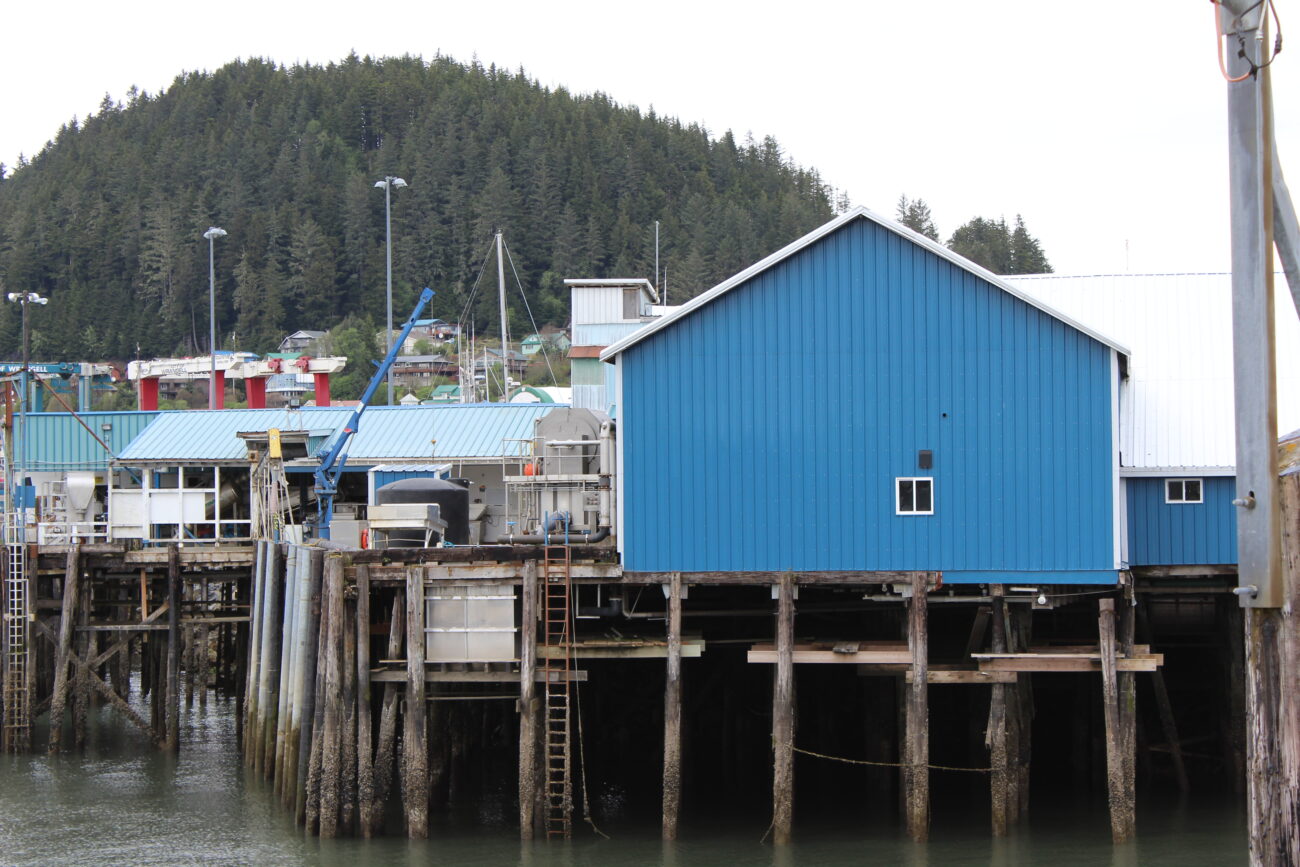 The fish-processing plant in the middle of downtown Wrangell, owned by Trident Seafoods, has been shuttered the last three summers. But Trident plans to reopen the plant this year, with a focus on freezing fish.
The royal blue buildings of Trident's Wrangell plant have been quiet and lacking that distinct, fish-processing plant aroma since before the pandemic.
"We never really wanted to shut down in the first place," says Trident area manager John Scoblic. He explains that crumpling chum and pink salmon runs pushed the company to keep the plant closed. But projections are looking rosier this year, and Trident plans to re-open the Wrangell plant.
"It's exciting to get the Wrangell facility up and running again," Scoblic says, "And we're excited for our employees, our fishermen, our customers and our friendship with our community of Wrangell."
Wrangell officials have commended the decision to reopen the plant. It'll mean returned utility revenue to the borough from the electrical and water consumption of the plant, as well as a potential increase in shared state fisheries taxes. Plus, it'll mean a 5% increase to the island's population – more people eating, living and working in town.
The Alaska Department of Fish & Game projects a Southeast pink salmon harvest of between 12 and 29 million fish this year – probably around 19 million. That's a few million more than last year, but a lower projected harvest than the gangbusters 2021 harvest of almost 50 million pinks.
Scoblic says that in addition to the better outlook for pink and chum salmon runs, Trident wants to respond to the market – and the market wants more frozen salmon. Re-opening the Wrangell facility will allow the company to produce and store more.
"We'd like to have the capacity to be able to freeze more fish," Scoblic says, elaborating that the Wrangell plant will process: "Frozen salmon of all species but primarily pink and chum."
Trident has had a presence in Wrangell since 2009 when it bought out the bankrupt Wrangell Seafoods company. The seafood giant operates about a dozen other plants throughout Alaska.
While the Wrangell plant was closed, Trident still bought fish in the area and tendered the catch to nearby plants in Petersburg and Ketchikan.
During the early pandemic, Trident's empty bunkhouses were rented out as isolation sites by the city government, but were never used. The Alaska Crossings wilderness behavioral therapy program also housed out-of-town guides in Trident's bunkhouses before the program shut down in early 2022.
Scoblic says Trident hopes to get workers in to start the process of reopening the plant by the end of the month.
"It's always a big job to get a plant up and running," Scoblic says, "But with it being fallow for a few years, there's going to be some extra repair and maintenance and as some small capital improvement projects that we'll need to take on: some roofs and floors, [a] little dock work, [a] little refrigeration work."
He says he expects the maintenance work to last until the plant opens in the middle of July. The plan is to operate through August. That'll include fleet services that have been missing from the Trident docks since 2019.
"We're going to buy fish and dispense ice, and we'll do some gear storage and what other things we need to do to support the fleet to have a successful season," he says.
Trident is in the recruiting process for plant workers, but Scoblic anticipates needing between 125-135 people to run the plant for one long shift. The reopening likely won't push the plant's full processing capacity, though, which Trident's website states is up to 750,000 pounds of fish per day.
Wrangell's other, smaller fish processing plant has kept on processing through the last three years. The plant – located about a mile outside of town – is owned by Oregon-based Pacific Seafood, and isn't solely focused on salmon like Trident. Its season usually runs from mid-March through the end of October, processing halibut, black cod and rockfish in the early season, and transitioning to crab and salmon through early fall.
Get in touch with KSTK at news@kstk.org or (907) 874-2345.