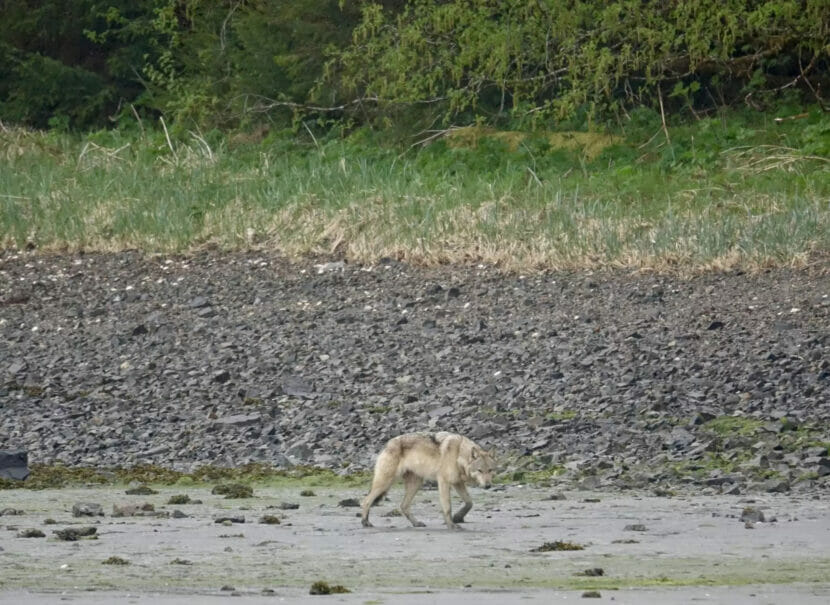 Wrangell's Assembly is set to oppose efforts to list Southeast Alaska wolves on the federal endangered species list. At its Tuesday meeting (February 28), assembly members will discuss officially condemning the petition to consider the Southeast wolf population endangered.
It's the second time the assembly will consider speaking out against the potential designation. In mid-February, the group declined to sign on to a petition submitted by the Klawock Fish & Game Advisory Committee, with some assembly members stating they believed the petition was anti-logging. Instead, the assembly drafted its own resolution.
Also at the meeting, the borough assembly is set to hold a public hearing on removing building permit fees from local code. The move would place them in a comprehensive borough fee and rate schedule, along with other utilities and fees like water, sewer or cemetery fees.
There will be another public hearing to approve a new building permit fee schedule that doubles the current rates and fees for building permits, rezone applications, and other related zoning and building permits.
Speaking of zoning, the assembly may give final approval of a sale of tidelands that isn't tidelands any more – it's land about 100 yards away from the water under the Arctic Chiropractic building. The assembly is considering selling it for $34,400. After a 30-day public comment period, the borough didn't receive any protests about the sale of the lot.
And the assembly is set to accept $100,000 from the sale of one of the old Byford lots which were put up for auction last year. That money will be set aside in the borough's residential construction fund for future projects.
Other agenda items include a move to rename the volunteer advisory committee known as the Investment Committee to the Finance Committee. Borough staff states a name change would broaden its scope. The resolution would also make the finance director the official responsible for calling the assembly to order – previously, that duty fell to the borough manager.
Before the regular meeting, the assembly will hold a work session beginning at 6 p.m. on property assessments and taxes.
View the full agenda packet for the meeting here.
Anyone wishing to speak at the meeting can sign up on the "Persons to be Heard" sheet located at City Hall prior to the meeting.
Listen in to the regular Borough Assembly meeting on KSTK beginning at 7 p.m. It'll air on 101.7 FM and online at KSTK.org.
Get in touch with KSTK at news@kstk.org or (907) 874-2345.