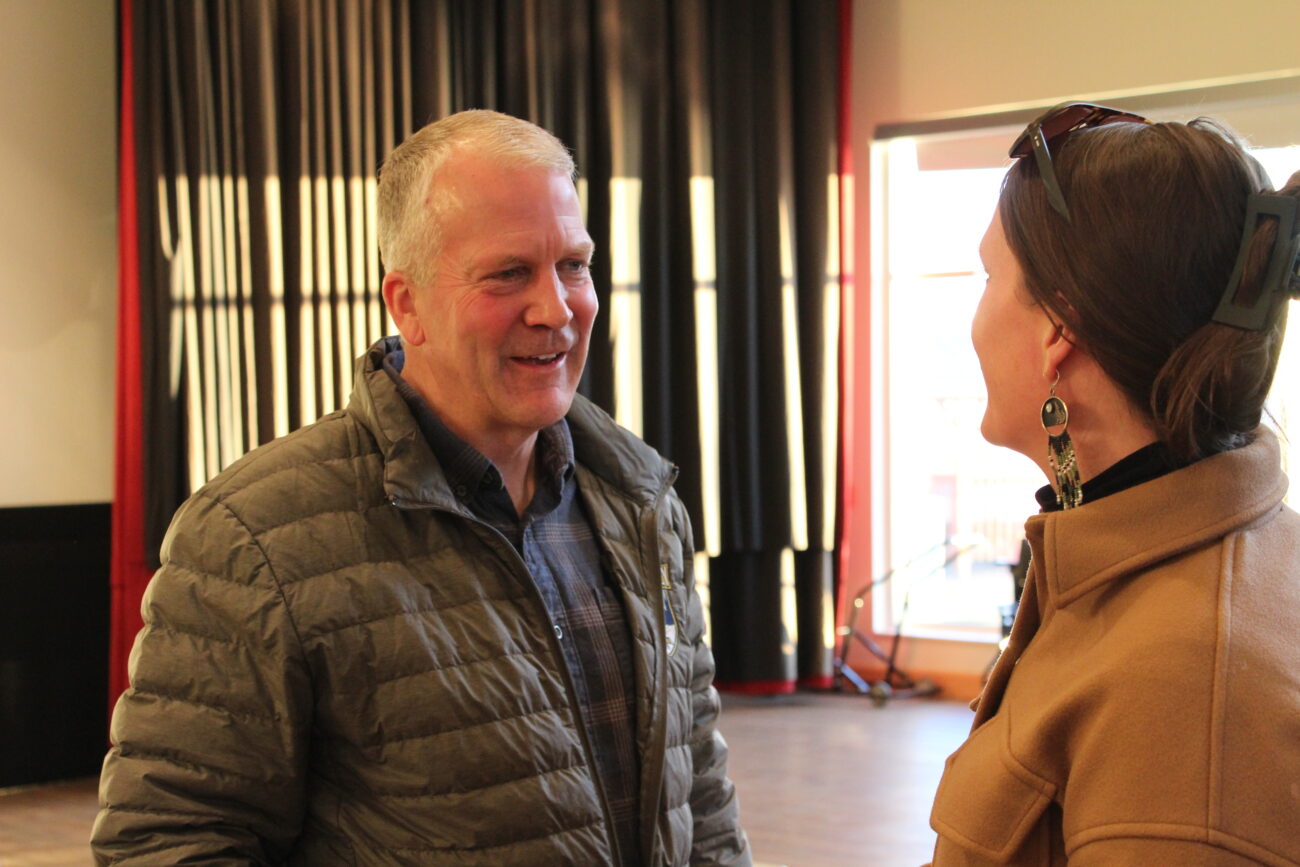 At a roundtable event with Wrangell community members and officials in late February, U.S. Senator Dan Sullivan answered questions and reiterated his support for development within the state. Find the full recording of the event at the end of this article.
Meeting with Wrangell community members at the Nolan Center, Senator Dan Sullivan focused on infrastructure needs and development, both on Wrangell Island and throughout Alaska. 
"I got a tour here today," Sullivan related, "I know there are some big plans, but we're going to need more ships – Navy vessels are my bigger goal – and I think what you guys are doing here in Wrangell has enormous potential, particularly with the mill site that we were at today that the borough just bought. So that's very exciting."
The former Wrangell lumber mill site is one of – if not the only – remaining undeveloped deepwater ports in Southeast Alaska. The borough bought the $2.5 million property last year, with the hope that with some new development, the former beating heart of Wrangell's economy could prove an economic cornerstone once again.
During a question-and-answer meeting with Wrangell constituents, Sullivan spoke out against what he called the "latest ping-pong" with the reinstatement of the Clinton-era Roadless Rule in Tongass National Forest earlier this year. He told attendees it runs counter to his pro-development stance for the state, and said the Roadless designation also hampers tourism and growth.
Sullivan also strongly condemned a federal lawsuit filed against the National Marine Fisheries Service by Seattle-based environmental group The Wildfish Conservancy that could shut down the Southeast king salmon troll fishery. He called it an "outrage," and said he'll be filing an amicus brief against the suit.
"This lawsuit is ridiculous," Sullivan stated. "Think about what they're trying to do: shut down this fishery. Estimates are that it could impact Southeast by $100 million for orca problems in Puget Sound. They're not asking for the fishery in Puget Sound to be shut down. They're not asking about the pollution in Puget Sound. They're looking at shutting down our fishery here. Idiotic, and an abuse of the Endangered Species Act."
Asked by the Wrangell Sentinel whether he'd support disaster relief for fishing families if the troll fishery gets shut down, Sullivan pointed out that the disaster relief system is slow-moving and requires a state declaration and federal cooperation.
"It's actually a really good question, if that would constitute a disaster," Sullivan mused. "I think it would, but the governor would have to declare that and then shoot it up the federal system, but we would be watching that very closely. Hopefully, we don't have to get there."
During his visit to Wrangell, Sullivan met with borough officials and took tours of infrastructure priorities like the old mill site, harbor projects, potential housing development at the site of a former BIA boarding school, and the community's aging dams and water treatment plant.
He also held a meeting with the local tribal government, the Wrangell Cooperative Association, which emphasized veteran's allotments, the Southeast Landless legislation, and transboundary mining issues.
Sullivan said that despite his pro-development stance, he's also focused on protecting Alaska watersheds and getting more information from the Canadian government about mining activity and its impacts.
"I've actually raised this issue directly with Prime Minister Trudeau twice, in different meetings," Sullivan said. "His responses to me were very, in my view, very weak. But I do think the provincial leaders are starting to get a little bit more focused on it. And in our meeting with the WCA, today, we talked about it. And I think having tribal representation on this is important as well. So we're gonna keep pressing it."
While Wrangell faces the same issues as many other Alaska communities – inflation, lack of housing and childcare, a shrinking education budget – Sullivan concluded by saying his goal as a senator is to help the community seize and harness upcoming opportunities for its own development and growth.
Get in touch with KSTK at news@kstk.org or (907) 874-2345.