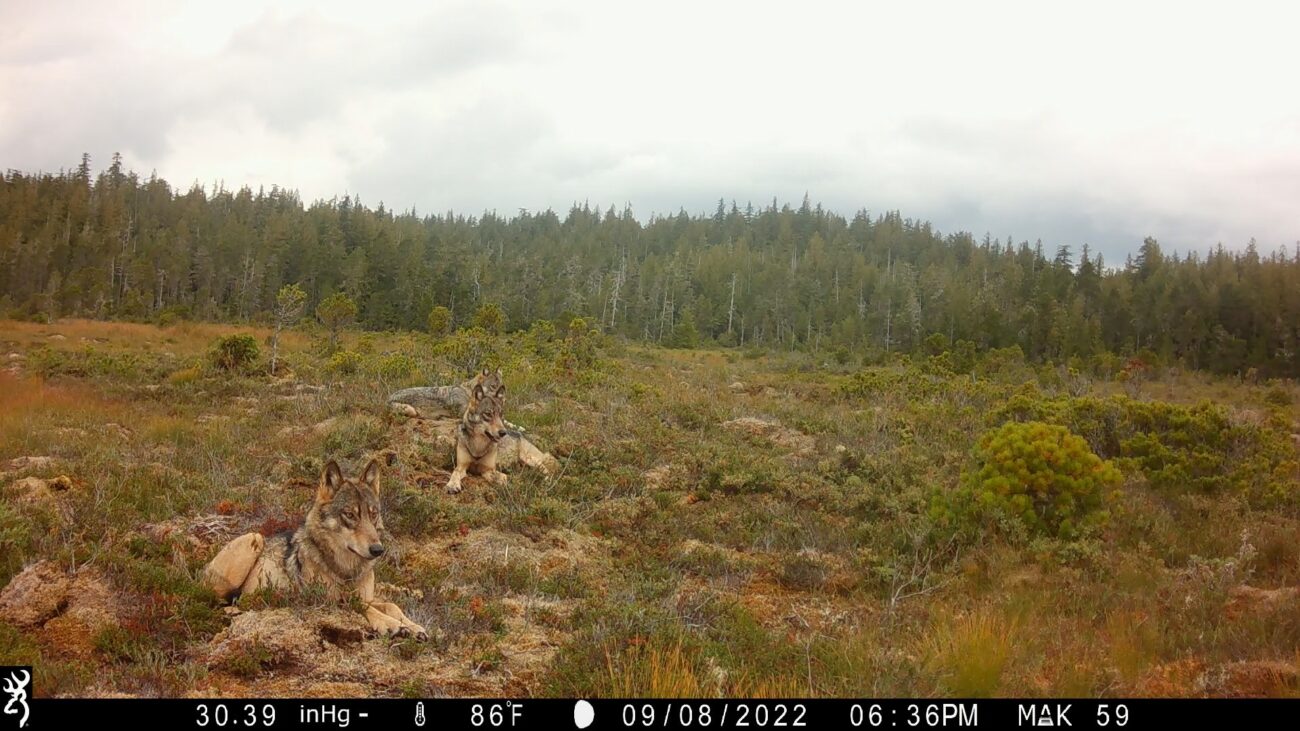 Wrangell's government is speaking out against a petition to put Southeast Alaska wolves on the federal endangered species list.
The Wrangell Assembly unanimously approved a resolution this week (February 28) urging the U.S. Fish & Wildlife Service not to list the wolves of the Alexander Archipelago as endangered. The resolution pushes the federal government to consider recent restrictions on development in the Tongass. It also cites data collected by the Alaska Department of Fish & Game, which opposes the potential "endangered" designation as well.
Three environmental groups filed the petition to put the wolves on the endangered species list in 2020 – the Arizona-based Center for Biological Diversity, Sitka-based Alaska Rainforest Defenders and the D.C.-based Defenders of Wildlife. They argue that Southeast wolves are genetically distinct and at risk of extinction due to loss of habitat and food sources – primarily Sitka black-tailed deer.
This is the third time the area's wolves have been considered for a place on the endangered species list. The first two times Fish & Wildlife didn't find it was warranted. But in 2021, they agreed that Southeast wolves might need more protections.
Wrangell's resolution joins a petition filed by the Klawock Fish & Game Advisory Committee and signed by individuals and organizations throughout Alaska.
Wrangell's assembly originally considered signing on to Klawock's petition on Valentine's Day, but assembly member Bob Dalrymple expressed concern with some of the wording and contents of the petition.
"The problem I have with this is the petition idea itself," Dalrymple explained to fellow assembly members on February 14. "In my opinion, petition is not necessarily a government function, it's [for] individuals and organizations. And I think we have a higher level of sovereignty here than just add our name on to something. And I do have problems with some of the wording in that petition. It's anti-logging and brings in just other stuff that if we sign that we're approving all of that, and every word of it, so I would rather us write our own either resolution or letter stating very similar things, but just to keep it plain."
That's what Wrangell's Assembly did. In its resolution, written at Dalrymple and Mayor Patty Gilbert's urging, the assembly lays out a number of reasons for why it opposes the designation. One is that wolves are highly mobile and move between the mainland, through Wrangell and on to other islands of the archipelago. Moreover, the borough doesn't support the designation of the wolves of Southeast as a distinct subspecies of wolf in the first place.
Wrangell's resolution also argues that Southeast communities would suffer with a decrease of subsistence and sport hunting, as well as bear regulatory burdens if the wolves were protected under the federal Endangered Species Act.
Get in touch with KSTK at news@kstk.org or (907) 874-2345.