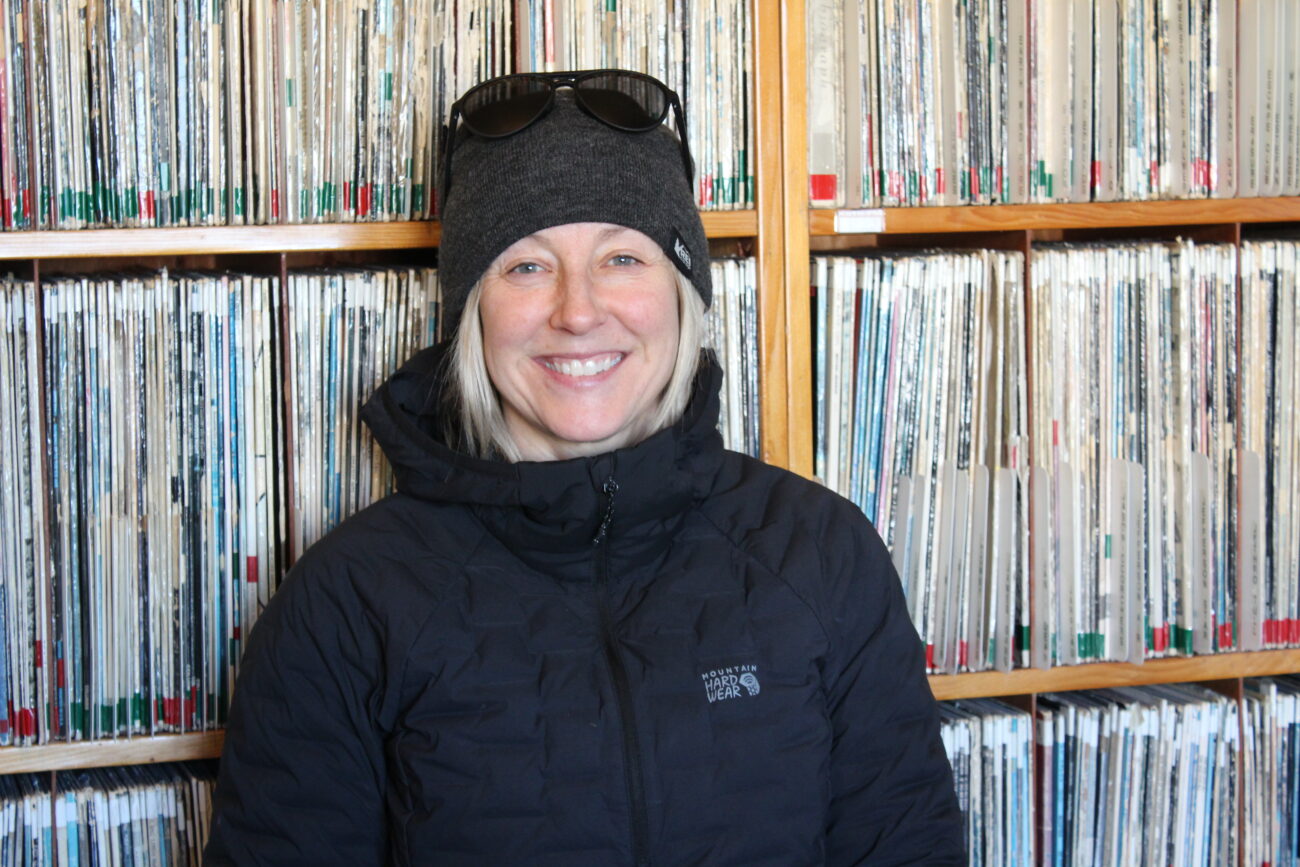 Sleet or shine, Wrangell's recreation coordinator Lucy Moline-Robinson can often be seen around town organizing fun runs, holding down the office at Parks & Rec, or working on her float house, Sea Pig. This month, she'll be taking over the helm of Wrangell Parks & Rec as its new director. 
For the past five years, Wrangell's community recreation programs have been overseen by Lucy Moline-Robinson. With new volunteer programs and events being added every month, adapting around an extended pool closure and training for her new position, Robinson says it's been a wild time.
"We are incredibly busy right now. It is a smoke show. We're just running at full speed," Robinson says, then smiles: "It's fun."
In mid-March, Robinson will officially take over as Wrangell's new Parks & Rec Director, as current director Kate Thomas steps into her new role as Wrangell Economic Development Director.
"I think that Kate has steered the ship in a really fantastic direction, and so I'd like to continue on that path," Robinson says, "I know that as I go, there will be things that I do, I add, I will put my own spin into it. But initially, I want to do my best at learning the job at hand making sure that I'm proficient and efficient within the budget. And that I'm considering are the facilities, the maintenance. I think that's incredibly important."
Robinson grew up in logging camps around Southeast, moving to Wrangell when she was about 10. She lifeguarded for Wrangell Parks & Rec in high school, and moved back to town after a stint down south.
"I like to joke and say that I've lived several different lives within my life," Robinson says, "I've kind of switched it up and done a lot of plot twists with purpose."
Although Robinson's new position isn't a huge surprise to many Wrangell rec users, she says she wasn't sure she'd apply to be director, and it took her a while to make the decision – she wanted to make sure she was ready to put her whole heart into the job. She'd spent years working for the Alaska Crossings wilderness behavioral health program, "And it was a very, it was a fantastic job, but also came with a lot, it was very heavy in many ways."
She says in the intervening years, she'd strayed away from jobs with that sort of heavy responsibility, gravitating toward work like curating the floor layout for a local outdoor goods store.
"When I started working for Parks and Recreation, it was the same thing: I got to do, really what I loved, and that was coordinating activities for the community and engaging, but not massive amounts of responsibility in terms of managing facilities, supervising staff, and preparing budgets," Robinson says.
But come mid-March, that's exactly what she'll be doing. Robinson says first and foremost, she wants to learn the ins and outs of Parks & Rec's systems and maintenance needs.
"When those facilities are shut down due to maintenance and closures, and if anything goes wrong, then we're kind of up a creek without a paddle. And so [keeping up with] that, to me, is probably one of the – it's not a fear, it's just, I think, a very high priority for me," Robinson says.
Parks & Rec is more than just the pool facility – there are miles of trails, the community center gym, and parks with facilities and restrooms to be attended to. That task is vital to keeping Parks & Rec running for years to come.
"Because I have some experience with rec coordination, I'm not as concerned or afraid, I can roll with that and off the cuff, we can get some things going. But the building maintenance and upkeep is something that – [for example] you put a building on top of muskeg and shot rock and whatever else and you dump 200,000 gallons of water into it, there's bound to be some issues. That building has been open to the public since 1986. So we just want to make sure that although she's a relic, she's functioning at high capacity," Robinson says.
Robinson also says she wants to innovate programs at Parks & Rec to get everyone from kids and young adults to older Alaskans engaged. It may not be an island of Olympians, but Robinson says she's proud of the upgrades she's helped oversee at Parks & Rec. That includes utilizing gym spaces in new ways and updating equipment to help Wrangellites build more functional fitness.
"You want to lift groceries better, and you want to carry all of your grocery bags to your house from your car? Please come into the gym, we've got a specific workout for that," Robinson laughs.
During Robinson's time as rec coordinator, she helped see programming through the COVID-19 pandemic, working around mitigation measures and taking some activities outdoors.
"I see this community as a family, and I want there to be more activities that bring the family together," Robinson says. "You know, sometimes families go their separate ways, and they're not always coming together. But I kind of want to put a spin on that and change it and get people back together again."
She's spurred an explosion of pop-up programming – one-off classes or short periods for exploration of everything from line dancing to jiu-jitsu. It's all run by volunteers.
"We are a small town, we have the ability to just bring people in who have a reasonable amount of skill, who will stick to – or semi-stick to – our structure of what we'd like to toss out to the community as well as the ability and the drive to get in there, and host an activity," Robinson explains.
With that volunteer focus, Robinson encourages residents and visitors alike to come out to a class or throw out ideas for new programs and events.
"The more people that we engage with and the more people that we have interactions with, I think, the better we are, the stronger we are and the more we can do for our community," Robinson says.
Looking forward, Robinson says she's excited to continue to build the Parks & Rec team – dozens of teens and adults that shuttle through, working as lifeguards and running the office at the pool. And Parks & Rec is hiring for her old position – Recreation Coordinator.
"I think team is everything," Robinson explains. "When you spend eight to nine hours in a building, or you're spending time recreating and engaging in interfacing with the public, you've got to have a good team. And I think that that is one thing that I always get excited about. It's hitting the ground running and engaging with the team and building a good rapport within our crew so that our crew can interact with the public and be jolly."
She also wants that team to be one that's focused on safety, and plans to continue training sessions regularly to avoid the potentially catastrophic events that can happen at community pools.
"When we are watching your kids swim in our pool, we want to make sure that we are as safe as possible and we ensure that nothing happens to your child when you come to Wrangell Parks and Recreation," Robinson says.
Ultimately, she says she's excited about helping steer the Wrangell Rec ship that brings people out – or in – all year round.
"My goal would be to hopefully have regular hours in that community center," Robinson says. "And I'm saying this out loud with the risk of mutiny if it doesn't happen. But I really want that community center to be an actual community center. In my dream of dreams, folks would be able to come in and access the gym to walk, perhaps there would be some game tables set up in the multipurpose room, there is a kitchen over there, so there could be snacks that were brought by the public, coffee. And it would be a great place to recreate and to socialize. And to have a space for those colder, darker wintry months where people can come together."
She continues: "Like I said, my goal would be to bring more of our communities together […] A lot of times when it's raining sideways, and slush, folks don't get out as much, and folks don't socialize as much, and that can be really tough with a community that is so tight-knit. And I want folks to gain access to that, so that's one of my goals."
Until she officially takes on the role of director on March 15, she'll be training with outgoing director Thomas and continue overseeing programs like the recently-debuted "Workout of the Week" and Wrangell's Winter Workout challenge.
Get in touch with KSTK at news@kstk.org or (907) 874-2345.