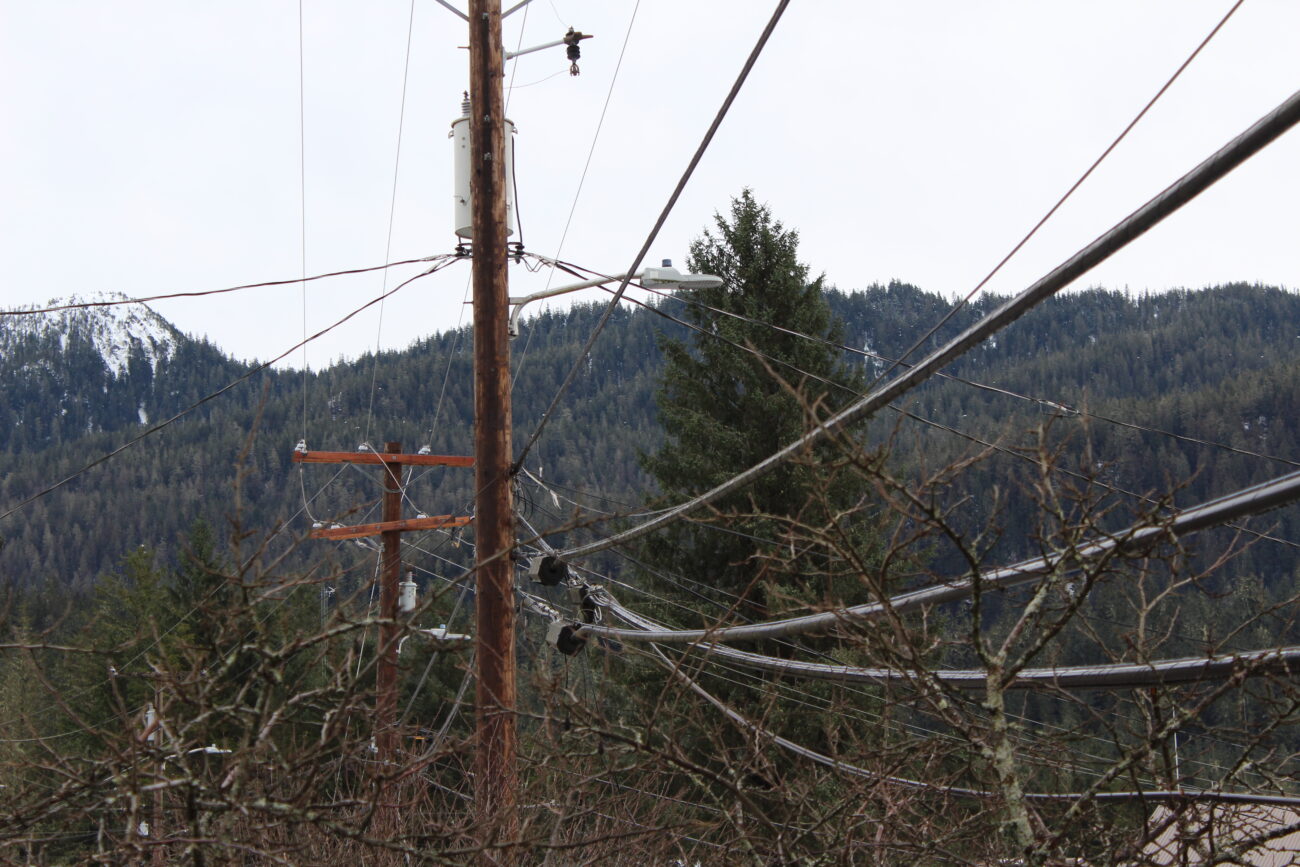 Wrangell's Assembly has approved utility rate increases that will bump up an average household's monthly bill by around 10%. Assembly members say it's necessary to keep up with Wrangell's aging infrastructure.
Wrangell assembly members unanimously approved raising the town's utility rates at Tuesday's meeting (March 28). That will translate to around a 10% increase or about $34 more on an average Wrangell household's utility bill – that's a household with electric heating that uses around 1,500 kilowatt hours of electricity and has a 96-gallon garbage bin.
That's a one-cent per kilowatt hour (kWh) increase for all electrical rates, a 15% increase to sewer rates, 10% increase to water, and a 5.5% increase to garbage rates.
Other rates and fees will go up, too, like entry fees for Parks & Recreation and at the Port & Harbors.
It was the assembly's first annual review of rates and fees in town under its new fee and rate system.
Utility rates used to be on the local law books, but last year, the assembly started removing rates from the local code to put them in a 20-page-long comprehensive borough fee and rate schedule, which could then be considered all at once each year before the assembly passes a budget.
The assembly went with the higher of two proposed increases. Finance Director Mason Villarma said that's the best option for Wrangell's future.
"This is the rate schedule that allows you to afford the projects that we have planned, but what are the projects that we don't have planned? What does a failure of a water main cost? What does a failure of a [sewer] lift station cost? Those things aren't budgeted, but we should have sufficient reserves to be able to address those when the time comes," Villarma told assembly members at Tuesday's meeting.
Villarma explained that utility funds like water, sewer, sanitation, electrical and the harbors are meant to be run like businesses. The funds they take in should sustain day-to-day operations and future projects without relying on local taxes or other outside sources of funding.
"We look at rates through a variety of lenses. Maybe not historically, but this is our new process," Villarma said, "And those three lenses are depreciation, inflation and future capital expenditures, and are our rates sufficient to address those three things? And we found out historically, no, all of our enterprise funds had net income after depreciation that were in the negative. We found that our rates weren't increasing with inflation over time, and that we had not saved enough reserves for our capital expenditures for the future."
With a population of around 2,200 people, Wrangell can't afford to pay outright for many large infrastructure projects, but Villarma explained that the borough has to be able to afford payments on loans or bonds when those projects come.
And the projects are coming. The borough is working toward a water plant replacement that's almost doubled in projected cost in the last five years. There are major upgrades needed at the sewer treatment facility, and the building that houses the town's electrical generators needs serious work. Plus, assembly member Anne Morrison pointed out that smaller parts of Wrangell's water and sewer systems are half a century old.
"Most of it you can punch your fist through because the pipes have rotted because of the electrolysis in our soil," Morrison said, "So it's just, you know, you can just keep burying it, and then pretty soon, it turns into a swamp."
It's not just pipes. Of the approximately 125 vehicles the borough owns and operates, more than half (around 70) are at the end of their useful lives.
But not everyone agrees with the borough's decision. Wrangell resident Jacqueline de Montigny spoke against the rate increases, saying she didn't feel like she knew what the fees would be used for. With a jump in assessed property values that the borough just mailed out, she said it seems steep to bump up utilities as well, especially when the borough charges a flat fee for water and doesn't have options for lower-cost garbage collection.
"Since I'm here as the public, I would say we oppose the rate increases – I oppose the rate increases," de Montigny stated. "I feel like I'm being charged really high right now. When it comes to garbage, I put my garbage can out once or twice a month, and I'm paying the same price. I submitted that letter to you guys quite a while ago with the black water coming out of my faucet. I feel like I'm overpa[ying], because I'm hauling water from off the road. So anyway, I think we're already paying more than we can afford."
Assembly member Bob Dalrymple said he knows it's a lot to face an increased property assessment, higher utility rates and the world's inflation. But he said the borough has to address utility rates and property taxes separately.
"These are enterprise funds and the rates are different than the property tax," Dalrymple pointed out. "And I don't know that people think of it that way. They just see it as fees and you know, more, more impact to their economic conditions. But they're two separate things, and we have other tools to deal with property tax. As you know, we're not there yet."
Mayor Patty Gilbert said she's heard from citizens about the economic stress of property assessments and the rate evaluation, and said she hoped to alleviate some fears about property taxes. Although properties may have been assessed higher, she hopes to bring down the borough's tax rate.
"You do have an assembly that is very cognizant of the financial stress that people are under," Gilbert said, "And I believe I can speak for the assembly that the mill rate will not increase, if anything, it will decrease. And we just don't have that number yet. Until we have that Board of Equalization and we have our budget set. We'll try to hit that mill rate to satisfy our budget needs. So hang in there."
And Wrangell ratepayers still have a few months to prepare for the impact of the new fees and rates – the increases will go into effect on July 1.
Get in touch with KSTK at news@kstk.org or (907) 874-2345.