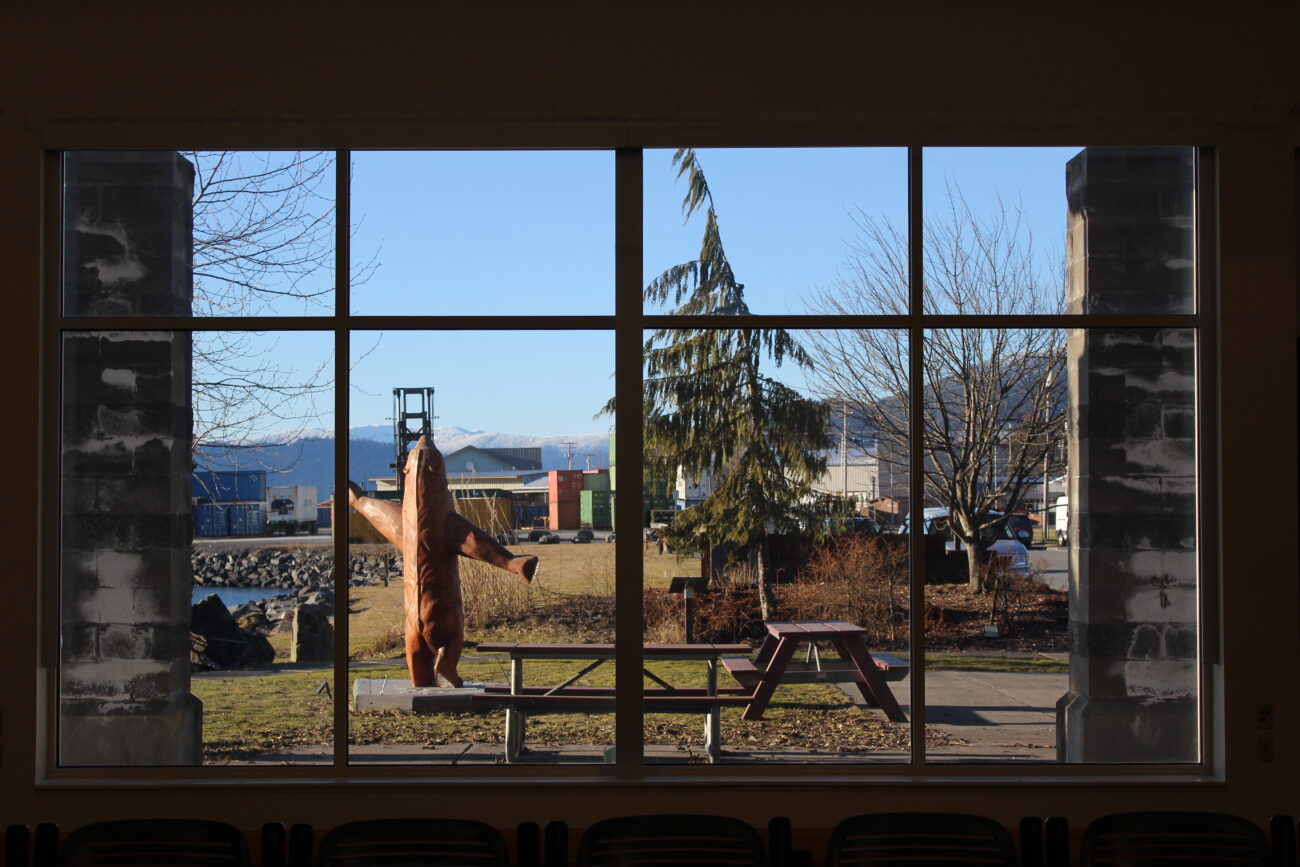 A report looking at Wrangell's economy in the year 2021 paints a depressed picture of economic activity on the island. But it could be temporary, as recovery from the COVID-19 pandemic is on the horizon.
As the world deals with the economic fallout of the pandemic, Wrangell's economic development office is looking forward, and backward. The borough commissioned an economic conditions report from Juneau-based RainCoast Data last year looking at data from 2021. And it's not a rosy picture. 
"This report is very negative, everything dropped," explains Carol Rushmore, Wrangell's outgoing economic development director. She's retiring later this month, but spoke to KSTK earlier this year. "I mean, as everybody knows, everything dropped really. And so when you're looking at employment earnings, you're looking at the number of jobs, it's all dropped."
The report, released last fall, shows decreases in everything from population – especially kids and younger people – to jobs and visitor arrivals.
"And it is depressing to look at actually," Rushmore says, looking at a printout of the report.
However, there were some bright spots. Sales tax revenue in the borough was up – potentially because the borough started collecting sales tax from online purchases – and there was a slight increase in visitor industry earnings in 2021, despite severely depressed cruise and ferry arrivals. Rushmore says it's hard to really identify true economic trends in Wrangell because of the wrench thrown by the pandemic.
"This report is really discussing the impacts because of the pandemic," Rushmore says, "So you almost have to go back to the previous report to look at where those trends were going. And hopefully, the '23 report will actually kind of show that those trends are carrying on in the marine service sector, in the tourism sector, that we're going to see the increase and the improvements that we've noticed pre-pandemic."
Wrangell commissioned an initial economic conditions report in 2020, which looked at data through 2019 – so pre-pandemic. It considered health care, marine services, tourism and other industries and the factors that influence them, including housing, employment opportunities and earnings.
Rushmore says even if the trends aren't clear yet, there are still some takeaways.
"Since 2019, we actually saw an increase for the marine industries," Rushmore says, "Which includes seafood processing, the Marine Service Center, commercial fishermen – that became basically our number one economic driving force."
Wrangell's healthcare sector also increased dramatically over the last few years as the Southeast Alaska Regional Health Consortium took over Wrangell's medical center and opened a new campus.
The report also references results of a business survey conducted by Southeast Conference, a regional nonprofit that advocates for economic development. That survey gives a big picture of local businesses' take on the business climate moving forward.
"I will say Wrangell was rather negative, but it was more positive than previous years," Rushmore explains, "So I think, hopefully, when that happens this spring, businesses will respond as well. And hopefully, we'll see that there is a more positive outlook and the expectations of the economy coming back are out there."
Rushmore says the economic conditions report helps the economic development office identify needs. It also emphasizes the factors that are hampering economic growth in Wrangell. Like many other communities, that includes a lack of affordable housing and childcare. The question is, Rushmore says, how does Wrangell go about addressing those issues?
"Yes, we do have the housing issue, the number of jobs certainly dropped, which included those who are providing childcare services," Rushmore says, "And so those that are trying to still work have no place to take their children. It's an issue that is trying to be addressed by different groups, and hopefully we can within the next year."
The borough is working to begin development on a new subdivision, and private and tribal entities are workshopping how to bolster childcare and early childhood education in Wrangell.
Rushmore also points out that having an economic conditions survey can help the borough apply for grants to supplement expensive but necessary development projects in town.
"With all this federal money out there, this has been an extremely important document to be able to basically use 2019 numbers and then reference the pandemic, but looking at where the trends had been up to 2019 and kind of looking at those numbers to help justify why we need whatever project that we're going after," Rushmore says, "Whether it be the barge ramp, whether it be the mill property or harbors or roads or whatever."
Later this year, the borough will get a report looking at numbers from 2022. And Rushmore says she's expecting it to be a little more heartening than the previous one.
"We know that 2022 was a much better year, especially through the visitor industry and what they saw," Rushmore says. "I mean, it's certainly not that probably to 2019 standards, but it's actually much improved."
The report on Wrangell's 2022 economic conditions is expected sometime this fall.
Get in touch with KSTK at news@kstk.org or (907) 874-2345.