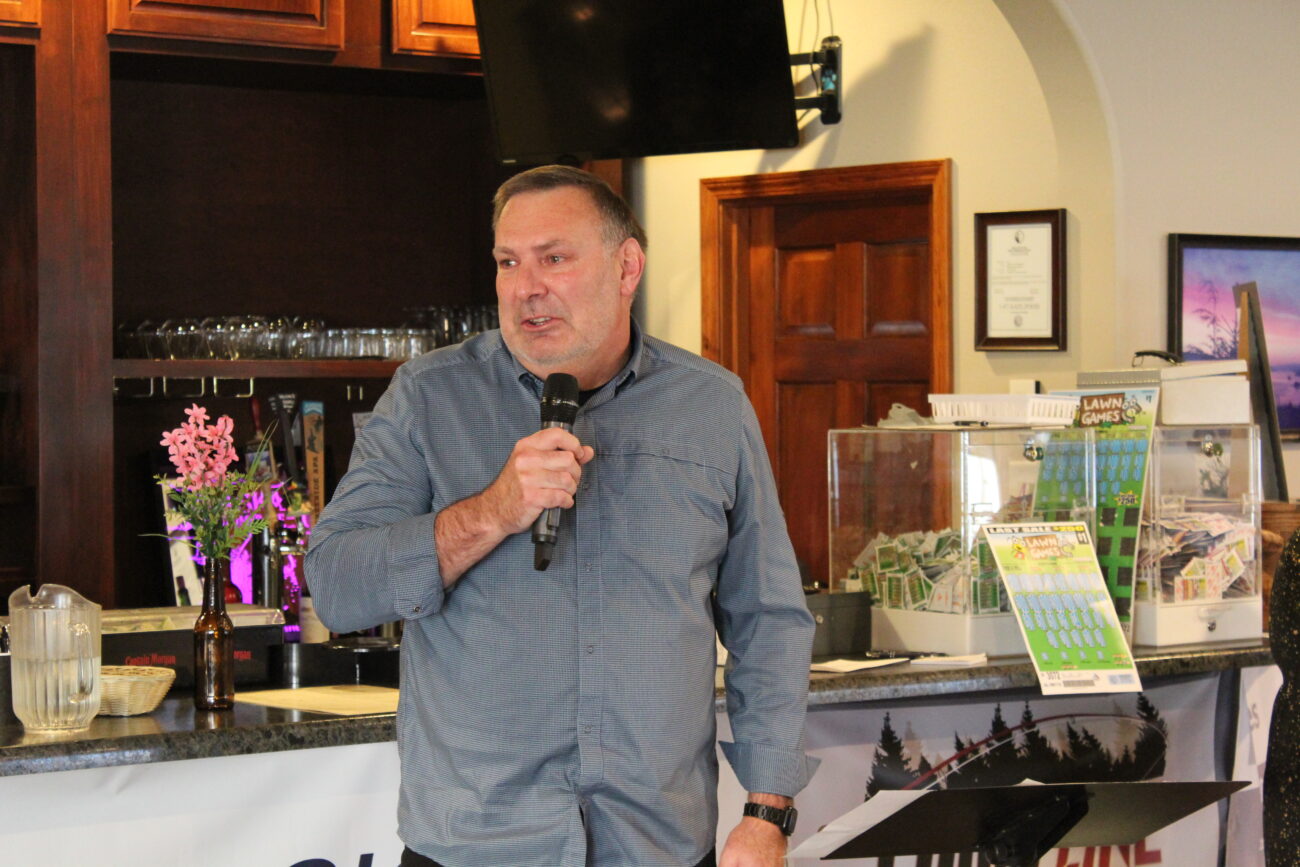 The Wrangell Chamber of Commerce held its annual dinner Saturday night (May 6) and honored citizens, businesses and volunteers. 
The Chamber's annual dinner held May 6 was scheduled to be held outdoors, but Southeast weather moved the barbecue-themed event inside.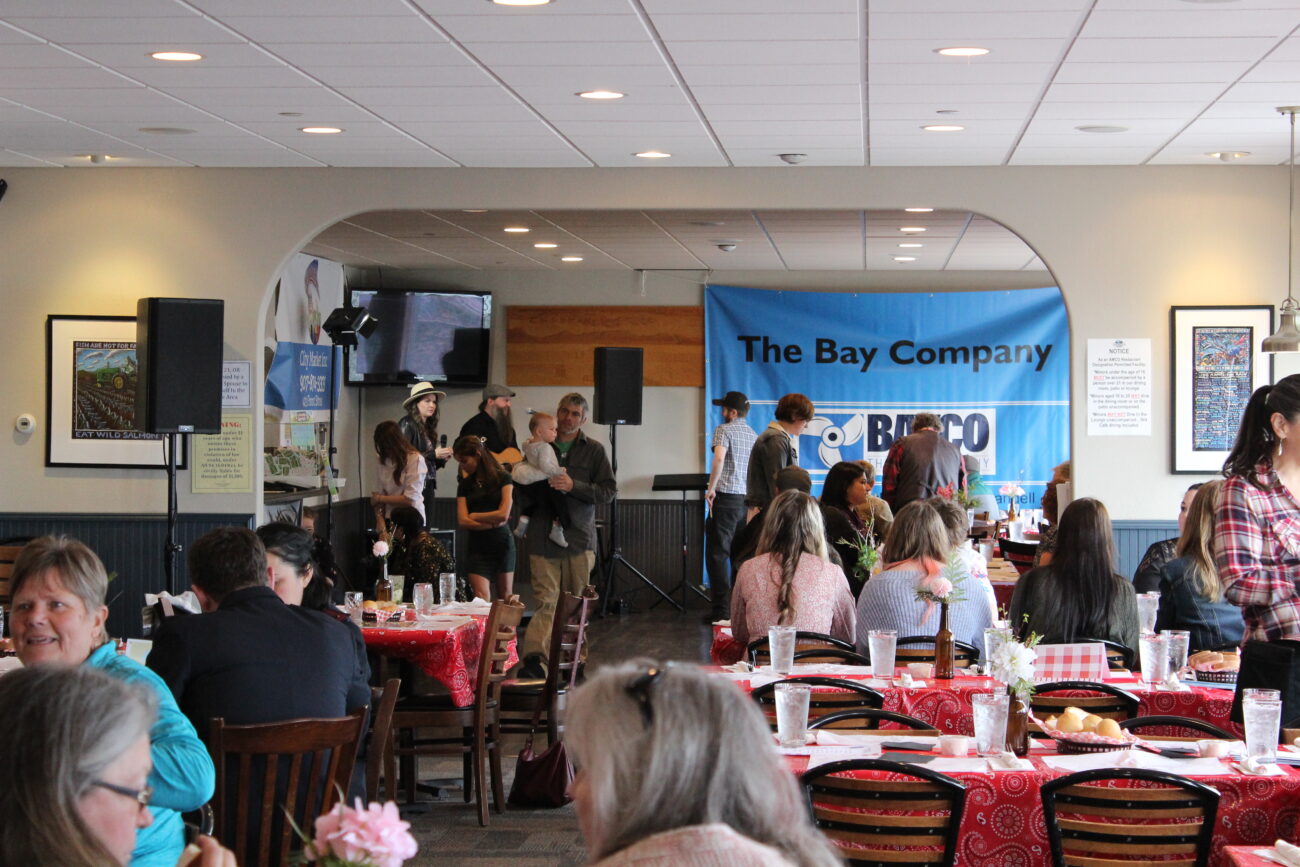 One of the event's top awards went to pastor Kem Haggard for Citizen of the Year.
Outgoing Chamber Executive Director Brittani Robbins announced the award, reading from a nomination letter: "… Pastor Kem has a smile and a kind word for every single person he encounters. He has celebrated the birth of babies, our students' successes, marriages and other milestone events with us. He has also walked through darkness with the community as we face loss and other tragic events can offer support and guidance through the good times and the bad…"
Haggard was visibly moved by the award.
"Thank you for the opportunity to serve," he said, "And it wouldn't be complete without telling you that you're loved. Thank you."
Kaelene Harrison was the first-ever honoree of the chamber's new "Volunteer of the Year" award.
Board member Elizabeth Roundtree read the nomination: "Kaelene head spends her summers volunteering at the baseball fields, winters are spent coaching or refereeing often back-to-back. And in between those seasons you can always count on Kaelene and her family to be around helping wherever needs help. She sets a great example for not only her wonderful family but for everyone else in the community. Kaelene genuinely cares for this community. People like her are what makes Wrangell so special."
Harrison thanked her husband for his support, adding: "I want to thank the whole community. I'm just one of many, many, many volunteers. They do so much. And it's amazing how much our community offers to everybody here because everybody helps everybody pitches in."
Art and music teacher Tasha Morse won the chamber's "Educator of the Year" award – announced by Chamber Board President Bill Burr, who's also the superintendent of schools.
Burr read from a nomination letter: "Although she is spread too thinly, no one sees a decrease in productivity because she constantly delivers unparalleled opportunities for students in all grades. She works tirelessly, allowing students the space and support to develop their talent. Our students have traveled to regional and state events. Their work in the Vans competition last school year was published nationally and they received recognition. The music performances she choreographed and conducted are first-rate as well. Furthermore, her involvement in 'The Sound of Music' showcased her own musical talent and served to inspire her students to be artists, even after graduation. Tasha Morse is a brilliant educator who truly goes the extra mile."
Accepting the award, she said: "As Mr. Burr was saying all these things, I was just thinking about how hard our kids work in this community. My job is easy because they work hard. And it's about the kids and it's about giving them opportunities. So thank you very much."
Wrangell High School junior Rylee Chelette was named the chamber's "Young Leader of the Year," presented by board member Caroline Bangs.
Bangs read from a nomination letter: "Rylee has given her time to the St. Francis Animal Shelter due to her love of animals and her desire to become a veterinary doctor after college. Through her grant writing class, she had submitted many grants and obtained funds for student and community programs to help realize the goals of the town. Rylee's compassion and bright spirit make her a natural leader."
And grocery store Wrangell IGA won "Business of the Year," presented by Board Treasurer Amber Armstrong-Hillberry. She read from a nomination letter: "Wrangell IGA added Lingít signs to the store to help represent the heritage of the Lingíts, which is just another part of helping keep the heritage alive. Gunalchéesh. They are also generous in supporting our community by giving monetary and food donations to support other organizations in the town, such as Salvation Army, St. Francis Animal Shelter, all the school events, sporting events, Wrangell Chamber of Commerce, KSTK and so many more. Without these donations, those organizations would not be as successful."
Local family support and anti-violence organization BRAVE (Building Respect and Valuing Everyone) were the guests of honor at the event. BRAVE also publicly introduced the community's new domestic violence prevention specialist, Valerie Massie, who will work in Wrangell and coordinate with regional anti-violence organization WISH, which is based in Ketchikan. The new position is funded by a grant obtained by the Wrangell Cooperative Association.
While much of the event focused on the positive in the community, Chamber President Burr noted that the economic climate of the state and nation are in a downward spiral – he said the chamber is not exempt.
"Changes that we introduced this year to recognize that financial situation are sponsors for our Fourth of July events, charging for tables and pop-ups, reducing the cost of the fireworks, cutting back working hours and attempting to do more of the services we provide to the community in-house," Burr elaborated. He said the changes are all with the goal of better serving the businesses and community of Wrangell.
At the dinner, the Chamber also presented the theme for this year's Fourth of July celebration: "A Diamond in Southeast." The leadup to the Fourth of July – by far the Chamber's largest event of the year – will begin with the kickoff of the royalty contest at the end of this month.
Get in touch with KSTK at news@kstk.org or (907) 874-2345.