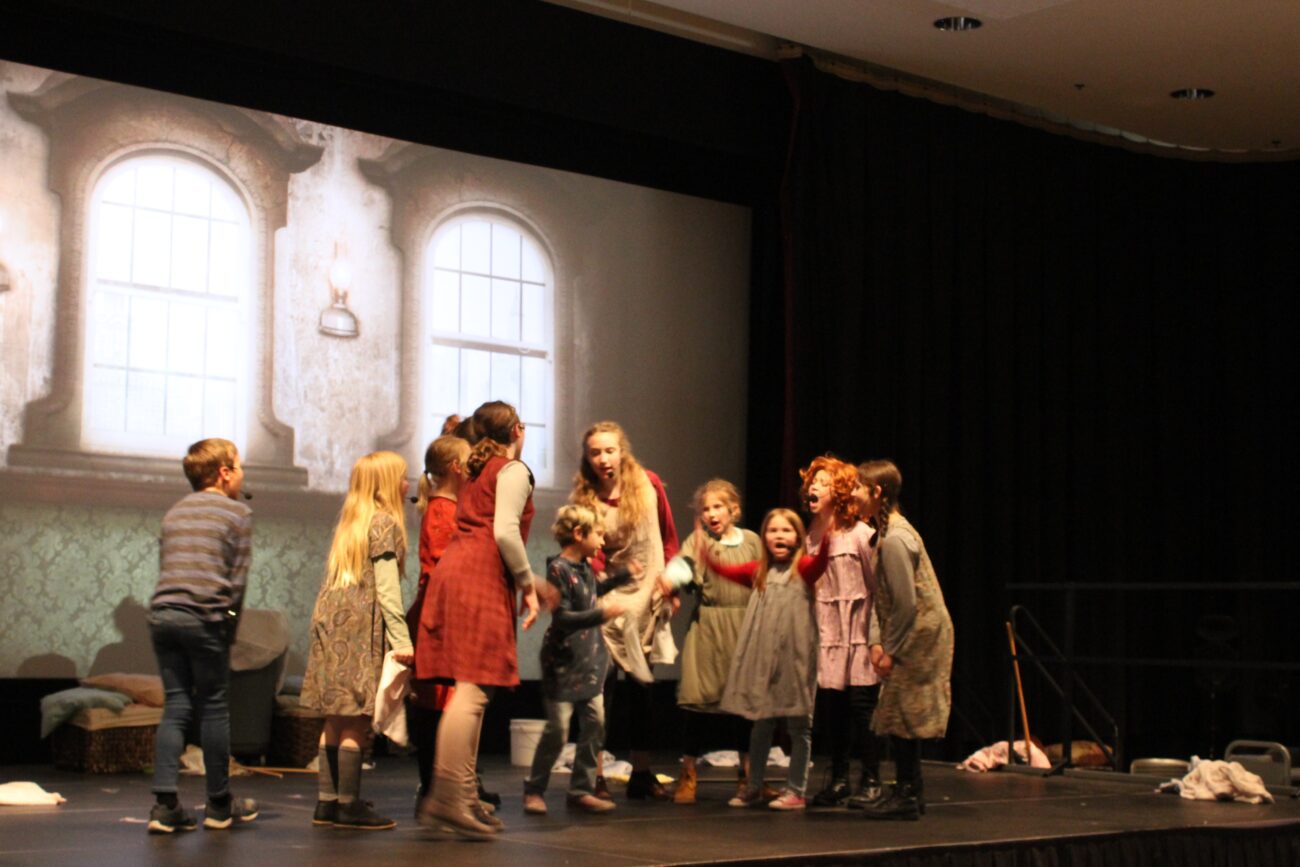 The sun may not come out in Wrangell tomorrow, but the island's revitalized community theater program will premiere its second musical this week. 
Last year, the Nolan Center opened the first community theater production in Wrangell in over 20 years – the Sound of Music.
Now, actors and crew from all over town have come together for a second musical – Annie. It's got more dancing, a bigger cast, and even more music. KSTK's news director Sage Smiley is in the play, and sent this backstage look at the production during a dress rehearsal (May 8). 
Annie opens this week, with shows at 7 p.m. on Friday (May 12) and at 4 p.m. on Saturday (May 13). There are also shows on May 20 and 21. Find tickets online at nolancenter.org/annie.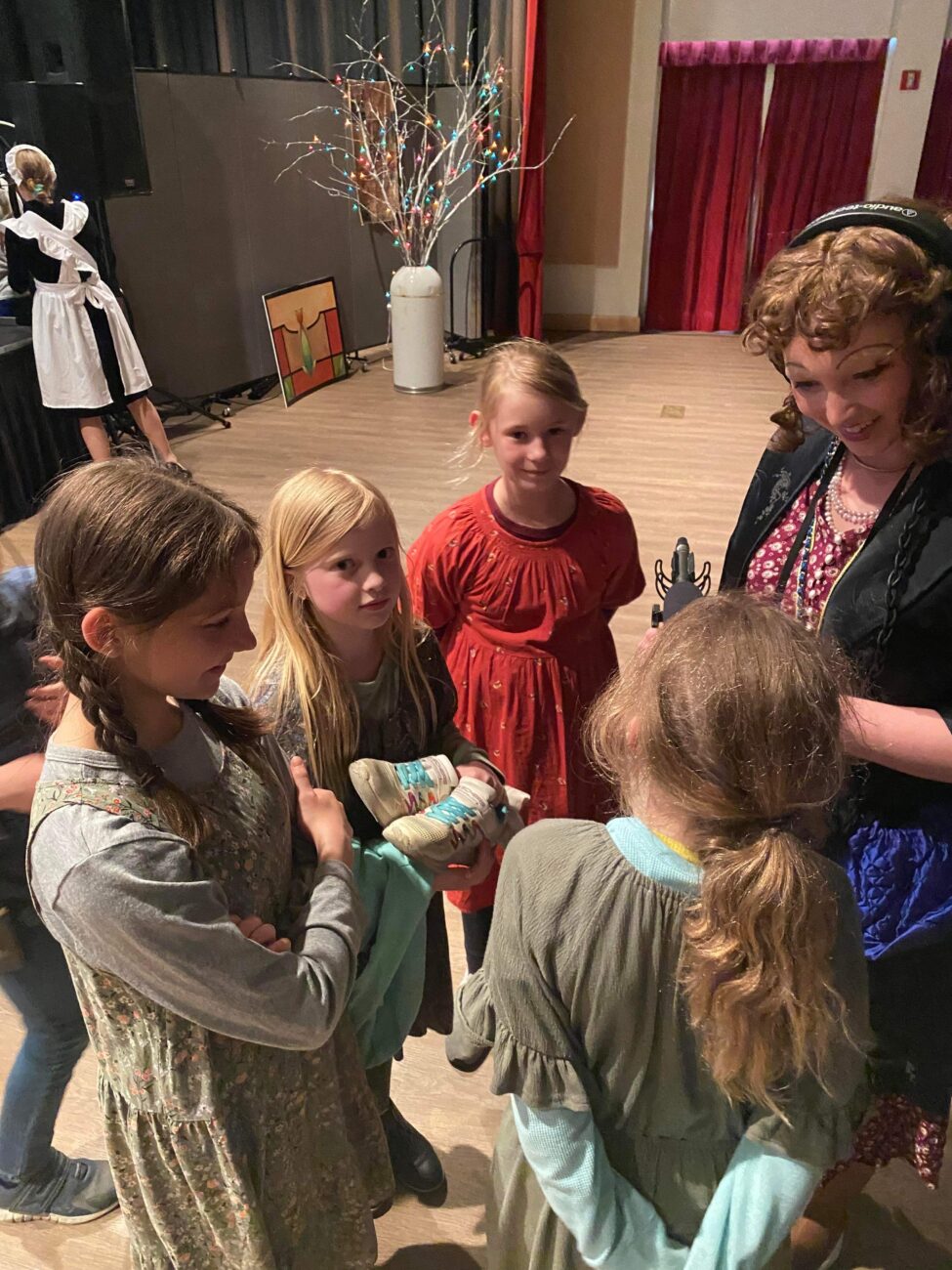 READ A ROUGH TRANSCRIPT OF THE AUDIO POSTCARD HERE:
KSTK / Sage Smiley (Miss Hannigan): The Nolan Center in Wrangell is putting on a production of Annie, which is a story about a young orphan set in the 1930s in the worst part of the Great Depression. And this orphan is looking for her parents and ends up at the home of a lonely billionaire for Christmas. It's got some super recognizable songs. It's got a bit of dancing and it's really funny and wonderful. This is a community effort. Main characters are played by a student, a postal office worker, a teacher, a reporter. That's me.
[Excerpt from 'Tomorrow']
Kaiya Brevick Roher (Annie): My name is Kaiya Brevick Roher. And I'm playing Annie in the play. The part I like most about being in the play is probably like how everybody gets so into it. And it's like it's actually happening. It's really, really fun.
KSTK: What's been the hardest part of being in this play for you?
Brevick: Lines. Yeah, the lines have been the hardest to memorize. Probably because like, I can't tell if it's like 'Oh, gee' or 'Oh, boy.'
KSTK: What do you think people are gonna think of this play?
Brevick: I think they're really gonna like it, because we have a lot of dramatic characters. And we've been working very hard at it.
KSTK: What's your favorite song?
Brevick: 'I don't need anything but you'
KSTK: What's your favorite one to watch?
Brevick: I think Easy Street is my favorite one to watch.
KSTK: Why is that?
Brevick: It's hilarious.
Kastle Powers (Orphan): Kastle. And I play an extra orphan, and my favorite song is Easy Street.
[Excerpt from 'Easy Street']
Hailey Gablehouse (July): My name is Hailey, and I play July.
KSTK: What's your favorite part about being in this show?
Gablehouse: I get to fight with AJ, who's playing Pepper. And that's super fun.
[Excerpt from Scene One, including the fight]
Amura Roher (Orphan): My name is Amura and I'm an additional orphan. And my favorite part is just being able to actually be on the stage and interact with all the other people there.
Kelowna Morelli (Kate): My name is Kelowna. And my favorite part in the show is where I get to scare you with a mouse.
KSTK: Scare me because I play Miss Hannigan
[Excerpt from Scene Three]
Mariah Carney (Tessie): My name is Mariah, and I'm Tessie in the show. My favorite part about the show is that I get to say, 'Oh, my goodness,' a lot.
Carney: Haley is the director of the play.
Haley Reeves (Director): It has been, and granted we haven't shown yet, but, one of the most rewarding things I've ever done. 
Reeves: I'm most excited for people to just see everybody in the show because, ah! It's like, they come and audition, you cast your show. And you're like, 'Alright, here we go, we're gonna practice,' and every time I watch this leading up to the show, I'm like, 'This could not have been more perfect.' I'm so excited for everyone to see everybody: their peers and their fellow community members, just in a whole new light and everybody's amazing. There's not one person that you watch and you're like, 'Wow, that's dragging down the show.' It's like every time it just builds more and more and more and it's just… I'm so excited for everybody to see it just to see how good everybody is. Amazing, really.
[Excerpt from 'N.Y.C.']
Matthew Nore (Oliver Warbucks): My name is Matthew Nore. I play The Oliver Warbucks.
KSTK: The Millionaire??
Nore: The billionaire. (laughs) What do I like about the show? I like the camaraderie. It's like the army, you have all these people from different walks of life and backgrounds. And it's just things that you would like, That person doesn't look like they'd be in the theater. But you come together and you start working and you go through this struggle, like the military, you go through this struggle and through that you become friends, new friends, and it's just a tighter bond. So that's what I like about theater. Right, Mariah?
Carney: Yeah, like the first play that I did. I actually got to know a lot of new people. So that was fun.
Nore: It is almost addicting in a way too, because I played a small role on the last one, I was like, 'You know, I could do it again. I could do something bigger.' And so singing and dancing was outside my wheelhouse, it was uncomfortable. But I think you know, if I keep doing it, it won't be so bad.
Joan Sargent (Costumes): Well, I'm Joan Sargent. And I am, I guess, the official secondhand store costume person
Michael Bania (Design): Michael Bania. Sort of like the designer of the show. So it's stage that like, that looks like how the whole thing works together and make sure it's period-perfect and funny. And the costumes are really spot on. And they are too. And everyone is doing a great job.
Sargent and Bania: (laughter)
Bania: We're so exhausted.
Sargent: You can see what how we're gonna talk, we're just gonna laugh, you know.
Bania: Miles long list of stuff. Yeah.
Sargent: Here's the list. This is for tomorrow.
KSTK: So tell me tell me about what that list is. What is it?
Sargent: Oh, okay. Well, as we watch the show, we go through and go, 'Oh, my gosh, that stands out. That's not period.' You had tennis shoes! Those do not go. And there were pink ones out there tonight. So a long list of corrections.
Matt Henson (Sound): I've still got to record the announcer thing: (imitates an old radio) 'And now, I don't know, coming up, how a woman in her 30s can still find love.'
KSTK: (quoting a line from the play) God. I hope so.
Henson: I'm Matt Henson. I'm one of the sound techs doing sound and running music and doing transition music and all the stuff, fun stuff. And yeah, it's fun. It's a blast. You get to watch all you guys all you fun people act up there and, and you know, put music behind it.
Edna Nore (F.D.R., Lt. Ward, stage crew): I'm Edna Nore, I play the president and Lieutenant Ward. And I'm part of the scene crew.
Henson: Police officer?
Nore: Yeah, Lieutenant Ward. (laughs) Do you not know what a Lieutenant is?
Henson: (laughs) Sorry.
Nore: I really enjoy it. This is a huge cast bigger than the one last time and the kids are really the main focus of it. And they've really, really stepped up. And so I really like the opening, Hard Knock Life and they've really come together. And you can see some of these talents coming out of these kids and the competence on stage. It's amazing. So I hope the town will come out and support it and keep this local theater going.
Henson: I mean, there's four shows, there's four shows for the community to come out and see. I mean, last time with Sound of Music, we packed the house two nights in a row. So plenty of opportunity to come out and see it and we hope we pack it every single night.
KSTK: My name is Sage Smiley and I play Miss Hannigan. I am so excited for this production. I'm also terrified I cannot lie. But the emotion I feel most is pride and excitement and gratitude for the ability to engage in such a mind-blowingly incredible community of people that I never would have met if I hadn't tried out for Annie.
Gablehouse: You should come watch the play. 
Carney: Buy a ticket from the theater. Maybe. I don't know where, just try to find where do you buy tickets and come to the play Annie?
Gablehouse: Yes, please, please come.
KSTK: Wearing a wig with my eyebrows glued down in Wrangell. I'm Sage Smiley.
Get in touch with KSTK at news@kstk.org or (907) 874-2345.