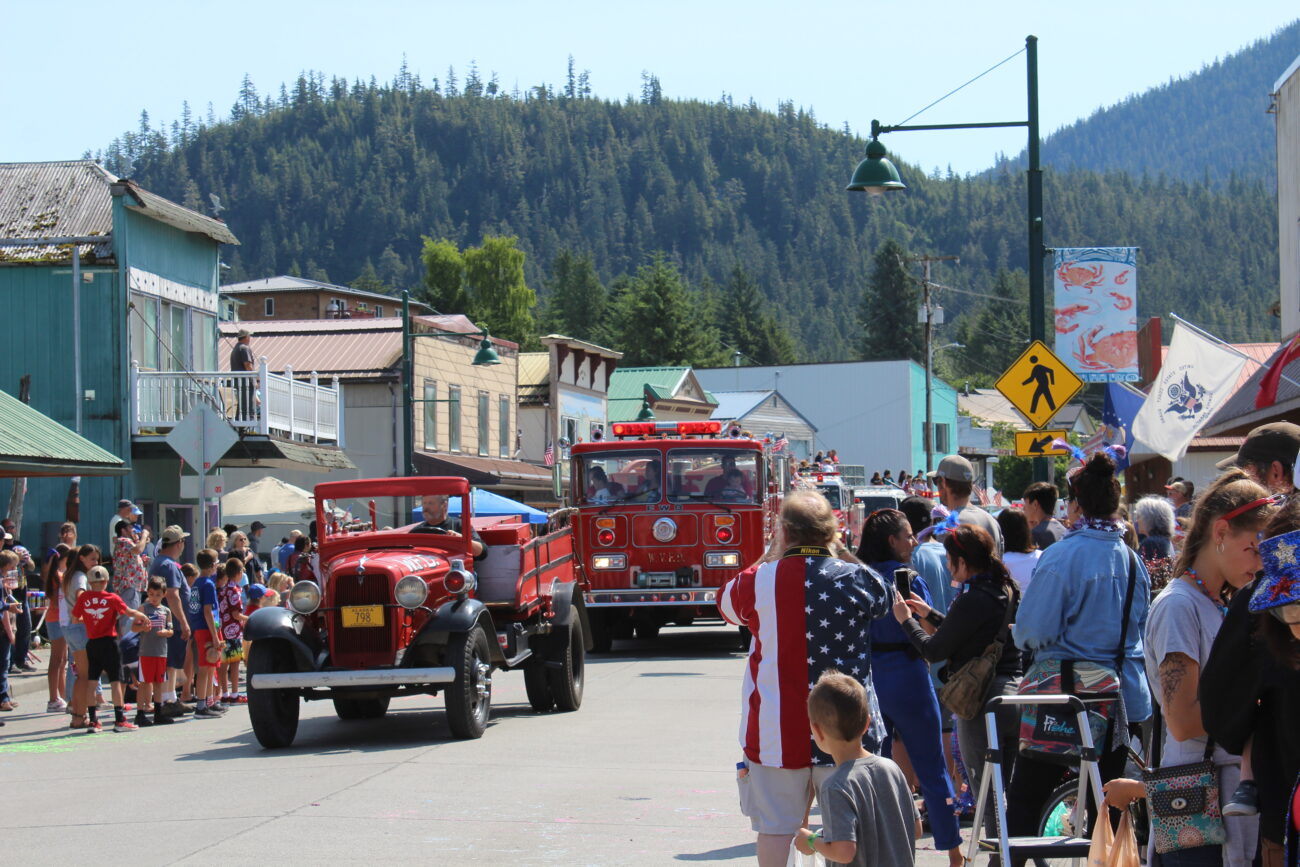 Wrangell's local government has decided to bankroll some purchases and expenses for the town's biggest holiday celebration – the Fourth of July. The borough assembly voted Tuesday (May 23) to set aside up to $25,000 to help event organizer the Wrangell Chamber of Commerce, which is struggling financially.
Wrangell's Fourth of July festivities can cost over $100,000 each year. Last year, it all but bankrupted its organizer, the local Chamber of Commerce. The Chamber has struggled to keep afloat, and requested additional funding from the local government to help plug the holes.
Chamber volunteer board president Bill Burr spoke to the assembly by phone.
"Primarily, we are looking for Fourth of July funding for fireworks, for utilities, for insurance," Burr explained. "And we've been working very hard on getting sponsors for everything that we can. But we still need to make sure that we can fund the royalty race, that we can get fireworks and provide services and make sure that the Fourth of July comes off the same as it has been."
The Chamber's financial troubles are an ongoing problem. Outgoing director Brittani Robbins also sits on Wrangell's Assembly, and didn't participate in the vote because of her conflict of interest. But, she did give an overview of how the Chamber's finances broke down over the last few years.
"When I started late January 2021, the treasurer was in their third year and did not know that they were the treasurer," Robbins said. "I spent – I don't even know how long, there were over 10 months that had not been reconciled with the banks and QuickBooks that I had to manage before I could do anything else. That FY 2022 was solely based off the budget information provided to the chamber by the previous director and chamber board."
Robbins said the Chamber is making changes and is no longer at a high risk of dissolving. She said the organization has secured more than $8,000 in sponsorships for Fourth of July events, canceled subscriptions, and is reaching out to businesses around the borough and region for memberships and sponsorships.
Mya DeLong is a former Chamber board member and former assembly member. She spoke against the funding at the meeting and expressed frustration with the financial management of the Chamber.
"I call bullsh–," DeLong said. "This is not a perfect storm. This is a multitude of terrible decisions. One of these terrible decisions was made by me because I was on the hiring board for [the executive director] position."
She continued: "[…] Not only mismanagement of funds, there's mismanagement of the focus, mission statement time and energy, there was just a lot of mismanagement."
DeLong also referenced the recently-halted cash raffle the chamber started to try and recoup funds after last year's Fourth of July, which ran for nine months without fulfilling state charitable gaming raffle requirements.
"There's trust and good faith that's been lost [with] community members," DeLong said, "But not only that: other communities like Cordova, Petersburg and Ketchikan are like 'What is going on there in Wrangell?' I don't think the city should use our tax dollars to reward bad behavior. I think we should retain them and figure out a way the city can run the Fourth of July."
Assembly member Bob Dalrymple supported the relief money to the Chamber. He also sits on the borough's Economic Development Board, which initially heard the Chamber's funding request.
"In discussions, mainly in the Economic Development Board on this issue, it was brought up the importance of the Fourth and the role it has in Wrangell and its identity, and the fact that it's a major draw and economic driver." Dalrymple said. "I think that the Chamber has struggled in the last few years and this is a reach-out to try to help make sure that at least that tradition is maintained for this year."
Many assembly members expressed hesitation at approving the funding. But they also weren't against it.
"I feel better having a reimbursement rather than just a blanket check," said assembly member Anne Morrison, "Having come through for the approval of the city manager before that's paid back."
The reimbursements will have to be approved by the borough manager, and won't be able to be used for items like food or wages.
Mayor Patty Gilbert said she'd heard from many community members about the money, and most didn't want it approved.
"Some taxpayers don't want their money to blow up in fireworks," Gilbert said.
But, she added: "The way I'm thinking about this is I'm thinking about this being forward funding. And to take – and I'll just say it – but to take the Wrangell Chamber off of our budget for FY24. And see if they can restructure and gain footing. That's about the only way I can reconcile it in my mind, in terms of spending additional taxpayer money."
The borough already makes an annual contribution to the chamber. Last year, that was $27,000.
Mayor Gilbert floated the idea of using the money that would have been given to the chamber next year to instead boost the budget of the newly-created tourism coordinator position. That budget could be used by the Economic Development department for collaboration with the Chamber.
Ultimately, the borough assembly approved up to $25,000 in funding for the Chamber's Fourth of July efforts.
Assembly member Dave Powell was the sole 'No' vote. He said he had significant concerns, and also said he was frustrated that the assembly didn't get more than one person's public input.
Get in touch with KSTK at news@kstk.org or (907) 874-2345.