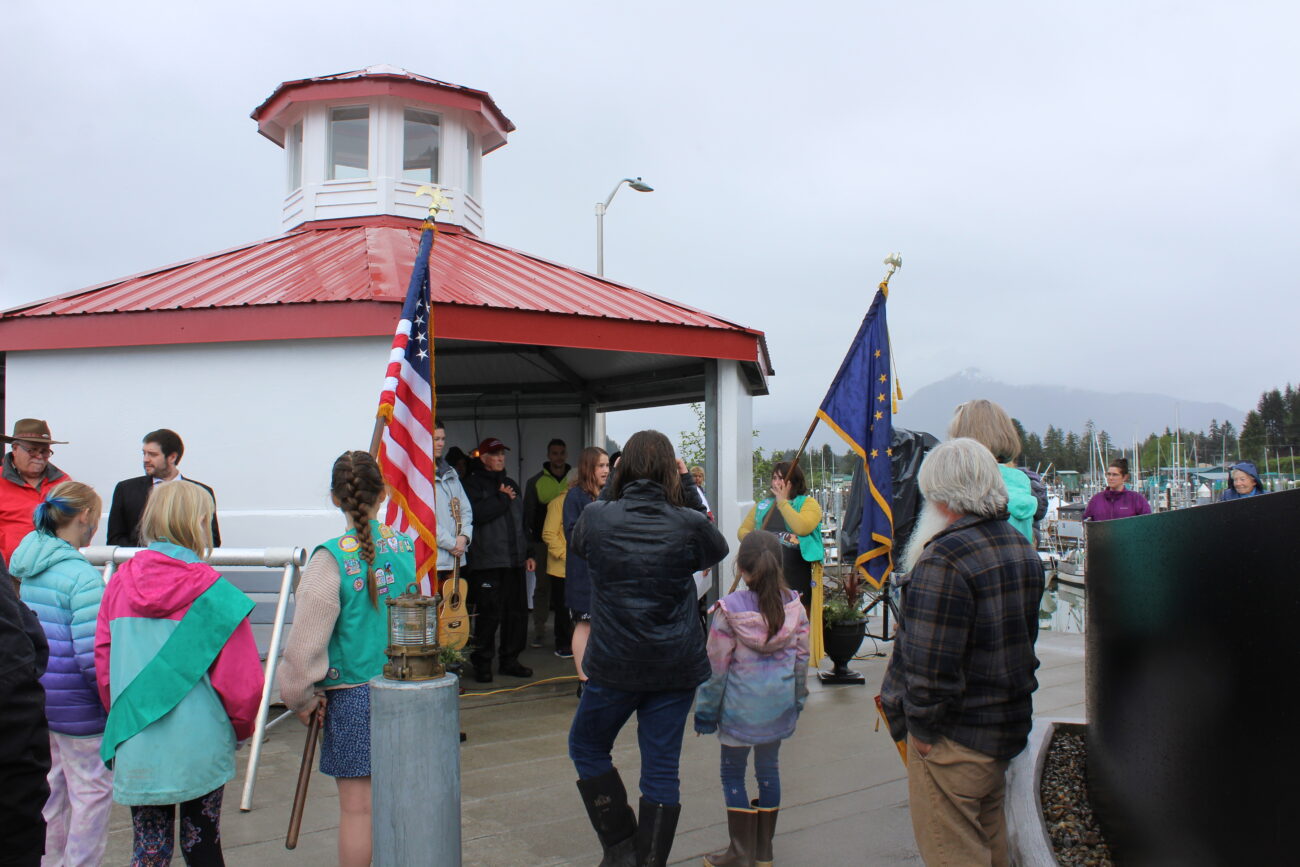 The Blessing of the Fleet is a tradition for many coastal communities as fishermen get ready for their summer season. This year, the Southeast Alaska community of Wrangell revitalized the tradition by holding the ceremony in its newly-completed Mariners' Memorial on May 28.
Wrangell residents and visitors gather in clumps under a drizzly rain, some in suits, others in rain gear and Xtratuf boots. They stand between the curved, ship-like memorial walls and under the red-and-white lighthouse gazebo of Wrangell's Mariners' Memorial.
Some remove hats as Girl Scout Troop #26 presents the colors.
Wrangell's Mariners' Memorial sits on the edge of Heritage Harbor, about a mile south of town. Outside the breakwater of the harbor, three boats bob and listen to the Blessing of the Fleet over VHF radio.
Pastor Sue Bahleda introduces the service.
"The blessing of the fleet is our collective hope, our collective prayers for those who ply our waters," Pastor Bahleda says, "And so if you'll follow along in your bulletin, it's not just us who are calling out for these blessings. It's all of our voices together."
Together with Salvation Army Lts. Jon and Rosie Tollerud, Bahleda reads a blessing for boats of all types – fishing boats, barges, ferries and cruise vessels.
Last year was the first year friends and family could apply for plaques at the Mariners' Memorial – 43 names were added to its walls. Some have an anchor next to the name, indicating a life lost at sea. Members of the Memorial board read names, and rang a ship's bell with each name.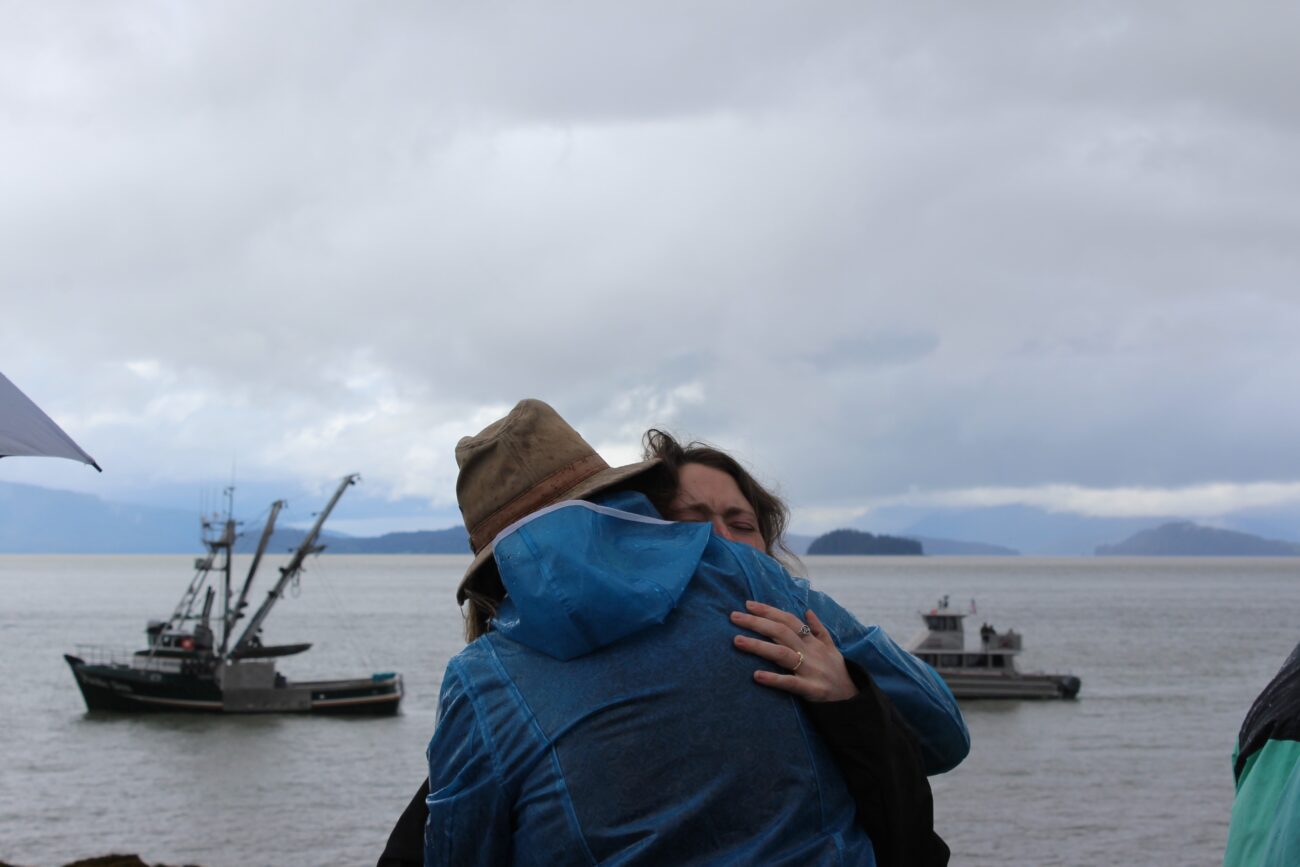 This year, there are 14 new names. Some are long-time fishermen who've passed on from natural causes and others have more tragic stories like 27-year-old Arne Dahl, who died after his boat sank in late November. His partner, Kelsey Leak, survived the sinking and attended the Blessing of the Fleet with a few of Dahl's friends from down south.
"My friends," Bahleda said as the last of the 57 names were read, "We conclude this day with a prayer that is a song from the familiar hymn: Eternal Father of love and power. All travelers guard from dangers our; from rock and tempest, fire and foe, protect them wheresoever they go. Thus evermore shall rise from the glad hymns and praise from land and sea and together we say: 'Amen.'"
It's the first time Wrangell's Blessing of the Fleet has been held since the memorial's ribbon-cutting last September.
Memorial board member Jeff Jabusch notes that there's still work to do: "We have landscaping to install, we're going to do some display cases inside that will display our membership or volunteers and donors," Jabusch explains, adding: "We also are going to have an online accessible database that all the members on the wall can tell their story and people can access those eventually."
Wrangell's Mariners' Memorial has come a long way since the project began in earnest in 2018.
It's been the work of dozens of local people – some who've lost family members to the ocean. They've given hundreds of thousands of dollars and countless hours of volunteer time.
And now it's home to the annual Blessing of the Fleet and to the memory of Wrangell mariners spanning generations.
Get in touch with KSTK at news@kstk.org or (907) 874-2345.