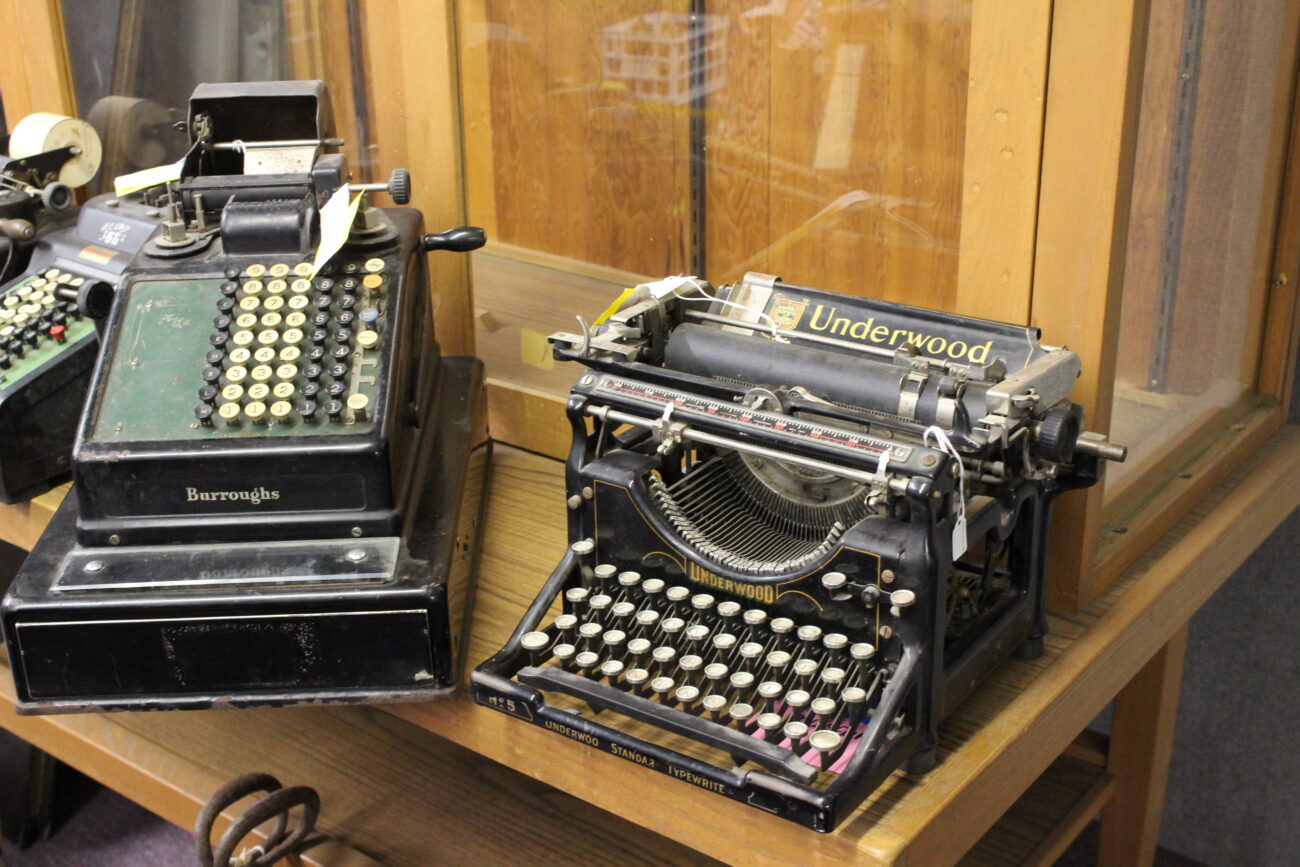 Wrangell's museum is auctioning off a few items from its collection – partly due to shifting storage space. Museum staff say they hope that collectors might want to own a piece of Wrangell history that the museum can no longer store.
The basement of Wrangell's community gym has lived many lives – a locker room, an art space, a temporary town museum. Nowadays, it's storage for … all sorts of Wrangell borough treasures. There's a locked room with the local government's archives. One corner holds a couple of boat motors from the 1940s and 50s. The main room is packed with decommissioned weight and cardio equipment, a baby grand piano, chemicals for the pool, and items from the Wrangell Museum's collection that it couldn't fit anywhere else. 
Parks & Rec Director Lucy Moline-Robinson is trying to clean up the jumble.
"This was a space that was essentially a catch-all," Robinson says, standing in the doorway to the basement room, "And just we were dumping everything that was no longer being used in the space."
After being Wrangell's Recreation Coordinator for five years, Robinson moved into the Director position earlier this year. That's when she started trying to clean up the basement room of the old gym.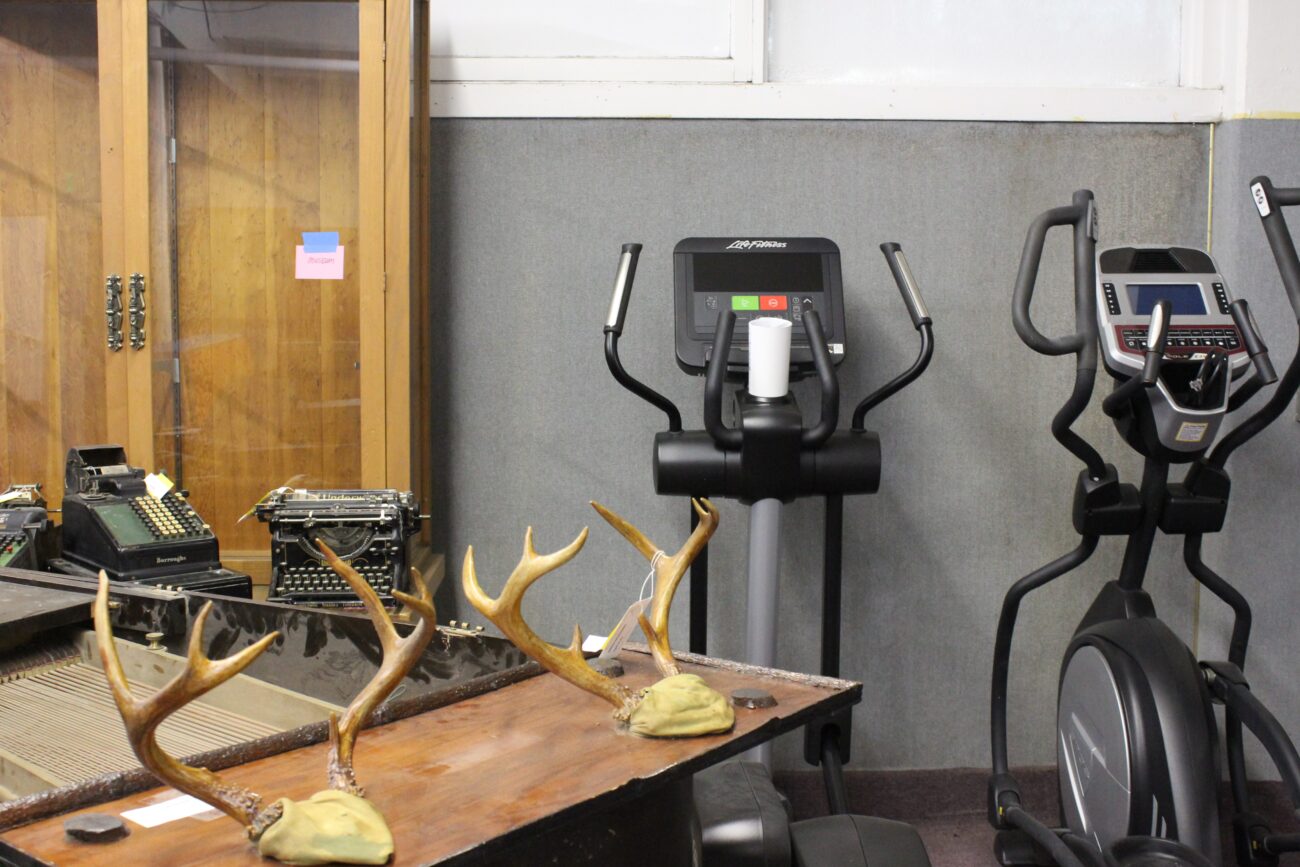 "I thought, 'Well, I'd better call Cyni' –" Robinson says. Cyni Crary is the director of the Nolan Center, which hosts Wrangell's museum, in addition to the movie theater, a gift shop, and a multipurpose event space. " – because these are things that I don't have – I don't know about and I certainly don't want to put up for surplus if they should be in a museum somewhere. Or if there is some sort of system that they need to go through."
Over the last month or so, Cyni Crary and the museum's collections manager have worked to catalog and make decisions about what items from the old gym's basement the museum can realistically keep.
"It's really important that we consider who donated the item and just make sure that we've checked and rechecked to make sure," Crary says. "We don't want to get rid of something that is of great value to somebody."
She says that decision is multifaceted. Some items are more historically significant. Sometimes there are redundancies and the museum possesses multiples of the same items. Sometimes, they have to simply decide which items are more important than others.
Tyler Eagle is the collections manager for the Wrangell Museum.
"You do have to come at things with a kind of objective, almost cynical eye," Eagle says. "You can't get too terribly attached because you do have to make some decisions. But ultimately we decide based on how well-documented the item's relationship with Wrangell is, who is the donor on file – whether it's a person that prominence and Wrangell around longtime Wrangell resident – or maybe it's something that was found in the museum collection and we have full title to. Then we also have to look at the feasibility of actually storing the object."
Almost 50 items are being auctioned off on the borough's public surplus site, including the two old boat motors, a grocery scale, book presses, murals from the Wrangell Institute, chairs, and a foghorn. Crary says that's not many, compared to what the Nolan Center is keeping.
"We're trying to make room, find some spots in the gallery where things are appropriate," Crary says. "For instance, there were some lanterns that used to be hanging at the Wrangell Institute. And so we decided to retrieve those, and we're going to add them to the gallery in our Institute section."
Eagle, the collections manager, says he hopes local or regional collectors will see the value in taking on the pieces of Wrangell history that are up for auction.
"Disposing of the object is the complete last resort," Eagle says. "We're looking to possibly get these in the hands of private collectors." Even when the auction ends, Eagle says he hopes to try and rehome items rather than getting rid of them altogether: "If these things don't sell, I think we kind of want to get them into the hands of real people rather than the dumpster," he adds.
Although Wrangell Museum collection items might be leaving the basement of the old gym, it's not without its own history. The building has been central to Wrangell since the early 1950s – it was built in 1952. Robinson, the Parks & Rec director, says she wants to honor that history as she works to revitalize the space as a more functional community center.
"I want to dig into the history of the community center, the old gym, and essentially the high school and the activities that used to go on here," Robinson says. "My dream is to dedicate this gym to athletes past, present and future. And so I'd like to hear stories from the community, I'd like to get photos and turn them into nice vinyl prints that we can hang in the gym. And I'd love to do a big dedication ceremony and hear stories from the community.
"You know," she continues, "If you grew up in this town, it's likely that you played a sport in this gym, be it basketball, volleyball, some sort of recreation programming, summer recreation. So I think it does have some fun history. And I think this thing is a relic and it's endearing and it has a lot of history. And so I'd like to see it be put to good use. There is a lot of space here."
Robinson says she hopes someday it could be used as more of a community space – whether that was to host events or classes, or a permanent mat room to support Wrangell's strong wrestling and martial arts interests. At the very least, she wants to make sure it's organized.
Cleaning the basement up is "the responsible thing to do," Robinson says, "and when you when you're spending time in the building, and you've got equipment that is no longer being utilized – I would hate for if there was any injury or any accident or any issue with this building for people that have to come through here in an emergency situation, and have it be completely cluttered with things."
"I think for safety reasons, efficiency, for organization and for just being a responsible department, you have to clean up your act," Robinson says with a laugh. "So that's what I'm trying to do."
The Wrangell Museum is slowly adding items to the borough's public surplus site. Some of the first items are set to close to bidding as early as June 7. You, too, could own a Wrangell foghorn.
Find the link to view items from the Wrangell Museum's collection up for auction here.
Get in touch with KSTK at news@kstk.org or (907) 874-2345.