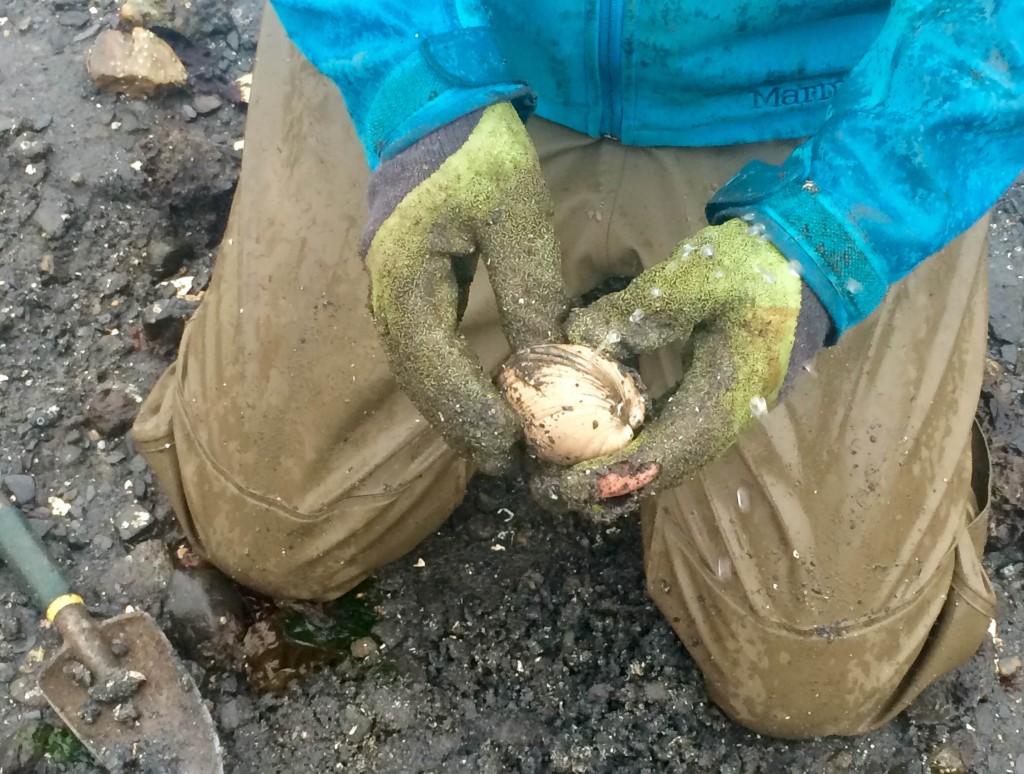 Aquaculture, or mariculture, is a fledgling industry in Alaska with big potential. The federal government announced Thursday (June 1) it plans to help identify areas of Alaska state waters best suited for shellfish and marine plant farms.
Alaska has so much coastline, it's just a few thousand miles shy of being able to wrap around the Earth twice.
And the National Oceanic and Atmospheric Administration (NOAA) wants to help the state of Alaska identify areas along its coast best suited for growing marine plants and shellfish.
"As a complement to wild harvested seafood, aquaculture or mariculture is vital for supporting our nation's coastal communities and feeding our growing population," says Danielle Blacklock, director of NOAA Fisheries' Office of Aquaculture. "In a changing climate, we must look to the ocean for sustainable food as foods from the sea are good for people, good for the planet and good for the economy."
It's a somewhat new endeavor for NOAA. They're already working to identify what they call "Aquaculture Opportunity Areas (AOAs)" in Southern California and the Gulf of Mexico, but in federal waters.
"Alaska presents a really exciting opportunity to show how dynamic this planning process can be," Blacklock said during a press call June 1, explaining that this will be the first partnership focusing on state waters – within three miles of Alaska's coastline – specifically. It'll require collaboration between federal and state agencies: "So that means a true partnership with the state."
Blacklock says Alaska's plan will focus solely on marine invertebrates and macroalgae, since farming finfish in state waters is illegal.
She explained that NOAA's National Centers for Coastal and Ocean Science will use environmental, economic and cultural data to determine the size and location for potential aquaculture development zones.
"They will produce a peer-reviewed Aquaculture Opportunity Atlas that shares this data and the resulting maps with the public," Blacklock explained. "The results of the atlases will then be used as a part of a comprehensive environmental review, resulting in the identification of areas that are environmentally, socially and economically suitable for multiple commercial aquaculture farms."
Blacklock says the decision to look into aquaculture opportunities in Alaska comes after public support from Alaska Native organizations, multiple arms of the Alaska state government, and fisheries stakeholders during public comment in 2020.
State officials are publicly welcoming the collaboration. They say the rapid increase in aquaculture projects in Alaska necessitates collaboration and new innovative solutions.
The state's ambitious goal envisions a $100 million mariculture industry in Alaska by 2040.
Sam Rabung is the head of commercial fisheries for the Alaska Department of Fish & Game (ADF&G), which oversees operational permits for aquatic farms in Alaska. "The collaborative effort necessary to establish aquaculture opportunity areas will provide an opportunity for agencies and stakeholders to ensure important current uses and activities are identified and considered in advance," he said during the press call.
Rabung says a large part of evaluating permit applications is evaluating their proposed locations. Although no areas are off limits, having predetermined opportunity areas will help streamline the process, which involves an aquatic land lease from the state Department of Natural Resources (DNR) and an operational permit from ADF&G.
"One of the first things we look at is what are the existing uses in that location," Rabung said, "And we're not interested in leasing or permitting an area that's going to create a conflict. And to me, that's the biggest value of this exercise is that we're going to identify areas of potential conflict in advance so people don't play 'Wrong Guess' when they are applying for farm sites."
Aquaculture opportunity areas in Alaska won't pre-approve permits – potential farmers will still have to go through the state's approval process.
The announcement comes as Alaska is moving to bolster its mariculture industry from within. A bill – House Bill 41 – sponsored by Ketchikan independent Rep. Dan Ortiz and signed into law by Gov. Mike Dunleavy last July expands permitting for farming shellfish like crab, razor clams or abalone.
There's also interest in the environmental benefits of aquatic plants as a way to fight climate change.
NOAA plans to finance the science and public outreach through funding already appropriated specifically for use in aquaculture. State agencies will operate within their existing budgets. Plus, there is funding headed for Alaska mariculture: A $49 million grant cluster from the federal government. More than $25 million for mariculture research from the Exxon Valdez Oil Spill Trustee Council. A $5 million mariculture matching grant from the state legislature.
Blacklock, with NOAA Fisheries' aquaculture office, says the next steps are parallel: looking at the aquatic ecosystems in Alaska, and reaching out to communities, industry representatives and Tribal organizations throughout the state for input.
"We're going to begin conducting presentations and outreach to share information about the AOA identification process so people understand what's coming," Blacklock explains. "The National Ocean Service National Centers for Coastal and Ocean Science will also begin compiling citing data, and we expect to solicit public input in Alaska on framing where in state waters, what geographic areas we should be looking at."
The planning process may take upwards of three years, but Blacklock says it's all to feed the growth of a productive and sustainable mariculture industry in Alaska.
Get in touch with KSTK at news@kstk.org or (907) 874-2345.