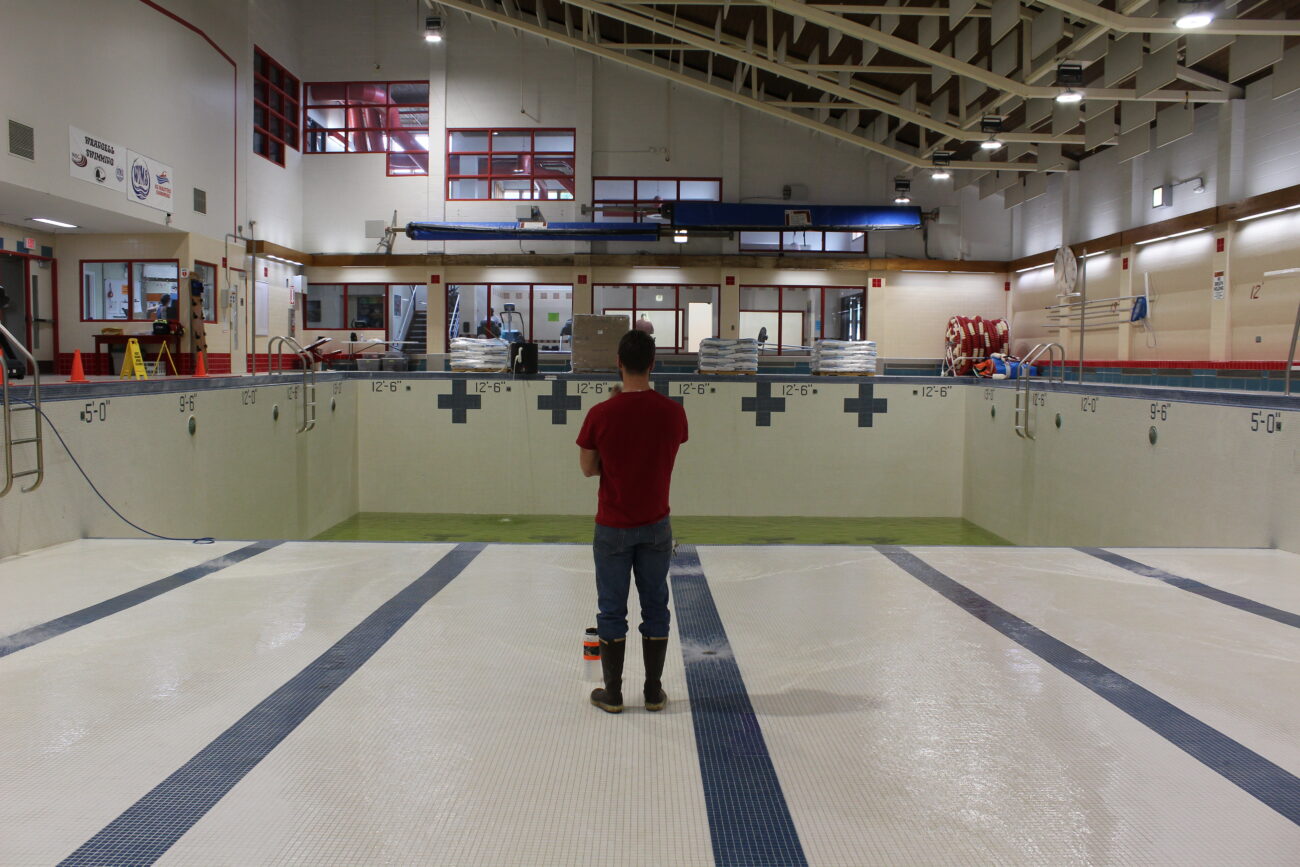 Wrangell's community pool has been bone dry for almost seven months, after a leak was discovered in its foundation. It took much longer than expected to find a contractor to repair the pool. But on Thursday (June 22), water poured into Wrangell's pool for the first time this year.
Water is spraying from the floor of Wrangell's community pool. But don't worry, that's a good thing. The water is coming from recessed jets along the tiled basin floor.
By mid-evening on Thursday (June 22), the floor jets will likely have filled Wrangell's pool with more than 200,000 gallons of water that looks like strong green tea. It's that color because Wrangell's water is naturally colored with tannins from muskegs in the area.
But on the afternoon of June 22, it was about a fifth of the way filled, with the deep end partly submerged and a little yellow cleaning robot skittering along the bottom.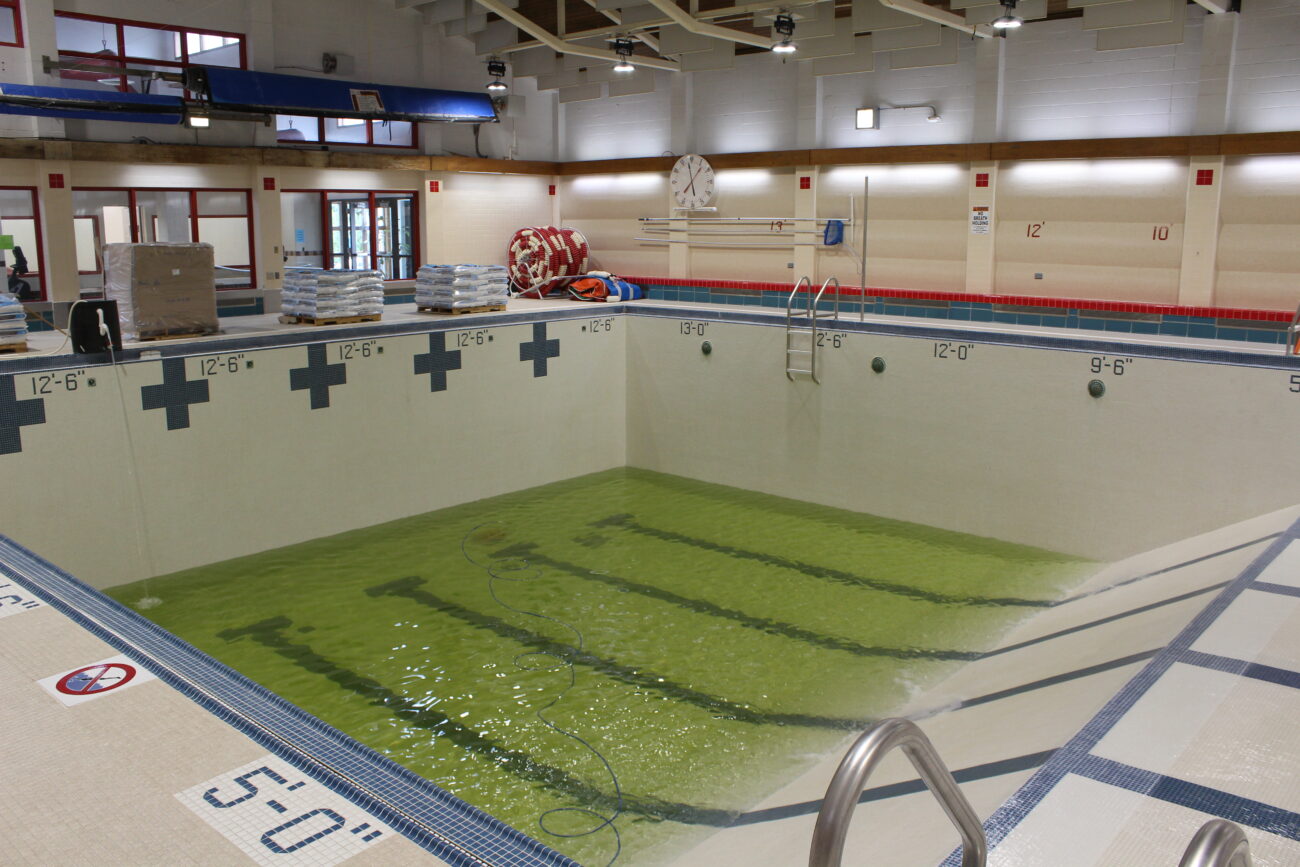 Swim coach and recreation assistant Jamie Roberts is jubilant.
"Best day ever!" Roberts exclaims. "We're pretty excited. It's almost – I was looking at the calendar, it's almost seven months to the day that we had our last time that we were swimming in the pool. So it's really exciting. We're excited to get kids back in the water. The adults are excited to get back in the water. It's just awesome, so we can't wait. Almost there."
Wrangell's pool closed down and was drained for maintenance in late November, but the borough struggled to find a contractor to complete the complex concrete work needed to fix a crack in the pool's foundation. It was spring before local contractors were secured to come in and cut away tile and concrete, install a waterproof membrane, then re-pour concrete.
Then the concrete had to dry and cure, then be re-tiled and cure some more. On June 22, the pool was finally ready for water once again. All the concrete and tile work over the past few months left a lot of dirt and other gunk in the pool's system, which the crew had to flush out.
Parks & Rec maintenance staff estimated the pool fills at about 200 gallons per minute, spraying up from the jets along the floor. And a large drum on the pool deck slowly adds all the chemicals needed to keep the water clean – three pallets-worth of salt, around 40 bags of calcium chloride, and a bit of baking soda. All in all, over a ton – around 2,500 pounds – of chemicals will be added to the pool water. The chemicals and repeated filtration will help get the water from its natural green tea color to that shiny blue pool color we know and love. The estimate is that the pool could be swimmable by early July.
But that doesn't mean the pool will re-open to the public right then. With months off, Roberts says Parks & Rec has to check in with previous lifeguards, train new lifeguards on practical skills in the water, and recruit additional lifeguards as well.
"We do have to get through a little bit of internal training," Roberts says. "It shouldn't take us very long, just to make sure that we're all capable and have our skills refreshed. We've been talking about programming and it's all going to be up to the number of lifeguards that we get, how much programming that we can offer."
Roberts says anyone interested in being a lifeguard at Wrangell's pool should call the Parks & Rec office at 907-874-2444.
And once Wrangell Parks & Rec has enough lifeguards trained up and ready? Splashdown for public pool access.
"Dig out your swimsuits, make sure they still fit, and we hope to see you real soon!" Roberts says.
There isn't a set date for when the pool will reopen for the public yet, but… actually having water in the pool is a big leap in the right direction.
Get in touch with KSTK at news@kstk.org or (907) 874-2345.