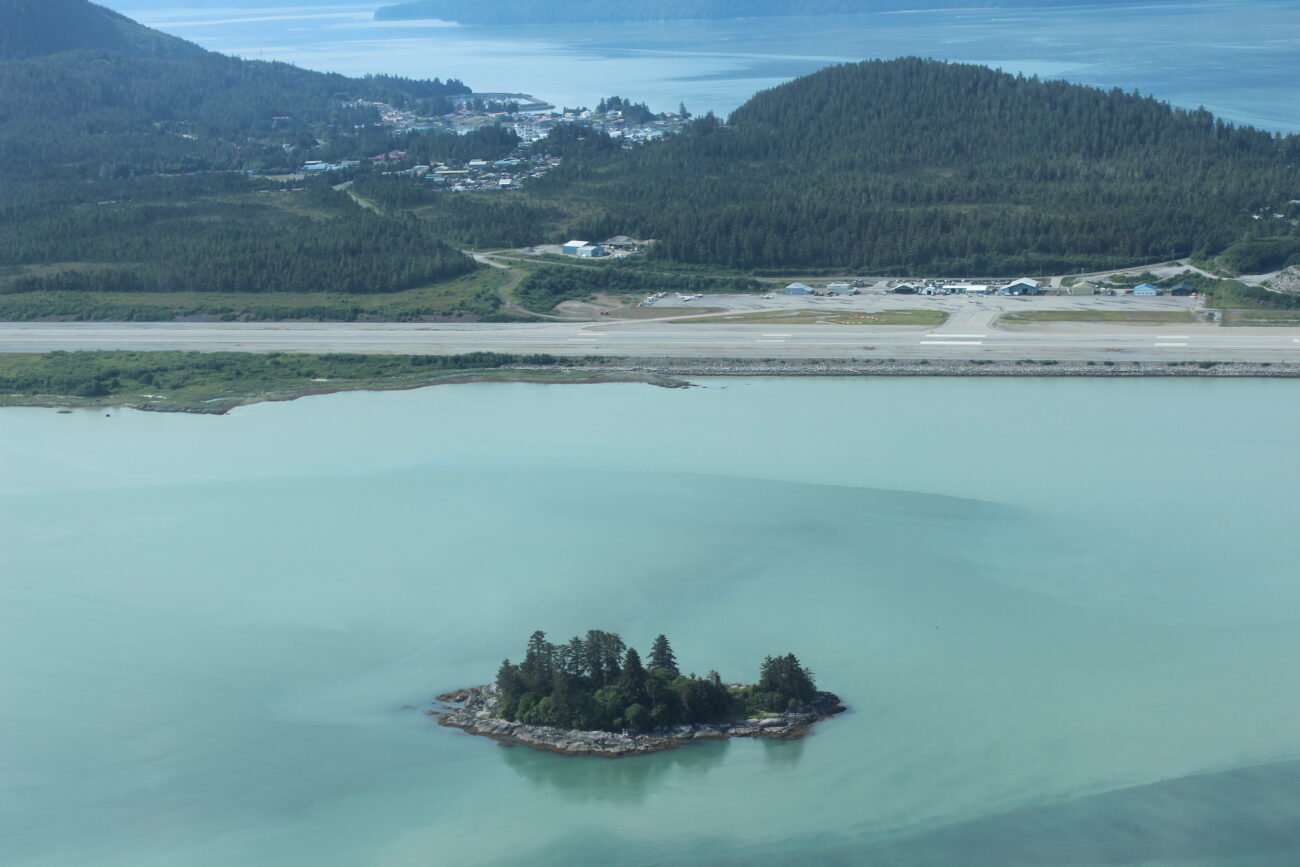 Wrangell has a small but growing cruise tourism industry. And the City & Borough's economic development office is working to increase the number of independent travelers who visit the island too. The borough is investing in a new app it hopes can connect visitors and locals alike to all the sights Wrangell has to offer.
Compared to many other rural communities, Wrangell is lucky when it comes to internet availability – it's linked into GCI's network via an undersea cable, and is home to the pilot of the Central Council of Tlingit & Haida Tribes of Alaska's broadband internet program. But at this point, even a few miles outside of town, coverage is spotty.
Wrangell has miles of logging roads and trails for exploration, but it's tough for newcomers – or even some long-timers – to know exactly where they are without a map. That's part of why Wrangell's administration has recently partnered with Wander, a digital mapping platform. It's 3-dimensional and available offline, both in town and out the road.
"It allows you to download where you're at from the location that you might be traveling to, like Wrangell, and plan your trip out," says Wrangell's Marketing and Community Development Coordinator Matt Henson. "You'll see all of our cultural attractions in town: Chief Shakes house, you'll see a Totem Park, you'll also see the glaciers, [and] our friends at the Forest Service provided us with every trail in the Wrangell Ranger District. So folks will get to go out there and take a look at those trails."
Wrangell's Convention and Visitors Bureau recently invested $12,000 to launch a Wander map in Wrangell. Money for the project comes from the Marian Glenz Fund, which was set up by the estate of the eponymous former Convention and Visitors Bureau board member to help fund the promotion of the island.
Over the past few years, Wrangell has revamped its tourism branding and is working on a plan to maintain its small-town funky charm while growing the number of non-cruise visitors – independent travelers – to the island. Independent travelers can be a boost to the local economy, spending money on hotels, excursions, restaurants and souvenirs.
The borough commissioned an economic conditions report that shows huge declines in visitors arriving by air and sea during the pandemic. But the re-growth is promising – a visitor numbers report released earlier this year projects a 70% boost to visitor travel this year compared to last year. The borough is on track for more double-digit visitor increases not only on brief cruise ship visits, but also by plane.
"We want to try to attract people that want to stay here for a week," Henson says, "Want to go out, recreate, go see all the trails, go out and do the things, go see the shelters and everything."
Tiffany Vail, the co-founder and COO of Wander, says Wander is focused on specific locations, like Wrangell.
"If you think of Apple and Google for navigation," Vail says, "Wander is for exploration once you get somewhere."
"We let destinations steward their own map," she says. "No one knows what's important to the destination more than the destination itself – more than the stakeholders and the shareholders there and the locals there."
The app allows visitors and locals alike to save or "pin" locations, filter for certain types of experiences like trails or restaurants, and interact offline.
Vail says Wander is also launching a feature in the coming months that will help suggest daily itineraries based on hours of operation and busy times at different map locations.
That's why Henson says the borough sees Wander as a better alternative to printed visitor materials – because changes can be near-instantaneous.
"As soon as there's a change if your business decides, 'Hey, we're going to close on Sundays instead,' great, we'll throw it in there immediately, then every visitor that comes to town after that will say, 'Hey, cool, they're closed Sundays,'" Henson explains, "So it's just a really neat option for us to really take the next step into the digital age for the city."
And, Henson adds, it's not just an app for visitors.
"We want to put our community first," Henson says, "We want to make sure that our local community is taken care of and can use this just as much as tourists coming. This is not just exclusively a tourist app. This is an app for everyone. I know I'm going to use it for sure, trying to go out and find other trails and other shelters to go take a look at on the weekends."
Vail says in Wander's other locations – spread throughout the United States – she's been thrilled to see locals use the app and discover new places to explore.
"We'll have people reach out and say, 'I've lived here my whole life and didn't know I could do that. I lived my whole life. And I didn't know that that was there,'" she says.
Vail continues: "That's what makes people that come visit have a local experience. Nothing's more important than seeing it through your guys' eyes and having that feeling, because that's what makes you want to come back."
Wrangell's Wander map launched in early July, and Henson says it will continue to grow as local businesses fill out surveys so the economic development office can put them on the map.
And there are bigger plans for the future – growing the map beyond Wrangell Island and the nearby mainland. Henson says eventually, he'd love to see kayaking trails plotted on Wrangell's Wander map, and more information about recreation sites on nearby islands.
"We're trying to build our infrastructure, but we're also trying to grow our visitor number – visitor population as well," Henson says, "And those things have to happen in tandem. This app is again going to be a great facilitator for that to happen."
For people visiting Wrangell, or locals here in town, QR codes posted at local businesses and visitor sites will coordinate with the mapping app, so people can get some food, find a campsite, or discover a new gravel pit, with or without cell service.
Get in touch with KSTK at news@kstk.org or (907) 874-2345.