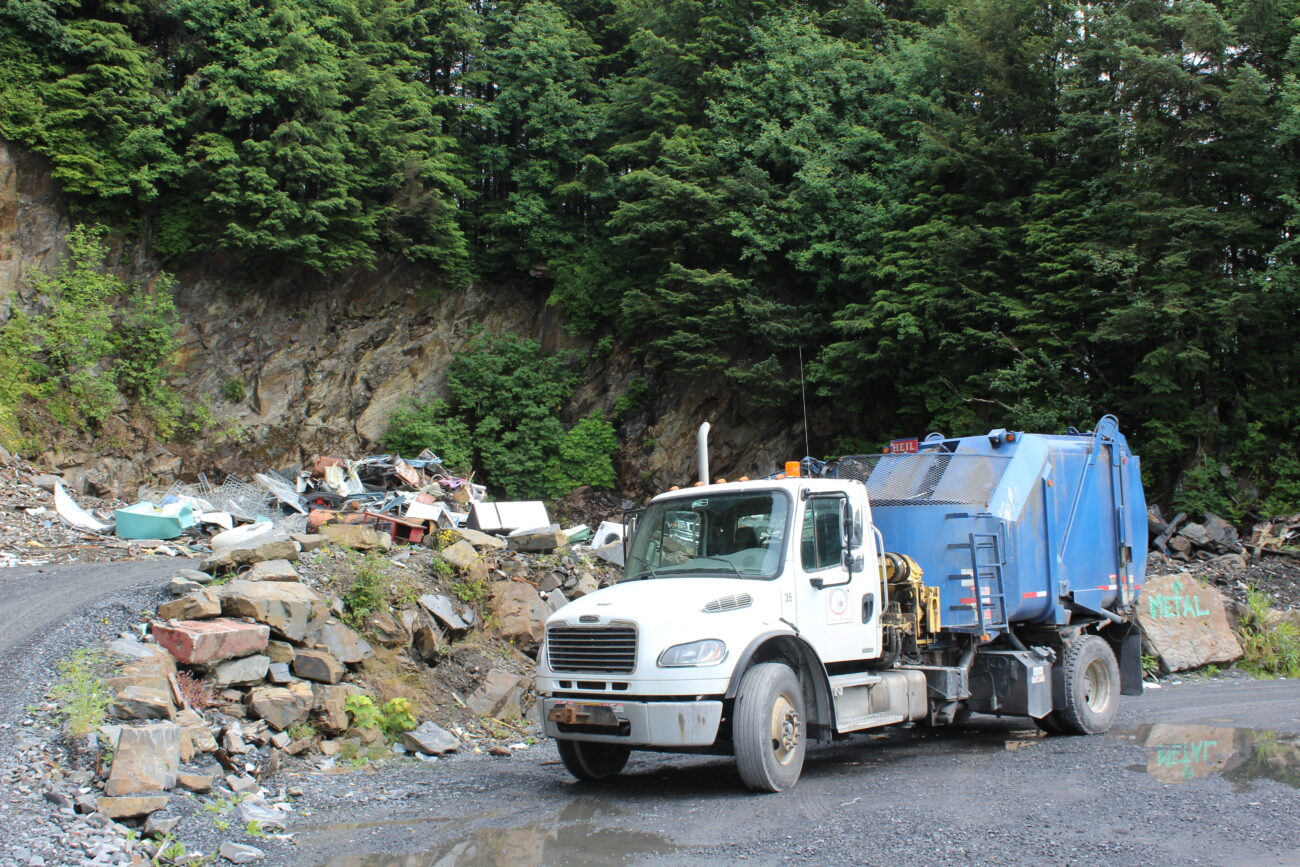 Each year, Wrangell ships millions of pounds of waste to a landfill in southeastern Washington State by barge and railroad. And while it's the best option for the community right now, rising costs have local officials wondering if there's a better solution.
Earlier this summer, Wrangell's borough assembly approved a new waste disposal contract for the community. It's with the same company but bumps up the cost of shipping Wrangell's garbage down south by more than 30 percent.
"We're beholden to another company, a private company for our transportation and disposal of garbage," says Wrangell's Public Works director Tom Wetor. "Whether it's AML (Alaska Marine Lines) with shipping or Republic [Services] with container ownership or the actual disposal costs, we're seeing massive increases in those sectors here over the last three years – basically, since the start of COVID. And so that's brought up a number of its own challenges."
An island like Wrangell has limited space, especially for waste storage or disposal.
"One of our biggest disadvantages here in Wrangell is we no longer have an open landfill," Wetor says. "A handful of the other communities, they still do have some resemblance of a landfill, and they're able to get rid of the construction debris, and some of those things that we are now shipping out. And so I think that they're able to save some money that way."
Wrangell's landfill was closed in 2011. It's now a grassy hill behind the waste transfer station, where the town's garbage is baled up and packed into containers for its long trip down south by sea and rail.
Wetor says under the new contract with Republic Services, it'll cost Wrangell upwards of $5,000 to send each container of trash down south – the community generates about 65 containers of trash per year It's a 45% increase per ton of garbage, from $121.30 per ton in 2018 to $176 per ton today. Around half of the cost is to transport the containers to Washington, the other half is the actual disposal. It'll mean around a $100,000 increase to the department budget this year.
"And that is just the expense, just the contract for our transportation and disposal," Wetor notes. "That doesn't include any of our collections, any of our upkeep on the baler, or the equipment or staff or anything like that, that is just the shipping and the disposal."
Wrangell tried to shop around to get a better price for waste shipping, but its longtime contractor Republic Services still had the best rate for the community.
Wetor says he believes there are several reasons for the increases.
"Number one, there were rail strikes and port worker strikes in Washington, and other places and saw pretty big increases to labor costs in those two sectors," Wetor says. "The cost of fuel and the cost of shipping, and everything else has gone way up in the last four or five years. And we're seeing the downstream trickle effects of those things."
In an emailed statement, Republic Services confirmed that Wrangell's contracted rate increase will cover increases in fuel, barge and rail costs.
As Wrangell's assembly approved the contract, assembly member Jim DeBord said solid waste disposal is just another area getting hit by inflation.
"I don't think the general public comprehends how much we're getting slammed on, not two or three or four percent increases, but 30-, 40-, 50-, 60-, 100% increases across the board, on every project and everything like this," DeBord said, "So I just kind of want to point that out – that it's a 33% increase from 2018. And inflation, obviously, is very transitory right now, and this is something we're stuck with on every project."
"I hear people complain about 'Where'd my tax dollars go?'" DeBord continued. "Well, it's taking a lot more money to do a lot less services right now."
For the immediate future, Wetor says increased garbage shipping rates won't be directly passed on to customers. The borough raised nearly every utility rate in town on July 1, after large increases the previous year as well.
"I think we're, we're still in okay shape for this year," Wetor says. "We did do another rate increase this year, I am hopeful that we are able to basically have [the increased shipping costs] covered under what rates have been raised this year. We're doing everything we can to not continue raising rates on users."
It's not just a Wrangell problem.
"Garbage is a problem everywhere, everybody produces garbage. And, in Southeast Alaska, it is especially challenging, because once you run out a landfill space, there's not a lot of private land around to develop a new landfill or anything like that," Wetor says, "And so the alternative is to ship it somewhere else. There's definitely a regional issue."
Wrangell is part of an organization called the Southeast Alaska Solid Waste Authority, or SEASWA. It's a regional agency that aims to reduce solid waste costs in Southeast.
Wetor says he sees some hope in utilizing the collective bargaining power of Southeast communities and SEASWA to find other solid waste solutions.
"In the past, [SEASWA] has negotiated more specifically with household hazardous waste contracts, and different things like that to essentially set a template for the individual communities and basically establish more of a fixed rate with a company, so that we're not all having to go out and bid these things for each individual community," Wetor explains. "Especially in a small place, there's just less resources than we have in bigger towns and bigger communities."
SEASWA meets monthly, and Wetor says the organization is exploring a state grant through the Denali Commission that could fund a reevaluation of how solid waste is handled throughout the region.
"This has been done in the past by this organization," Wetor says, "And the last time it was done, it was determined that the best option was to continue working with a landfill in the Lower 48 and shipping our trash down. And so that's kind of what most people have been doing – what can't be landfilled is being shipped south from here, and most of the other communities are doing that."
To that end, Wrangell has also lined up its next contract renewal with when Ketchikan and Petersburg will also be renewing their contracts in two years.
"With this newest contract that we did with Republic – in the past, we have signed like three- to five-year deals with them," Wetor says. "The most recent one that we did this summer, we signed it for two years with a third-year option. And what that does is that would time us with Petersburg, as well as Ketchikan['s contract renewals]. The Petersburg Public Works Director and myself have been trying to work with other communities and get a sense of where other people are at."
"The goal here is to time as many communities at the same time as we can," Wetor says, "Because that is ultimately going to give us the best bargaining power in trying to work with these bigger companies that are handling the waste stream across the whole region."
Wetor says getting a large community like Juneau on board would be a "game-changer" – the capital generates more trash than the rest of Southeast combined. Wetor also says he doesn't think it's likely to get Sitka in on regional negotiations. Sitka recently signed a 10-year extension at what he assumes is a much better (pre-pandemic) rate.
"We're still kind of in the early stages of trying to figure out what that would look like and how we could team up and have some of those negotiations to try to keep rates low and try to advocate for companies working with us to not burden people living here so harshly," Wetor adds.
The potential cost of a new landfill takes that solution off the table for Wrangell – Wetor says a new landfill could cost between $15 and $20 million.
But he remains optimistic. Wetor hopes there could be a larger solution – maybe a regional processing facility, or federal support for a regional landfill.
As the community looks toward the next potential extension of its waste disposal contract in two years, Wetor says he does have some major concerns. One stipulation of a renewed contract would be Wrangell taking ownership of a couple dozen trash containers – a potentially massive storage and logistical issue, with a month-long turnaround on containers as they travel south and back to the island.
"We can only store one to two days of trash at the facility," Wetor says, "That's just all we have room for. And so we have to keep the operation running, basically, in order to keep up with our trash stream."
And Wrangell's Public Works Department is working to find other local efficiencies – it's got a loading dock project designed that will help load baled trash into containers more safely and tightly, potentially reducing cost per container of trash.
Get in touch with KSTK at news@kstk.org or (907) 874-2345.