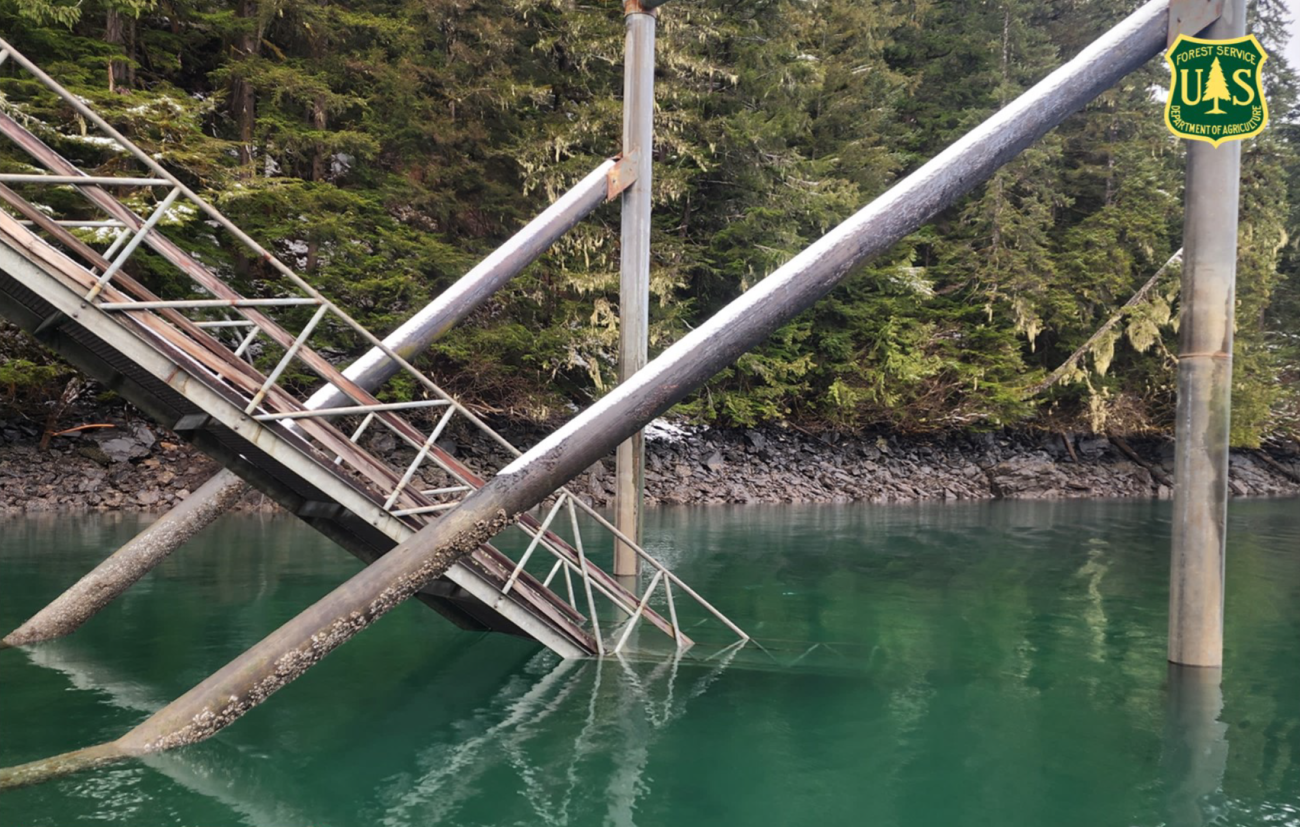 In Southeast Alaska, August 1 is practically synonymous with deer season, as many areas open to hunting then. But a dock frequently used by deer hunters in central Southeast is out of commission until next year.
The dock at Roosevelt Harbor on Zarembo Island (about 15 miles southwest of Wrangell) was severely damaged in a storm last winter. Large waves detached the dock from the gangplank, which already had some underlying issues.
Initially, the U.S. Forest Service in Wrangell said it hoped to have the dock fixed by deer season this year, but the contract still hasn't been awarded. And the cost of the repair project isn't publicly clear – though the agency says it will be public once a contract is awarded.
For hunters heading to Zarembo this fall, the rustic boat launch at Roosevelt Harbor is still usable for landing crafts to potentially move vehicles on and off the island. The St. John's dock on the northwest side of the island is still available for boats to tie up at, although that's a much longer ride from Wrangell.
KSTK spoke with a few Forest Service workers on July 28 to get an update on the project: Wrangell District Ranger Clint Kolarich and Ketchikan-based Forest Service civil engineer David Licon.
FULL TRANSCRIPT BELOW (lightly edited for clarity and reading flow):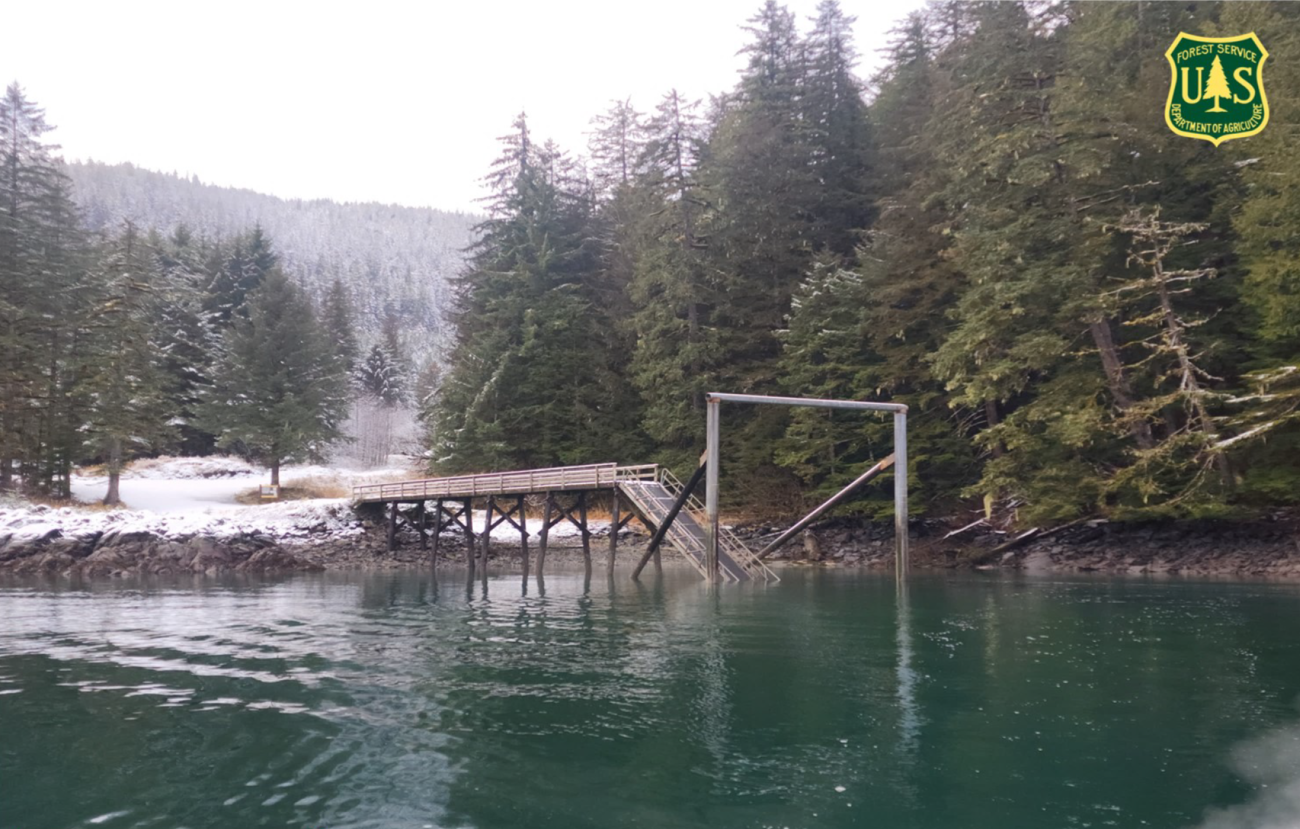 CLINT KOLARICH: We all know obviously that Roosevelt Harbor – Roosevelt dock is a main access point for the folks here in Wrangell. And Zarembo Island is a really, really important subsistence hunting ground for our local population. And you're right, the dock was damaged in winter. There was a big wind event, we also had a lot of blowdown around that area. And at the time Tory Houser (sitting next to me) was acting [District] Ranger, and I know she got with contracting as fast as she could and got the process started. The contracting process is just about concluded as far as an award being made. But it hasn't quite concluded. And because of that, I've asked David [Licon], who was gracious enough to join us today to be able to speak to it a little bit from the contracting part, because I think it's really important for all of us, including the public, to understand even though we're all local faces of the Forest Service, we still have a bureaucracy that we have to work through, or that we're part of, and that real people who try really hard are trying to get things done as fast as they can. But David's kind of a subject matter expert, and I thank you so much, David for coming in and being able to explain a little bit more of this to the rest of us. So with that, I'm gonna turn it over to David.
DAVID LICON: Sure, thanks Clint. So as you all are aware, there was a massive damage that was done to the dock last [winter]. That really, really had some structural implications to that dock out there. Previous to that we had done an inspection back in 2021 – we'd hired a firm to come in and do a professional inspection of the entire dock system, and we did see that there were quite a few issues that needed to be remedied. Fortunately, we were able to secure funding that would cover those issues, and when we had the damage, this windstorm come through, it definitely just picked up the priority for Roosevelt needing to be addressed. We know that the dock was disconnected from the gangway and kind of where it's sitting right now is that that gangway is sitting halfway submerged into water. So it posed a new obstacle for us to go through. Because we understand that it's a very visible dock that's highly used during the hunting season. So there was an option for us to do a repair to the gangway, reconnect it, but our biggest concern was that there was gonna be some underlying structural safety issues that may come up because we did a repair. And after we went through a lot of the process for procurement, we found out that the price to replace the gangway was going to be just about the same amount as it would be to repair it. So we want the dock to be, once it's finished, to be restored to where we don't – we're going to do maintenance on it, but it's a brand new dock system that's going to serve the public really well for the next 5-10 years. And that's really our goal is that when we're investing money into these projects, that we deliver it back better than when we got it. So what that entails is that it may take a little bit longer for us to get this project moving as far as replacing the gangway, but when it's done, we can say that it's going to be done. And that's really our goal. So hopefully that clears up some of it. I know it's a long process. But we want to make sure we get everything right with this dock. Because there were a few issues that we wanted to remedy.
KSTK (SAGE SMILEY): So just to be absolutely clear for the people, hunting season is coming up in just a couple of days [opening August 1]. The dock will not be ready at that point, right?
LICON: Unfortunately it won't. Like I said the contractor needs to mobilize, we're shipping up a pre-manufactured new gangway and just the procurement and logistics to get that up – we're gonna miss the hunting season, unfortunately, this year.
KSTK: But [it] sounds like the hope is to have that done by next year at the latest?
LICON: We're shooting to have that gangway here on site by the spring. So we won't miss the next hunting season. I can guarantee you we're moving that way. And unless another major storm that just changes everything again happens, we'll tackle that. But right now the way we're kind of scheduling it out is that we will do a lot of the work around the gangway by the finish of this year and the gangway, once it's barged up, we're gonna take it right out there and get it anchored up and reconnected to have that dock ready to go.
KSTK: Perfect. Well, thanks so much for clarifying that and for taking some time to be a part of this interview and add that contracting perspective. We really appreciate it.
KOLARICH: Thanks, Dave.
LICON: Alright, yeah, have a good one.
KSTK: You too, goodbye.