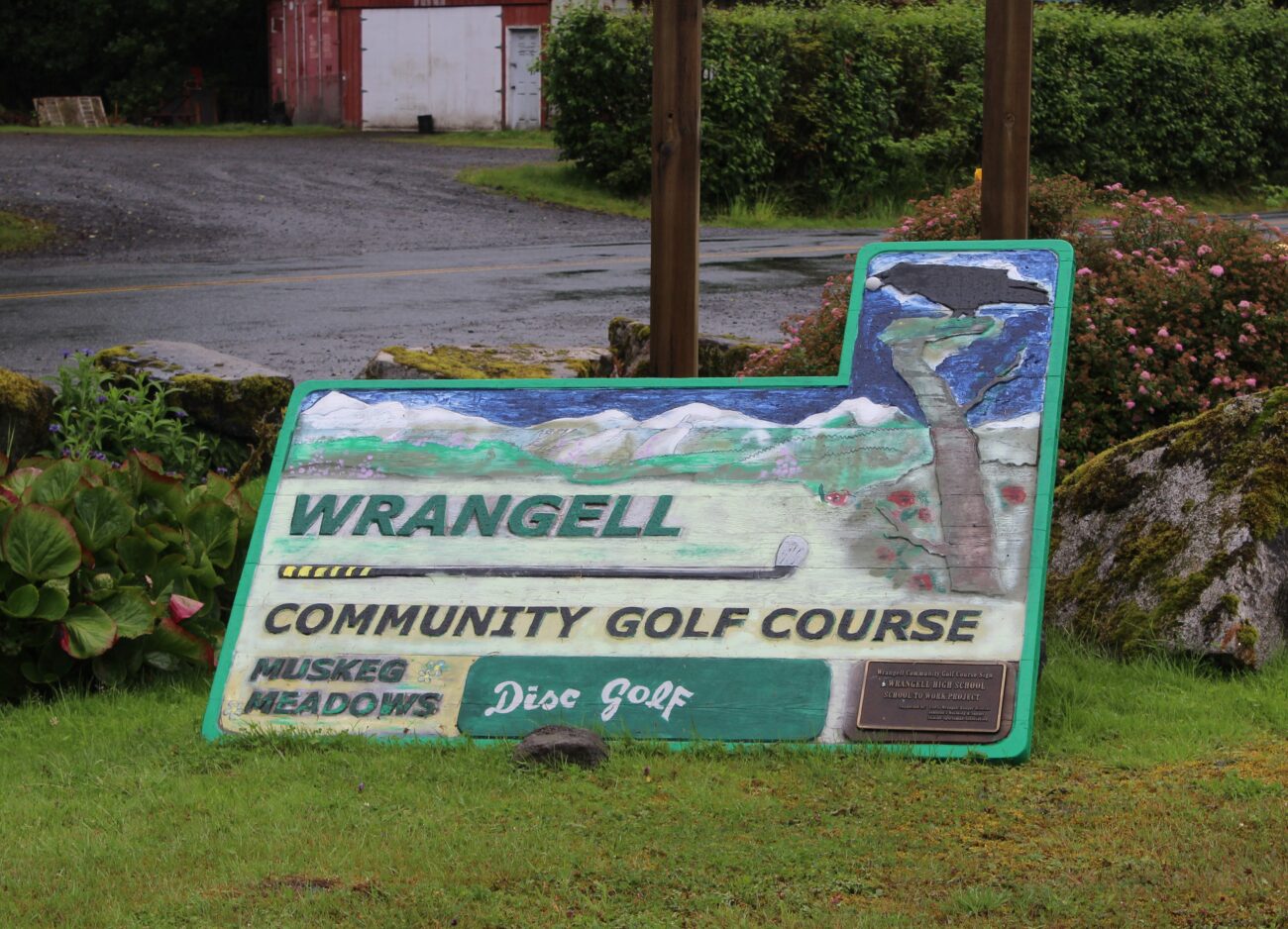 A Wrangell nonprofit that supports cancer patients in Southeast Alaska hosts its annual golf fundraiser this weekend (August 5). Organizers promise "Fun & Frolic," as well as health education for attendees.
Once a year, a wave of neon pink splashes down across Wrangell's Muskeg Meadows golf course – the Rally for Cancer Care.
"You can hear laughter from one end of that course to the other," says WMC Foundation President Patty Gilbert. The WMC Foundation is a Wrangell nonprofit aimed at helping support cancer patients in the region.
"When the foundation was organized in 2005, the foundation realized the hardship of traveling out of town for cancer care," Gilbert explains. The WMC Foundation offers travel and lodging reimbursements of up to $1,200 per year to anyone being treated for cancer in any Southeast community south of Petersburg with a population of 5,000 or less.
"Our foundation helps with all types of cancer," Gilbert says, so it puts on a yearly, pink-festooned "Fun and Frolic" golf fundraiser, bringing together women from Wrangell and Petersburg to raise money for the cancer care program.
"You don't need to know how to play golf," Gilbert adds. "In fact, it kind of hinders you if you know how to play golf."
Each hole on the 9-hole course has a different challenge, prize or theme. Participants may have to tee off with their foot in a bucket, or substitute a golf ball for a wiffle ball at another hole.
Chris Ellis plans out the course. She says the event was originally a more traditional golf tournament, modeled after major breast cancer research fundraisers down south like the Susan G. Komen Foundation.
"Here in Wrangell, that plan didn't work really well," Ellis explains, "And so over the years, we have simplified things, made it more user friendly, and hopefully much more fun."
Ellis elaborates: "There were some costs involved in being part of the Komen Foundation that we really couldn't afford, because we're not that big. So we just turned it into a rally for our local cancer care. And it's been that way for probably, what, 10 years now."
As such, the event is geared toward women. But it's not just for breast cancer. The event raises money for all types of cancer treatment, and men are … allowed to participate.
"We…" Gilbert pauses. "We wouldn't turn any men away," she says.
Ellis adds, with a laugh: "If they want to 'Fun and frolic,' they are welcome."
"All they have to do is put up with the giggles of 50, 70 women out on the course and lots of pink decorations," Gilbert adds.
Ellis nods. "There will be a lot of pink."
In keeping with the breast cancer rally roots, Gilbert says the WMC Foundation has also partnered with local tribal health provider the Southeast Alaska Regional Health Consortium.
"It vastly increased – doubled our donations, the amount of fun that we had, the amount of participation," Gilbert says. "It was a win-win, partnering with SEARHC. So this year, we're going to do it again."
SEARHC sponsors the first hole of the tournament, with a prize of $300 for the drive closest to the line. They also provide goodie bags and run carnival games to raise additional funds.
Wrangell Medical Center imaging director Jacci Spry says last year, the games raised almost $600. But she says that's not the event's only purpose.
"It is a lot of fun," Spry says, "But it's also really important for us to be able to pass on education while we're there at our tent and just represent the best way we can."
Spry says imaging department staff members share information at the event about breast cancer screenings. She explains that Wrangell has some state-of-the-art mammography equipment that SEARHC wants to make sure community members know they have access to.
"We're very fortunate to have that technology on our small island," Spry says. "It's important because one in eight women get breast cancer where one in 800 men get breast cancer. Breast cancer is also the second leading cause of death among women in the United States, following lung cancer."
Amanda Hayes is a mammographer at Wrangell Medical Center. She says she values the one-on-one opportunities the fundraiser provides to talk to people about breast cancer screening.
"We realize here at the hospital that a mammogram – that's nobody's favorite exam," Hayes says, "But it's important that we take that step and be our own advocates. So let's get in there and get it taken care of."
For people who don't want to play the course, but want to support the cause, there's a putting contest and silent auction, as well as the SEARHC-sponsored carnival-style games, all with their own prizes.
And, Gilbert says, the event includes a pulled pork lunch, donated by SEARHC, both local grocery stores (Wrangell IGA and City Market), and dessert from local bakery Sweet Tides, another nod to the event's origins:
"Sweet Tides have generously offered to provide the cupcakes," Gilbert says, "But she specifically said only if she could make boobie cupcakes."
The event also includes a moment to honor those who have battled cancer, with a wall hanging that memorializes loved ones . Ann Kramer is a retired mammographer and board member of the WMC Foundation.
"Each year you will have the opportunity [to] pick out one of the little pieces of cloth – hearts and different shapes, you write the name on it of your loved one who has had any type of cancer, and then it is ironed on and it will be there forever," Kramer explains.
She says the event, with its socializing and underlying goal to support people in need, is important.
"I have personally been the recipient of a tremendous amount of generosity from this community," Kramer says, "And it is overwhelming and so special for me to be able to do something constructive to give back and to help […] plus it's a whole lot of fun. So if you don't go, well, you're missing out."
All the money from the fundraiser goes towards the foundation's programs. WMC Foundation treasurer Olinda White says the application for travel or lodging reimbursement is simple – just a one-page form and a place to attach receipts.
"People seem to think they have to send an application in before they go get their care, to reserve funds," White says. But that's unnecessary: "Send your application in after you travel and come back and have the receipts for your travel that you can attach to it. We don't reserve funds for anyone, but when we get the receipts and stuff with it, then we go ahead and pay it."
She says the foundation has disbursed over $152,000 to more than 180 people since it started in the mid-2000s. So far this year, she says they've supported just over a dozen cancer patients from Wrangell, Petersburg and Metlakatla.
And beyond the help for people being treated for cancer, the foundation also provides scholarships for graduating high school students pursuing medical or health-related fields. It's an arm they added in 2014. So far, it's granted scholarships to 16 people, and has expanded to $1,000 per year for four years.
Registration for the "Fun and Frolic" event starts at 9 a.m. on Saturday (August 5) at Muskeg Meadows in Wrangell. Tickets are $35, and organizers suggest bringing $5 bills to participate in the carnival games. Tee time is 10 a.m., with lunch served at around noon. Visit wmccancercare.com for more information about the event, student scholarships, or applying for a cancer care travel or lodging reimbursement. 
8/3: This article has been updated to add the date and time of the event, and to add more event information.
Get in touch with KSTK at news@kstk.org or (907) 874-2345.