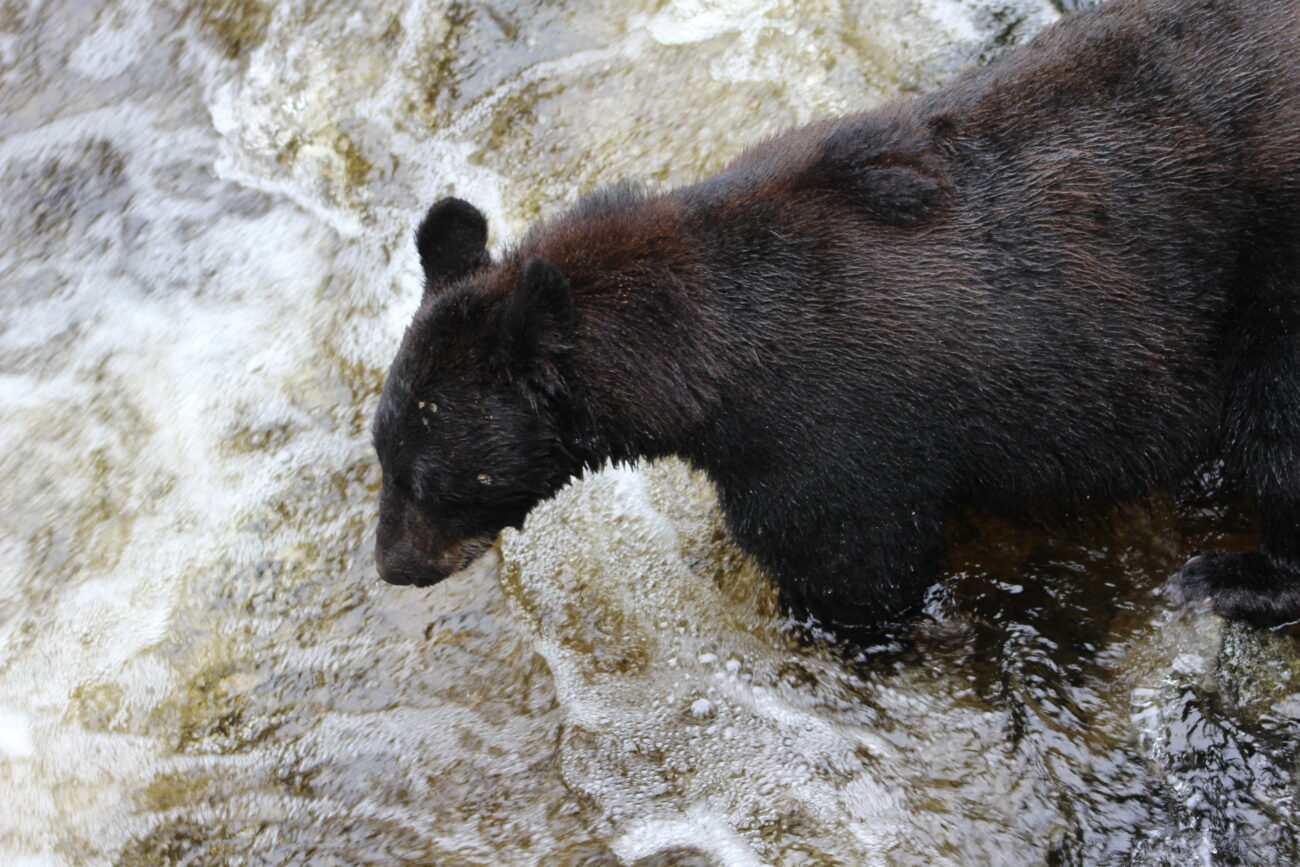 Anan Creek Wildlife Observatory, located on the mainland about 25 miles southeast of Wrangell, is one of the most popular bear-viewing sites in Southeast Alaska. It's managed by the U.S. Forest Service. And the agency is proposing a 400% increase to the cost of a permit to visit – from $10 to $50.
Where salmon return to spawn, black and brown bears often follow, feeding on the schools of fish to store up for the winter. And where bears are feeding, people go to watch. Over 3,000 people visit remote Anan Creek every year to see bears and other wildlife. But the trip might be a bit more expensive in the coming years, with a proposed permit fee increase of $40 (from $10 today to $50 in the future).
Tory Houser is a recreation planner with the Forest Service in Wrangell. She says that throughout the country, the Forest Service is looking at the economics of bear-viewing areas and comparing the fees and permits to other similar sites.
"It's the only one that has come up nationally where we've had a really large investment into the physical aspects of Anan," Houser says.
She explains: "We have recently rebuilt the entire deck. We've done a prospectus to update our distribution of permits with our commercial operators. And we are investing another nearly a million dollars into the lower deck. So because of all of this investment, I think that's why this is the one location where we're looking at a fee increase."
By one location, Houser means the one location in the Wrangell Ranger District where there's a proposed fee increase. There are around a dozen other proposed increases throughout Tongass National Forest, for cabins and other recreation sites.
During peak bear-viewing season (early July through the end of August), access to Anan is limited by the permits. Houser says the majority of people who visit Anan visit with commercial operators, so the cost of the permit is wrapped up in their tour cost. There are 60 permits per day for visitors coming with commercial operators, and an additional 12 permits available for people who have their own means of getting down to Anan – a personal boat or float plane.
Plus, she says, there are a few extras at the district office, "for those people that might be a little bit more like me, that don't plan ahead that well and may just need to get a last-minute permit," Houser says with a laugh. "But you have to go into the office. So those are typically local people, too."
And Houser says that the local visitors are the ones that might be most impacted by a fee increase at Anan.
"From what we've seen so far, there hasn't been a lot of opposition to the fee increase in general," Houser says. "But there is a sense that people would like to have maybe free days or some days where people could go and not have to pay that full $50."
Houser continues: "I think the concern that has been raised is that a local person trying to bring their family who's been going to Anan every year, for the last 25 years – it used to cost $40 to bring your family of four, and now it's going to cost $200. And that might make it not manageable for that group of people."
If the proposed increase from $10 to $50 goes through, Houser says it won't happen all at once.
"We're looking at doing it incrementally over a four-year period," Houser says, "So going from $10 to $20, to $30, to $40. And then finally arriving at $50."
Houser says the Forest Service wants feedback about the proposed increase. She encourages anyone with concerns – whether that's how it's carried out, the amount, or the effect – to submit comment to the Forest Service.
That can be submitted directly at the Wrangell Ranger District office, or at this link.
Get in touch with KSTK at news@kstk.org or (907) 874-2345.