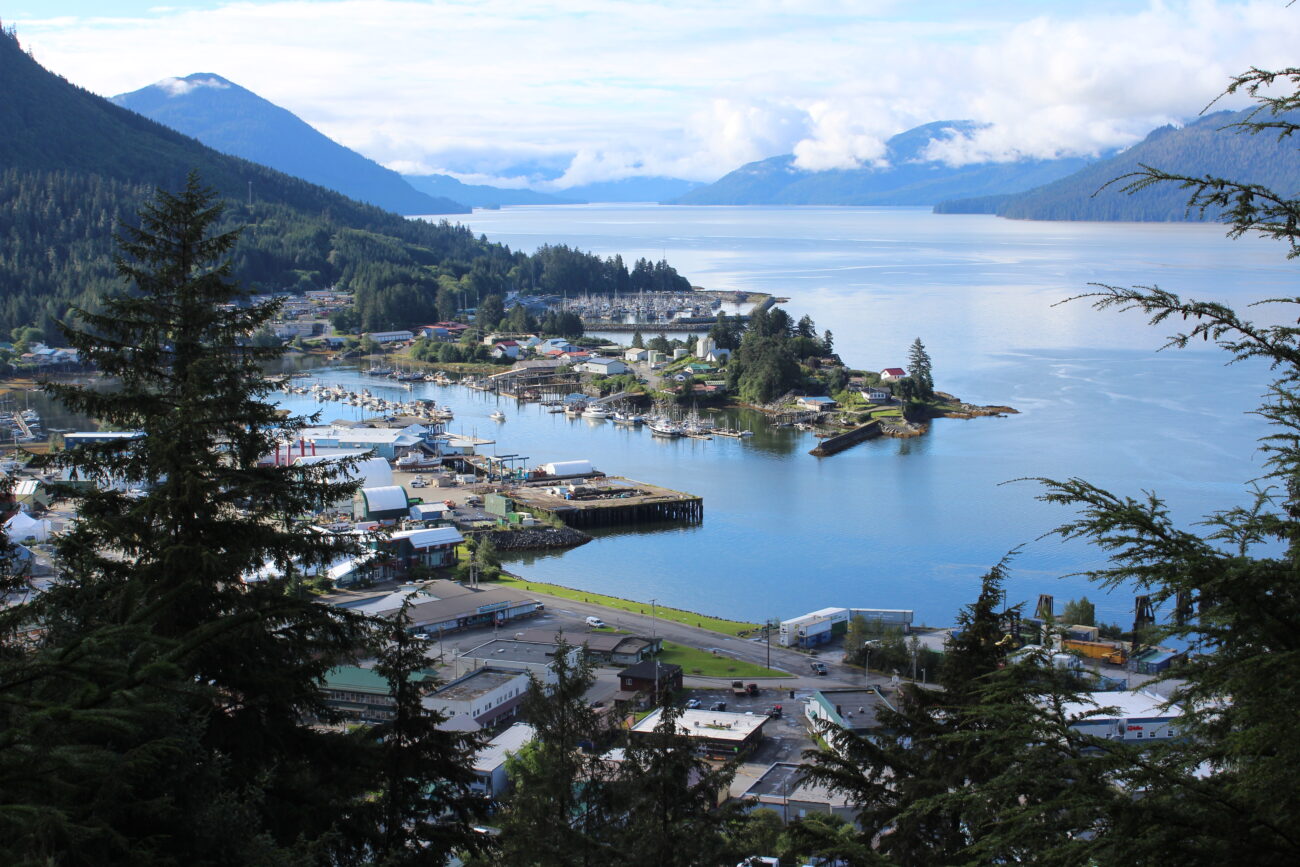 Starting up and maintaining a small business can be a steep learning curve. A Southeast regional nonprofit, Spruce Root, aims to help alleviate the growing pains with the return of its re-branded small business competition. 
Walk into a gift shop in Southeast Alaska, and you're likely to see cans of smoked seafood, jars of kelp salsa and hot sauce lining a section of the store. Enter a liquor store, and there may be glass bottles decorated with marine life distilled in Haines. Wildfish Cannery, Barnacle Foods, and Port Chilkoot Distillery are all success stories of the small business competition – Path to Prosperity.
"Really recommend their hot sauce, their Bullwhip Hot Sauce," says business coach Marc Wheeler, speaking of Barnacle Foods' award-winning hot sauce. Wheeler works with Spruce Root, which runs the competition. Spruce Root is an Alaska Native nonprofit community development financial institution (CDFI) focused on building up small businesses and a regenerative economy in Southeast Alaska.
"This word regenerative kind of sticks in your mouth, and it's like, 'What does that really mean?' It feels pretty jargony," Wheeler says, "But it's really thinking about sustainability for the next level. How do we operate in this world and make things a little bit better? Not just how do we keep this thing going, but how do we improve the situation, so our grandchildren and our grandchildren's grandchildren can have a future here?"
Wheeler used to own a coffee and ice cream shop in Juneau – Coppa – which was an early participant in the business plan competition. He sold the shop last November, but says participating in the program shaped his business philosophy, "Because I hadn't thought about the community sustainability, of how to build the social capital," Wheeler explains. "Thinking about that really kind of shaped our business practices and was a big influence on us."
Wheeler developed a local workforce, employing people in the kitchen who might struggle to find work elsewhere because of disabilities.
"It just really made us, I think, more human, but also just added so much to our business in a way that you can't really describe," Wheeler says. "You can't really put that on a balance sheet, but it just made a huge difference. And I attribute that to going through the competition and really thinking about […] all the ways a business can contribute to the world."
Wheeler says Spruce Root has re-tooled its business development competition this year – it's now called Business and Balance. It involves a nine-week virtual business course, every Friday over Zoom, which will help participants create a business plan and financial projections.
"That plan can be really important for figuring out if an idea is feasible or not," Wheeler explains. "They can also really kind of crystallize your thinking about your business."
He continues: "Sometimes people – you just start a business, and you just go and go and go. And it's helpful to kind of pause and really think about the future and how you want to get there. I think working with our staff, and going through the training and just thinking more in-depth about it can really be helpful for folks. And it's something you can have and refer to two, three, four years from now and see how you've progressed."
Wheeler says the course can also be important for business owners in other ways.
"It's pretty extreme starting a small business," Wheeler says, explaining that the course also helps people access tools for personal support and growth. "We want people to be in it for the long term – so to take care of themselves as they start that journey."
The nine-week training costs $175, but Wheeler says it's refundable if business owners come to most of the classes.
The course and competition are open to people who want to start a new business or bring an existing business to the next level. Wheeler says this year there are three, $20,000 prizes.
"It can be used for pretty much anything that a person needs to bring their business to the next level," Wheeler says. "It's not like, 'Oh, I need to keep paying my rent or my employees.' It's: what do you need to invest in to bring your business to the next level? And two of those prizes are specifically for regenerative tourism businesses."
He adds: "You know, Wrangell has a lot of great tourism businesses. So it could be a good opportunity for somebody to think about applying."
Plus, Wheeler says, it's a way to get to know other entrepreneurs around the region.
"People who have gone through the program over the years have kind of built a loose network," Wheeler says. "It's kind of lonely to be an entrepreneur, you know, you can't really talk to employees, and maybe your spouse doesn't want to hear about it anymore. So it's fun to have a network of folks."
Wheeler says the Business and Balance competition and its focus on not only a business plan but also how a business fits in the community, reflects the broader mission of Spruce Root.
"People get into business for different reasons, but if you can be clear about your values, initially, and then think about how you weave those values into your business, it can be really positive," Wheeler says.
He explains that Spruce Root believes in what he calls a triple bottom line – people, planet and profit.
"Normal businesses would think about a bottom line being how much profit you make for the year," Wheeler says, "And we're encouraging folks to think about the communities where they're located and trying to build more into the community, and then the environment – to try to leave the environment a little bit better than before the business started."
Brooke Leslie works with Spruce Root and the Sustainable Southeast Partnership as what's called a "catalyst," focusing on helping spark community development opportunities.
She explains: "[It's] kind of reframing how we do business in Western culture versus creating a new working model based on Indigenous values and community first. So it's really a full-grass approach. You often hear, 'top-down' or 'grassroots' but we're really trying to take a blend of approaching the entire blade of grass."
Leslie's job focuses on broader economic development in the region, but she says the micro focus is important, too. Participating in the Business and Balance program and competition can take out some of the trial and error of starting a small business, she says.
"You can really save a lot of like time and sometimes money [lost] through the trial and error process by taking courses like the Business and Balance course," Leslie says, adding: "There are other programs offered through Spruce Root as well, that really invest in your learning and your ability to be efficient and successful as a small business person and a small business owner to try to improve your company culture."
Wheeler, the business coach, says Spruce Root is looking for more participants from all over Southeast, including Wrangell.
"Going around town to me, [it seems like] there's a lot of new businesses starting up," Wheeler says. "I read the other day that in the first half of 2023 more small businesses were created than in 2019, by like 50% more. So it seems crazy, but the pandemic really, I think, spurred a lot of people to start their small businesses."
Beyond the business competition, Wheeler says Spruce Root has other programs to support burgeoning businesses and business-minded individuals – workforce development programs, one-on-one career coaching, financial wellness training, and a few different loan programs for people who might not be able to get a loan from a traditional bank.
Spruce Root is taking applications for the Business and Balance course through the end of the month. Find more information here or by emailing Marc Wheeler at marc@spruceroot.org.
Get in touch with KSTK at news@kstk.org or (907) 874-2345.