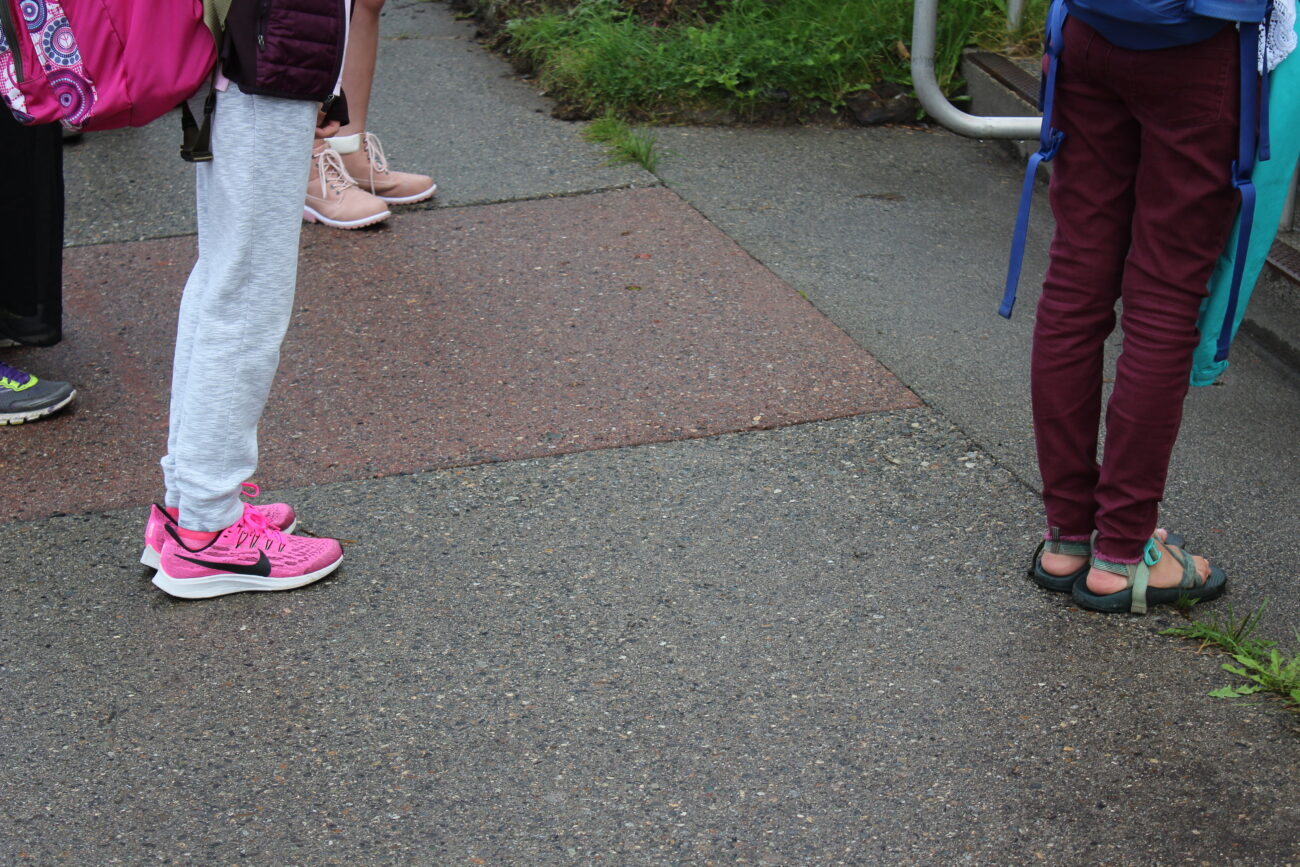 Wrangell's public schools made masks optional a little more than a week ago. KSTK checked in with students and staff about what it's been like to remove face coverings after nearly two years.
It's a bright sort of overcast early Wednesday afternoon, and a small group of Wrangell middle-school students sit around an octagonal wooden table, eating lunch. Across the courtyard, there's a student playing basketball with a mask on, but it's the only mask in sight.
"It feels weird, honestly," says sixth-grader Peter Houser, "But it's good. It feels like I have more freedom over what I'm doing."
His classmate, Kailyn McCutcheon, agrees: "Very, very happy. Masks were so annoying. We have 15 minutes of movement during school, and we had to wear them still. And I would be like playing in the gym, and my face would be all sweaty. Not good."
McCutcheon says that there are still people wearing masks around school, but the majority of her peers and teachers no longer are.
"I feel like a lot of people are very excited about it and hope that they stay gone," she said, "But some people think well, I need to stay protected. So they're going to keep them on."
It's also been helpful in orchestra, she says: "I play the flute. So [now] I don't have to cover my instrument, and I can see my fingers, which is really nice."
Sixth-grader Susan Neff is also an orchestra student – she plays trumpet. And not having to mask?
"Way better," Neff says.
Neff, McCutcheon and Houser were all among the more than half of Wrangell's student population that signed a petition asking for mask-wearing to become optional at Wrangell's schools.
"I was like, I'm done with masks," Neff explains: "I spent fifth grade with masks. Two quarters of fourth grade, and I was just tired. You had your run, but no more."
Secondary school administrator Bob Davis says there's a sense of relief in the middle and high schools: "All the smiles we're seeing – it's been a long time coming. Kids walking into a smile and then reaching for a mask and realizing that they don't have to. I mean, that's awesome."
It's not universal, Davis says. He says there are still students and staff members choosing to mask up – he estimated about 10% do – but it was hard to find anyone wearing a mask during a Wednesday (March 2) visit to campus.
"For some of them [still wearing masks], they're wearing it to protect other people," Davis said. "We had several students that say [for] one of our more elderly employees, when they're in her room, they're going to wear masks to help protect her. And this is coming from the students, not from the teachers. We've seen a number of cases like that, so that we have kids that are wearing masks, and they're getting support from other students. I think it shows a lot about our kids."
Throughout the pandemic, Davis has repeatedly shared concerns about the mental and emotional toll of the pandemic on the district's students. He says it made medical sense to slow the spread of the coronavirus.
"But there was always a cost," Davis said, "Not being able to see smiles, the miscommunication that occurred without seeing facial expressions. I think a lot of kids, particularly middle school-aged kids, their interpretation of a lot of communication comes through facial expressions. And so I think in time, we're going to start seeing less behavior issues, etc. because of not having masks, and I think that's good."
Over at Evergreen Elementary School, students are similarly buzzy about masks being optional.
"Me and my friends like to make jokes a lot," says fifth-grader Charlie Nelson. "When you can see their smile, and you could see that they're laughing – it's good to see people's smiles again."
Nelson was one of a group of fifth-graders who lobbied for masking to become optional at the schools. Nelson and classmate Clara Carney helped organize small protests, a walkout, and even enlisted the help of a school administrator to conduct a survey of third through fifth graders.
"[Jenn Miller-Yancey] talked to the superintendent about it," Nelson explains, "And I guess we couldn't do 'Yes' or 'No' surveys. And so we changed it to –"
Her classmate Clara Carney jumps in: "– to a full-on survey thing. And we got it for the fifth through third [grades]. And the majority of the people wanted optional masking."
Even after advocating for optional masking, Nelson and Carney say it's surreal.
"We've got so used to it," Nelson says, "Because it's been so long, that after we're done eating and when we go to stand up and go wash our hands or something, we try to reach for our mask, or pull it up off our face, but it isn't there."
"All of us were like checking our pockets before we went inside," Carney adds, "And after music, we were trying to find our masks after playing our instruments."
Jenn Miller-Yancey, the lead teacher for the elementary school, who helped with the survey, says it's been a smooth transition, but that the energy of the school hasn't shifted too much.
"Of course," Miller-Yancey says, "We talk a lot about respect, because we knew that some would still choose to mask, even though it was now optional. And honestly, I checked with the teachers again today, and it's been fine. There's been no issues at all, some are choosing to wear them, most are choosing not to, and going really well."
Said she didn't have a solid estimate for how many were and weren't masking, but added that it can shift throughout the day, even for her.
"If I'm working closely with a student, I still mask up," she explained. "I want to make sure that I'm protecting everybody that I'm working with, in case I have [COVID]. When I'm in a meeting, and it was just a few people in the meeting, and we were all spread out, I didn't mask. So people are choosing not only to wear it or not, but when they are [wearing a mask] in the building."
Throughout the district, COVID prevention measures other than masking – like sanitizing surfaces, maintaining distance where possible, and screening for symptoms – are still in place. And optional masking depends on continued low case counts and low risk levels for the community.
"It definitely is a huge turning point here," Miller-Yancey says, "And I just hope that we can keep our mitigation the same for the rest of the school year. That would be a real gift."
Wrangell's school board will continue to monitor the COVID prevention plan – the next meeting is scheduled for March 21.
Get in touch with KSTK at news@kstk.org or (907) 874-2345.